I often advise our guests not to plan too much on their first day in order to allow them to rest up and get on "Irish time" and while I do mean the actual time zone to some extent, there is another meaning to the phrase which is well used on this side of the water. The Irish are well known for their laid back attitude, never more so than when it comes to timing. For example if you are invited to a party in Ireland at 8pm, a prompt arrival time will send your hosts into a panic. Half an hour late would probably still put you in the position of first arrival. An hour late or any time after would be the more accepted timing.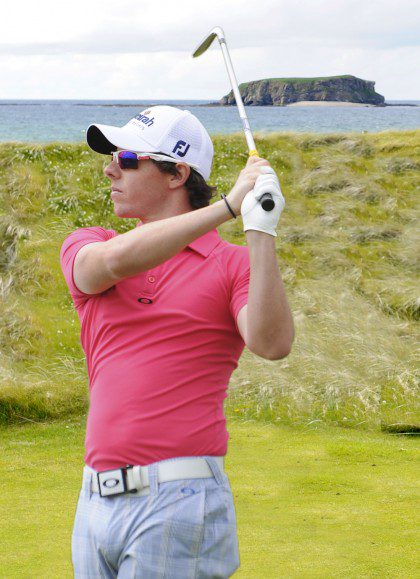 Perhaps this might explain to some why Rory McIlroy was still, in his own words "hanging around" the hotel just 25 minutes before he was due to tee off in the Ryder Cup last Sunday. He may claim it was a mix up in time zones – I maintain he was simply on "Irish Time".
The only way to really get your head around this phenomenon is to come and experience the phenomenon for yourself. And where better than on an Irish Golf Course? To this end here is a list of our top 10 Golf Courses in Ireland.
1. The K-Club, Co. Kildare

Although a Parkland Course we will have to start with our very own host of the Ryder Cup (back in 2006)
2. Royal County Down, Co. Down

Consistently ranked in the top 5 Golf Courses in the World this is certainly one of the most exclusive.
3. Ballybunion, Co. Kerry

One of the most spectacular Links Courses in the world (a third of all Links Courses are in Ireland by the way)
4. Lahinch, Co. Clare

Ken Venturi's favourite Golf Course outside of the US
5. The Old Head, Co. Cork

Often overlooked this is one of my personal favourites – the views are just stunning!
6. Doonbeg, Co. Clare
A wonderful Links Course and Luxury Lodgings overlooking the ocean
7. Portmarnock, Co. Dublin

Going to cheat and squeeze in 2 here. Stay at the Portmarnock Hotel and play the onsite links course, then head next door to Portmarnock Golf Club, host to a dozen Irish Opens.
8. Waterville, Co. Kerry
What better way to combine sight seeing with golf than to stop off for a round while touring the Ring of Kerry?
9. Royal Portrush, Co. Antrim
One of the most challenging Golf Links in the world.
10. Adare Manor, Co. Limerick

We started with a Parkland so we'll finish with another of the best Parkland courses in Ireland.
So there you have it 8 fabulous links courses sandwiched between 2 of the best Parkland Courses we have to offer. And by the way these are my top 10 today – ask me tomorrow and I'll have changed my mind again. With so many fabulous courses it's just so hard to narrow it down.