"There is no present in Wales,
And no future;
There is only the past,
Brittle with relics,
Wind-bitten towers and castles
With sham ghosts;
Mouldering quarries and mines;" (R.S.Thomas)
WELSH CASTLES TO ADD TO YOUR MUST SEE LIST
by Elaine Desmond
Wales is the European country with the most castles per square mile. This unassuming, lilting valleyed land of song and gentle coastline is home to over 600 historical powerhouses. History weaves between these castles from Roman foundations to Norman additions and recent contemporary renovations. While many of these bastions are crumbling ruins some are luxurious castle hotels. Here your stresses crumble away beneath centuries-old stone and warm welcomes everywhere. Choosing which Welsh Castles to add to your must see list is a difficult but utterly rewarding task.
WELSH CASTLES TO ADD TO YOUR MUST SEE LIST
Start with a fairytale setting inspired by travels to the Loire region of France. Once upon a time in the North of Wales on the Isle of Anglesey where the winds blew ragged and green grew in gentle grace there lived Lord and Lady Sarah Hay Williams
" By the sea's side, hearing the noise of birds,
Hearing the raven cough in winter sticks " (Dylan Thomas)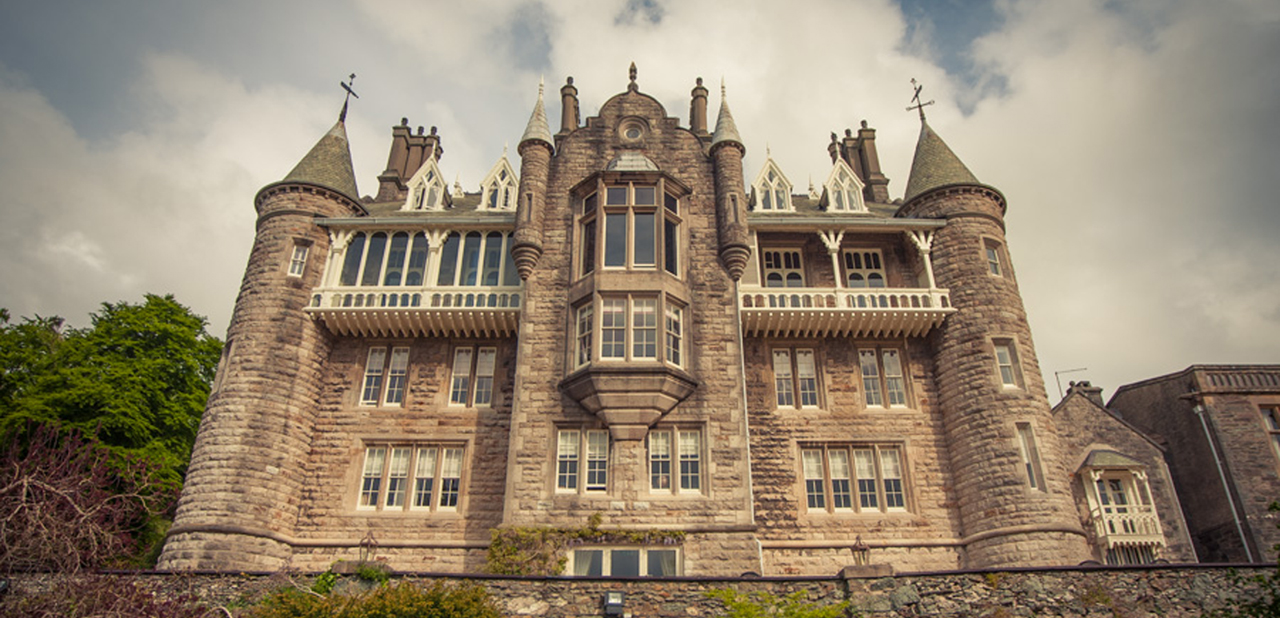 History
On their trips to France, Lady Sarah a talented artist, made many sketches of the Loire Valley Castles. She used these as inspiration for the architecture of their Anglesey Gothic chateau. Building work began in 1849 with details lovingly and carefully chosen, including the name. 'Rhianfa' means lady's habitat or abode. Before its full acceptance many Welsh scholars scrutinised its meaning. This care and attention to detail seeps into all areas of the chateau ensuring interiors match the magnificent exteriors.
Fairytale details are preserved and restored to ensure a magical dream stay. Enjoy the drawing and music rooms, summer and winter balconies, turret showers and roll topped baths to soak up the wealth of views. All the bedrooms here have indulgent qualities with a style and beauty unique to this singular Welsh Castle. Steps lead up to a bath framed by a balcony window in the superior suites with superior views.
Location
This Chateau perches on the southern edge of Anglesey peering over the Menai Strait and beyond to Snowdonia's peaked hills. The Menai Suspension Bridge leads you to stretches of perfect landscapes on both sides of the Strait. Coastal activities are plentiful and Mount Snowdon is an accessible climb or train ride to it's summit nearby. It is surpassed in height only by Ben Nevis – Britain's highest mountain.
Visiting or staying in this Welsh Castle will surpass your expectations as you remind yourself that fairytales do not exist in real life. However, here they do.
WELSH CASTLES TO ADD TO YOUR MUST SEE LIST
An impressive must see castle in a British capital city just minutes walk from the city centre? Most people immediately think of Edinburgh but few guess Cardiff Castle. It is one of Wales' premier heritage attractions and is easily accessible within the heart of the city and close to Cardiff Bay.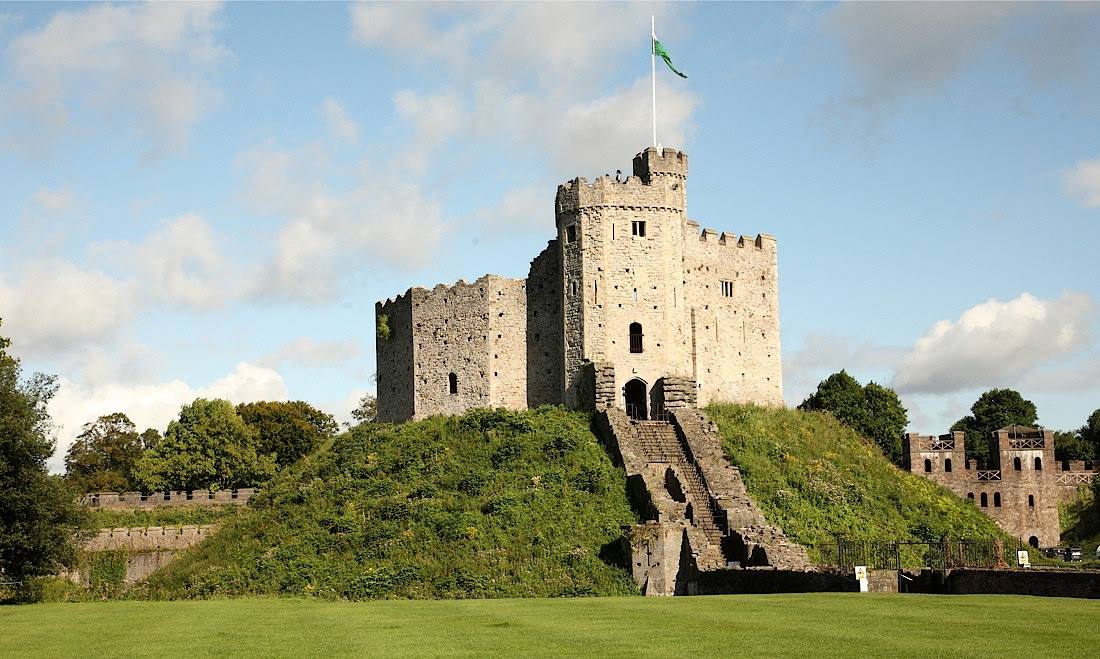 History
Romans created the first settlement on this site almost 2000 years ago. The Normans later built their castle keep on the remains of that original Roman fort. Cardiff Castle's rich, diverse history is reflected in the character of it's fascinating buildings.
In the 1860s the owner, Marquess of Bute, at that time one of the world's wealthiest men, reconstructed the castle lodgings. He created a gothic palace with richly luxurious interiors. Each room has a separate theme. These include The Nursery, the Roof Top Garden, the Arab Room and the Winter Smoking Room. Enjoy a guided tour of these decadently designed Gothic Towers wrapped in the enchantment of Arabian Nights.
Another era awaits outside when you climb the 50 steep steps to the Norman , twelve-sided keep. This shelter built within castles was a Medieval last resort when the enemy had broken through outer defenses.  This 'shell' keep maintained a protective outer wall for smaller buildings within.  The climb to the viewing platform might stilt your breath and when you take in the broad airy width from the keep height your breath will leave you again.
Marvel at the replica of a Trebuchet on the Castle Green, a 13th century stone throwing siege engine. This deadly military machine attacked castle walls with a catapult sling. Using a counter balance system, large stones and rocks effectively battered and weakened the oppositions' defenses. The Trebuchet is 10 metres high (35 feet) and almost 6 tons in weight. A mighty Medieval machine for the mightiest of castles.
20th Century
The twentieth century produced a version of a keep as an innovative protection from German aerial attacks. Within the castle walls tunnels became air-raid shelters during the Second World War. When the sirens wailed, over 1800 Cardiffians rushed to these shelters to specially constructed ramps. Hidden within the walls were first aid posts, kitchens, toilets and dormitories with bunks. Explore these tunnels to get a sense of their fears as the city's people huddled and also experienced a forced sense of togetherness.
Relish each slice of history in this unique city location and marvel at the different layers of this castle's past. From Roman to Norman to Victorian and  twentieth century usage, each era is entwined and enmeshed within Cardiff Castle – the opulent Victorian Gothic palace stands beside the rich historical stronghold of protection and defensiveness. Cardiff city returns the favour after centuries protecting it's inhabitants, it now preserves and protects this bastion.
WELSH CASTLES TO ADD TO YOUR MUST SEE LIST
Do yourself a favour by staying at must see Ruthin Castle Hotel in North Wales sandwiched in the Clwydian Hill Range. This Welsh Castle was first documented in history in 1277 when gifted to Edward 1st by Dafydd ap Gruffydd, originally known as The Red Castle in the Great Marsh. The building stretched down to the River Clwyd and protected by a dry, deep moat from invaders. Some of those original stone walls stand in the present Castle grounds. Built in 1826 as a family home for the Myddletons, hosting and also owned by Royalty through the ages.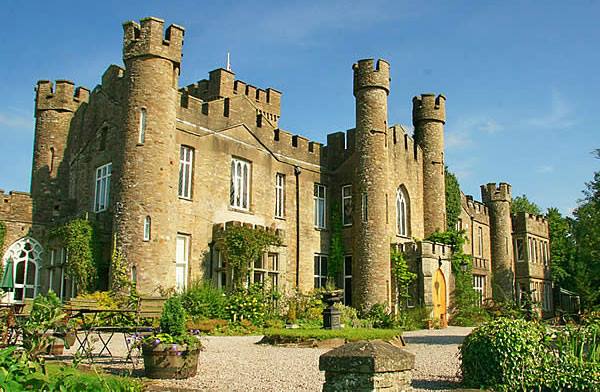 Location
Ruthin Castle maintains it's royal retreat reputation with luxurious accommodation. Enjoy magnificent dining with a singular spa all enclosed in a unique setting. Acres of parkland embrace this Welsh Castle in the heart of the Medieval town of Ruthin. It is easily accessible from Chester, Liverpool and Manchester. The stone archway beckons you up the driveway where you might be escorted to the front door by the Castle's resident peacocks.
Ruthin has a wealth of attractions on it's doorstep with Medieval Chester just over 20 miles away, renowned for it's significant black and white buildings, a 2000 year old Amphitheatre and 13th Century Rows shopping galleries. Listen to the Town Crier proclamations at 12 noon during the summer. Visit Chester Zoo or the Blue Planet Aquarium, the National Waterways Museum or Chester Cathedral.
Activities
The Pontcysvlte Aqueduct is also nearby which you can cross  by boat or on foot. It is an impressive 40 metres above the Dee valley. Take a hike on Offa's Dyke National Trail which passes through the Clwydian Rang. Or visit Llangollen where you can take a trip on a steam railway. Explore the unique village of Portmeirion surrounded by sub-tropical woodland less than 50 miles away. Wind down later in the evening in Ruthin Castle's renowned spa.
This Welsh Castle is also infamous for it's fun and feasting with Medieval dinners modelled on the Earl of Warwick's legendary 16th century feasts. The costumed Court Steward leads you into the regal Banqueting Hall where you are entertained with song and jest while feasting with fingers and daggers. Yes, fingers and daggers. Forks on request. Toast your mead and goblets of wine glinting in the candlelight with tables groaning under the weight of  food.
Ruthin Castle is a feast for the senses and another compulsory addition to your Welsh Castle list. It lulls and seduces you with it's hypnotic charms in this beguiling corner of North Wales.
WELSH CASTLES TO ADD TO YOUR MUST SEE LIST
Caernarfon Castle
One of the most formidable Welsh Castles is Caernarfon, anchored boastfully by the Menai Strait in the North West of this seductive country. This must see Medieval fortress began life as a Roman fort. The creation of a Norman castle followed in the 11th century. Later in 1283 King Edward 1st of England, in his conquest of Wales, began construction of the present beast.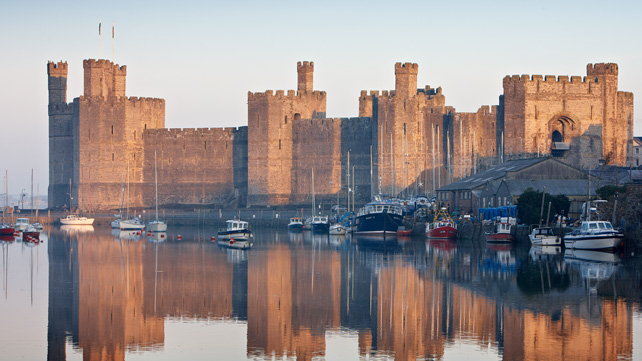 History
Caernarfon's brute strength captures a corner of the River Seiont, a domineering presence in this walled town conquered and rebuilt by Edward 1st.  The English monarch ensured a symbolic link with Wales with his son Edward 2nd  born here in 1284 – the first English Prince of Wales. The link continued in the 19th century as Caernarfon Castle was the location for the Investiture of Edward 7th  and also Prince Charles as Prince of Wales..
Sailing masts and fishing boats today frame the castle on the village shoreline.  It boasts unique polygonal towers, colour coded masonry and imposing battlements inspired by Constantinople. Designed both as a royal residence and a base for regional power, Edward 1st built Caernarfon as part of a mighty bastioned circle of intimidation.  His show of strength cost his nation greatly as he demanded the highest standards and quality. A Taj Mahal for the opposite of love. This expensive boast an extreme display of showmanship to impress his authority and suppress Welsh spirits.
Interiors and Exhibitions
Impressive, certainly, and suppressive for a while, Edward hired the top military architect of that era , Jacques de Saint-Georges d'Esperanche from Savoy, as his master mason designer. Lines of different coloured limestone and sandstone imbued the solid walls and octagonal towers. The main King's Gate defended by a drawbridge with six portcullises, arrow loops, murder and spy holes.
This Welsh Castle interior boasted murals by the same artist who decorated Westminster Hall. The windows had the ultimate luxury – glass!  Unfortunately  the original interiors have not survived but you are free to wander within the immense castle walls. The substantial grounds are almost all open to the public. Exhibitions facilitated on the estate include the Royal Welch Fusiliers.
Over 300 years of military and peacetime service is shown using models, original exhibits, sound and film. Some of the most famous writers of World War 1 came from those who served with the Royal Welch – Siegfried Sassoon, Robert Graves, "Hedd Wyn", Frank Richards and David Jones. "It is both a blessing and a curse to feel everything so deeply" (Jones).
Another exhibition in this Welsh Castle focuses on various Princes of Wales. The royal links are chained through the centuries. While exploring Caernarfon Castle climb the Eagle Tower, originally an accommodation tower. Walk along the ramparts where views hug westwards along the coastline. See the peaks of the Snowdonia National Park in the east where you will  "pause a minute,
Let the mind take it's photograph
Of the bright scene, something to wear
Against the heart in the long cold." (R.S. Thomas)
WELSH CASTLES TO ADD TO YOUR MUST SEE LIST
Take another  glowing mental snapshot at the next must see Welsh Castle.  Conwy curls into a corner on the North Coast in a curve before Great Orme's Head. This dramatic colossus was another link in Edward 1st 's iron ring of domination. Built in the late 13th century together with Conwy's town walls, both served to work together to defend and hold. The castle was again designed by Edward's master-mason-of-the-moment Jacques de Saint-Georges d'Esperanche.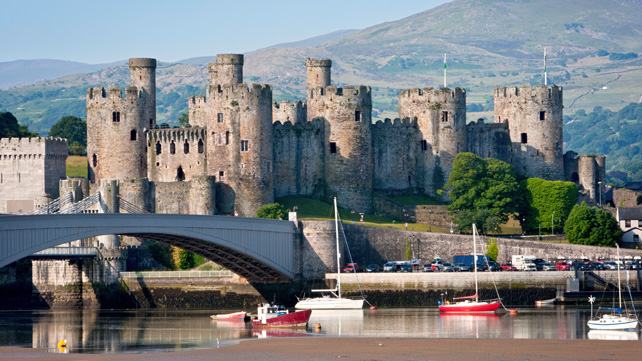 History and Location
Big, bold, brash, breath-taking and bombastic. This dragon of a Welsh Castle dominates the landscape as it unfolds itself on a narrow rocky outcrop. The drama is magnified by the glorious old suspension  bridge completed in 1826 connecting the castle to the main peninsula. Boats and moorings punctuate the still harbour beneath this shoreline fortress. The masts' slender, straight lines reflect the towers behind them.
The unique design featured eight huge towers and a large bow shaped hall within the elongated castle. Although the roofs are missing, the interior is mostly intact, particularly the fine 40m/130ft Great Hall. Conwy Castle allows you the chance to walk on the outer curtain wall and climb even further higher to the tower tops. There you have a great vantage point of the castle interior laid out beneath you. The King's Hall, Great Hall and Cellars, the Inner Ward with private chambers and royal chapel, the heart of the castle.
This elevation allows you also to peer into the town of Conwy, the legoland kingdom in the palm of this fortress.  This classic walled town has a circuit of over three quarters of a mile long. 21 towers and 3 gateways hug the original medieval narrow streets – one of Europe's finest examples of a walled town. Ramble through these curling corners until dusk when the floodlit beams throw their light up onto the Castle. It's supreme, awesome, dominance overshadows all else. Edward would have approved.
WELSH CASTLES TO ADD TO YOUR MUST SEE LIST
Caerphilly Castle
Caerphilly Castle is a huge fortress sprawling over an area which makes it the largest castle in Wales and a must see on your list. The only other castle larger is Windsor in Britain. This leviathan, encircled by a series of islands and moats was created by Gilbert 'the Red' de Clare a red haired nobleman of Norman descent. Caerphilly Castle was built in the 13th century as the Anglo-Normans pushed into South Wales.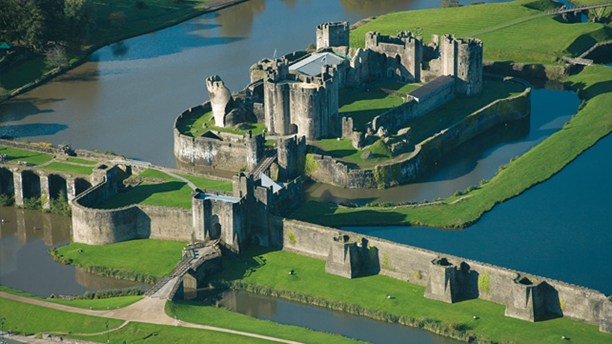 Interiors
This Welsh Castle's design was ingenious where the water barriers acted as defences thus ensuring attackers were well covered. It also prevented the use of trebuchets (stone throwing siege engines) against inner walls. The dams are a huge success of medieval engineering. The earliest built on a great platform and strengthened by eight buttresses.
Inside the entrance at the gatehouse you will find an exhibition on the castle. Stairs lead to roof level and a wide-angled view. Here, this fortress' mighty strength, lack of decoration, severity and lack of windows all point to it's focus on defence. The castle's strength is also reflected in its many portcullises.
The dominance and power of this must see Welsh Castle reflects the overall might of this nations' historical bastions. With over 600 castles in total to tick off your list start with these few mighty examples first. Whet your appetite for further discoveries as you feel the history seeping through their proud stone walls
" To live in Wales is to be conscious
At dusk of the spilled blood
That went into the making of the wild sky,
Dyeing the immaculate rivers
In all their courses." (R.S.Thomas)