This landscape is a poem to itself. Reams of light flash through rock-fingered inlets, ricochet off Kenmare Bay to fall around Parknasilla. Green fringed shores cling to skies, accepting wind currents like windsurfers reveling in the energy of it all. Simply bow to nature here and be glad to have found this special place. It is geographically epic. Sky and sea wrap themselves around Parknasilla, a top place to stay on the Wild Atlantic Way.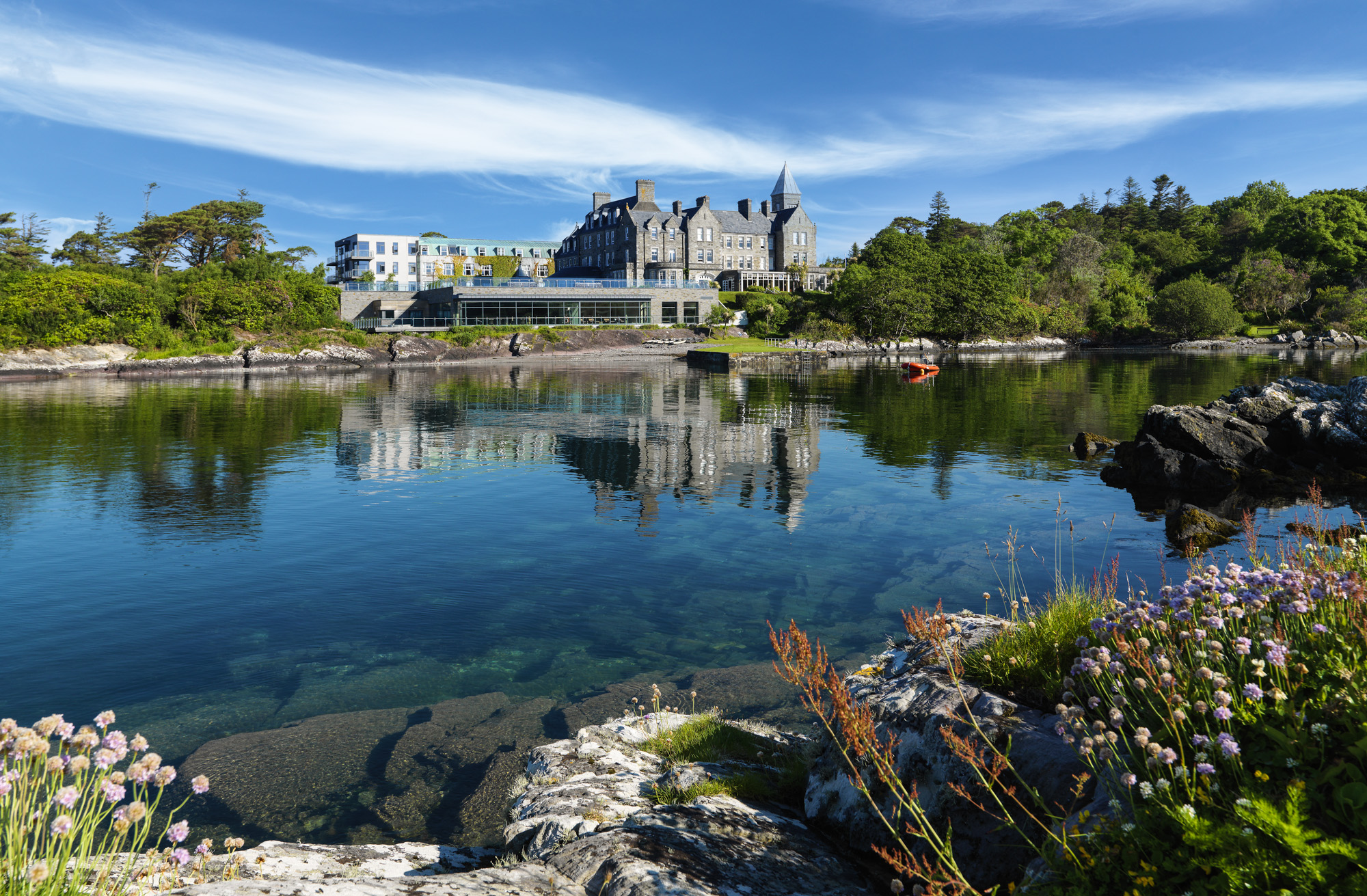 Understandably, Kenmare River claims the landing place and incantation of Ireland's first great poet, Amergin and his 'Great Song'. Myth compounds the powerful lure of this place.
"I am the wind on the sea;
I am the wave of the sea;…..
Who spreads light in the gathering on the hills?
Who can tell the ages of the moon?"  (Amergin)
A more recent wordsmith seduced by Parknasilla was Nobel Laureate George Bernard Shaw. He recognised and cherished the magic here – "this place does not belong to any world that you or I have ever worked or lived in". Shaw and his wife Charlotte Payne-Townshend from West Cork (ye of all the luck) visited for the final time in 1924. He finished writing Saint Joan within these inspiring walls on his last visit.
So much landscape to absorb and so magnificent, any accommodation must surely fail to match or adapt to its perfection. But Parknasilla does not fail. Like a poker player it matches the surroundings and raises the stakes producing a royal flush. This hotel is sympathetic to its location retaining its 1895 manor grandeur while maintaining an organic balance with recent additions.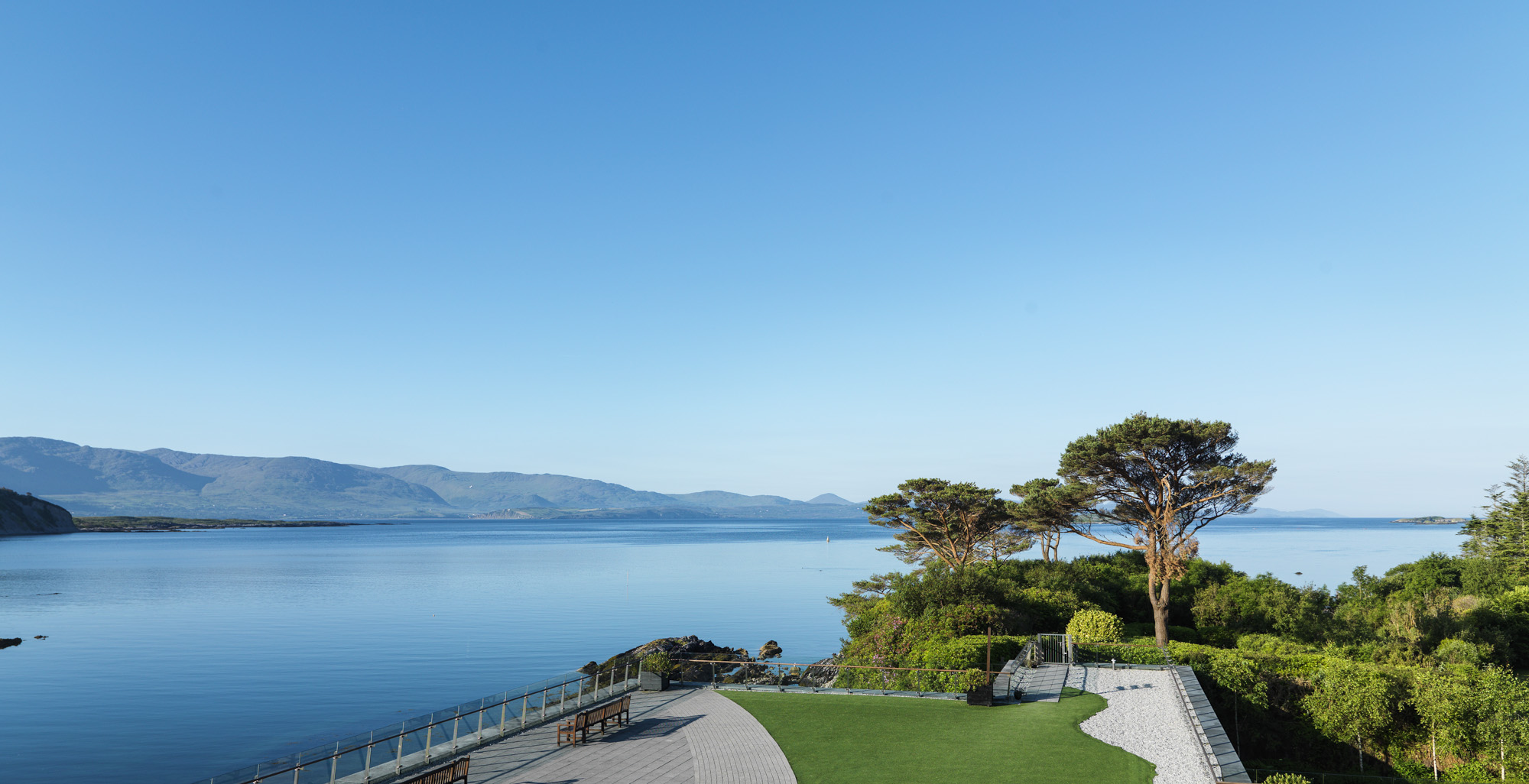 On arrival you might notice a vibrant green swathe stretching off to the left of the entrance. This is the roof of the inconspicuous Spa. You will only see from the water or the shoreline's hot tub how well this new extension has merged into the original building. Like a foot jutting out from its limb with the hot tub's toenail winking seductively, inviting us to visit. Though the lure of the open sea in coat-wearing weather…… not so seductive. Could we brave it later?
Entering the hotel, just before the reception area the Drawing Room drips 19th century elegance and relaxed opulence. Light fills this space from every high windowed angle, the walls already golden tinted, shine under its reach. Contemporary art mixes with older works to balance out the centuries. Armchairs almost creak you a welcome towards them. Even the furniture whispers …. Parknasilla …..a top place to stay on the Wild Atlantic Way.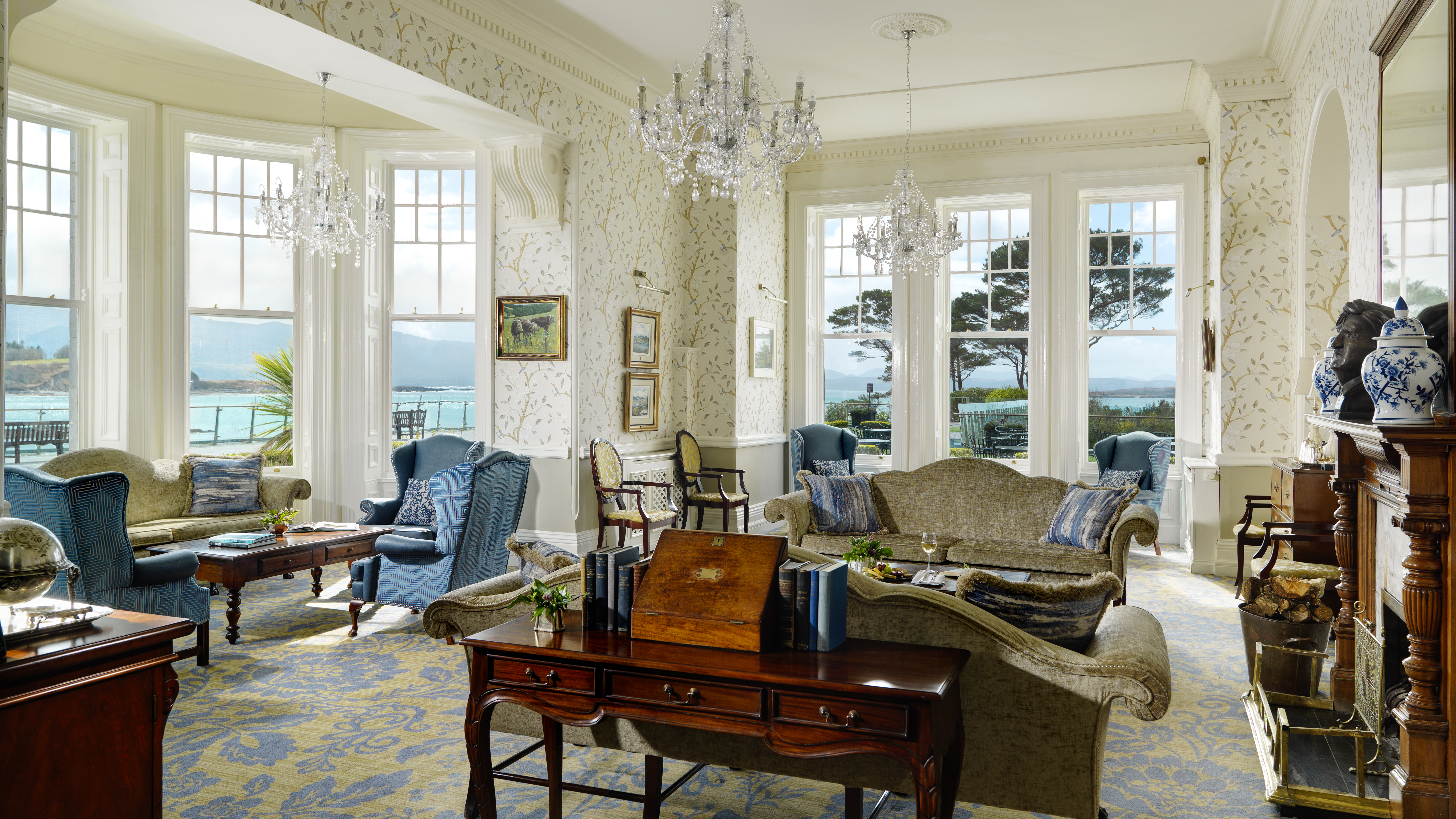 We were here to wave off Isabella (our Sheenco co-founder) to new shores, so a memorable send off was required. Staying at Parknasilla ticked every box. Our group had the option of choosing from a wide range of activities. Active or not-so, with relaxation from any exertions in the unrivalled spa. As we discovered, it is a perfect accommodation for any family or corporate gathering in Ireland. In the foyer a table displays the menu of activities on offer for the day. We could have joined in on a guided walking trail, a falconry display, pilates class, all spa treatments, golf, cycling or tennis. But the first on our activity list was not land based.
Parknasilla is a place not only for reveling in just being here, it is also about doing. Much doing. Our first activity was a hair streaking ride around Kenmare Bay on a RIB – Rigid Inflatable Boat – or more…. Rapid Inflatable Bullet. Yes it was fast, very.  And damp (apologies to Rebecca) at times if you are sitting by the back of the boat, okay sailors…. stern. As the wind barrelled down the bay we steered closer to shore passing unfussed seals, seaweed dolloped islets and views behind of faraway hills.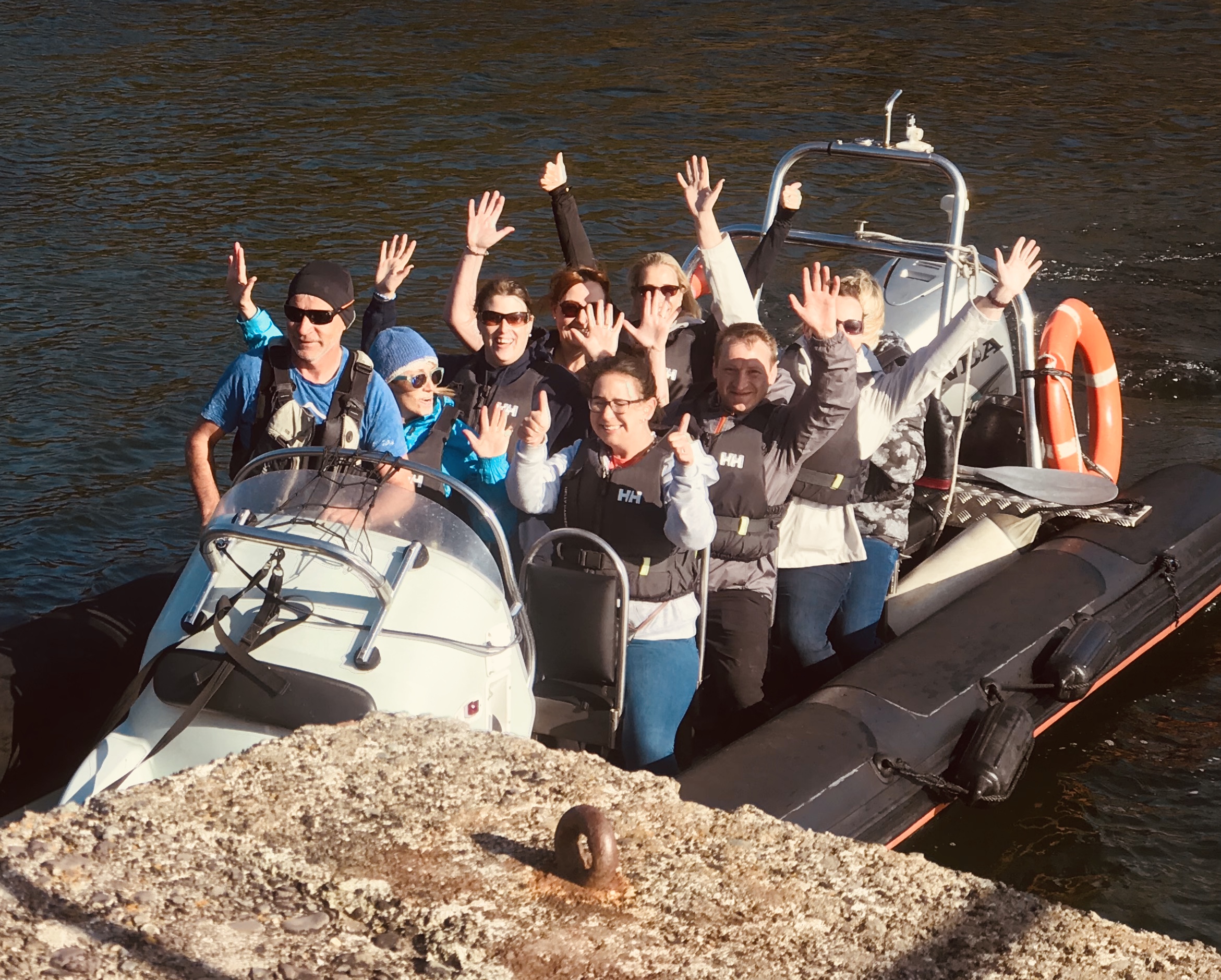 There is something special about the vantage point of a sea-bound perspective looking back on land. Your brain readjusts to possibilities. Here by the shore you can see the property Charles de Gaulle stayed in immediately after he retired as French President in 1969, and remarked;
"At this solemn moment of my long life, here I have found what I was looking for"
Yes Charles, with your perceptive Gallic eye, Parknasilla has that clarifying effect where a stay here might reassemble you. The RIB journey might also do it, priming your pores.  On a day without big winds you can take a journey across the bay to Helen's Bar at Kilmackillogue Pier by Lauragh on the Beara Peninsula, just outside the Co. Cork boundary…. well, you can't have it all. But you will feel you have it all on a bright day with mountains of mussels on the pier overlooked by the wide slide of Kenmare Bay and Dunkerron Mountains pointed to the sea.
Activity number two was an introduction to Archery, an ideal team building activity. The shooting range is cupped within the corner of the ruined grounds of Derryquin Castle, built by the Bland (far from) family as an attachment to their 18th century Parknasilla House. Behind you is that wide blue view and beside you the walled organic garden where butterflies triumph with cornflowers. Many reasons to look elsewhere than the target in front of you. My excuse for my arrow returning by my feet and retiring mid-field.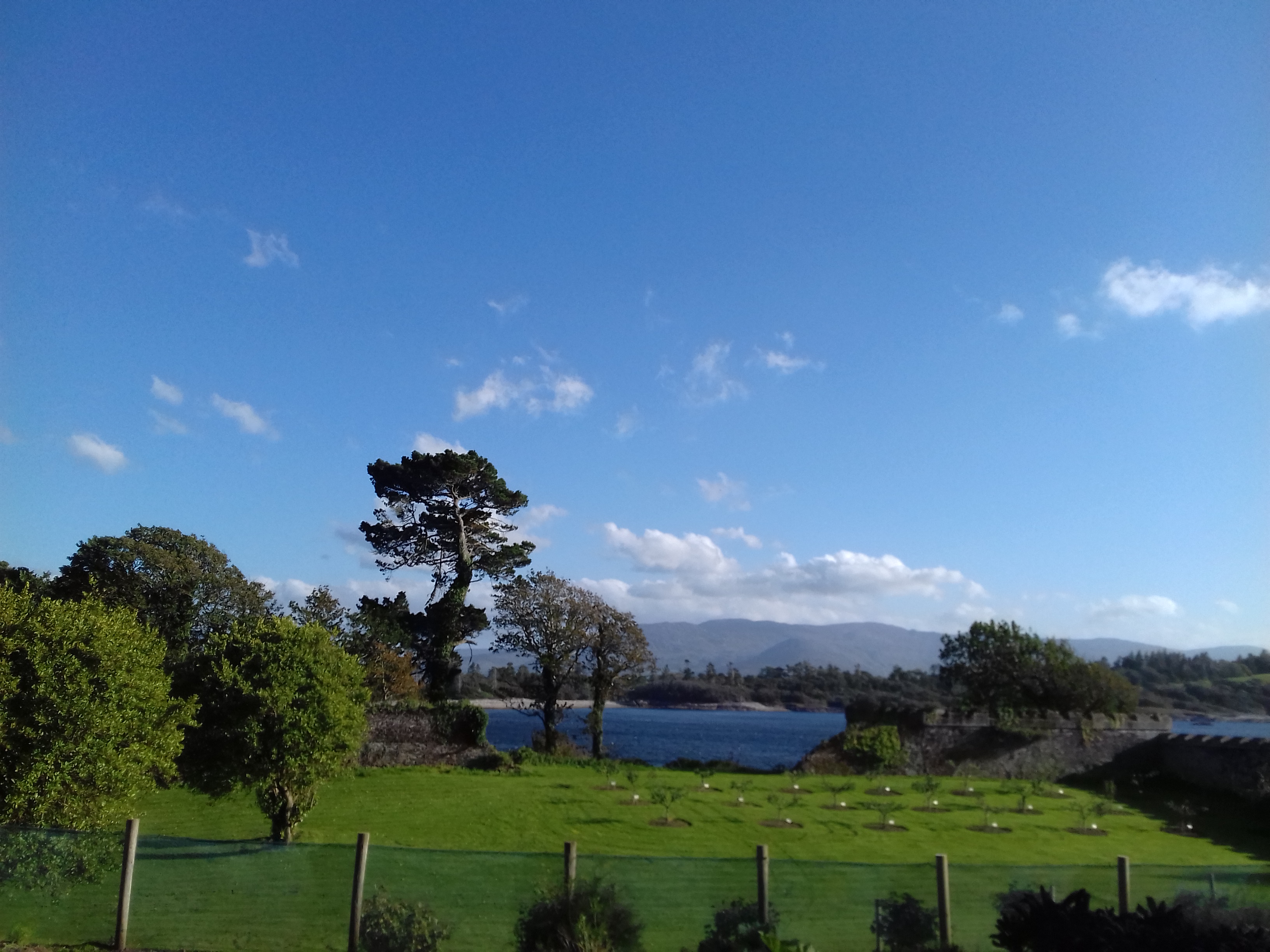 Activity number three, a guided walk with knowledgable Dan, along one of the numerous trails. Most snake along the coastline with benches placed in nooks open to sea and mountains. Fairy treasure paths curve through laurel archways with tucked away delights for all ages and boardwalks cling to the sea's edge. Close to the main house itself we crossed over a sycamore-green wooden bridge. It tattoos 'special' even further on this place. Hand-crafted from a fallen Monterey Cypress by Noel O'Brien, Parknasilla's Master Carpenter, with help from his colleagues in 2014  – a wedding present to his daughter Keara, a Deputy Manager here.
Generational employees rubber stamp Parknasilla's magnetism. Always a great reflection on a property when local employment choose to return with every generation. Amy O'Regan, gave us a tour of the Estate …. a fourth generation Parknasilla employee. Amy's great grandmother was the first link in this family chain. When you get the locals' rubber-stamped approval, it says more than enough. Even more than countless positive guest reviews. And there are endless lists of these.
Noel died just six weeks before his daughter's wedding but the bridge was finished on time. Only O'Brien family members are now permitted to make any necessary repairs. Linger in this extra special space where a plaque states the Love Bridge is an expression of Noel's great love of life and nature.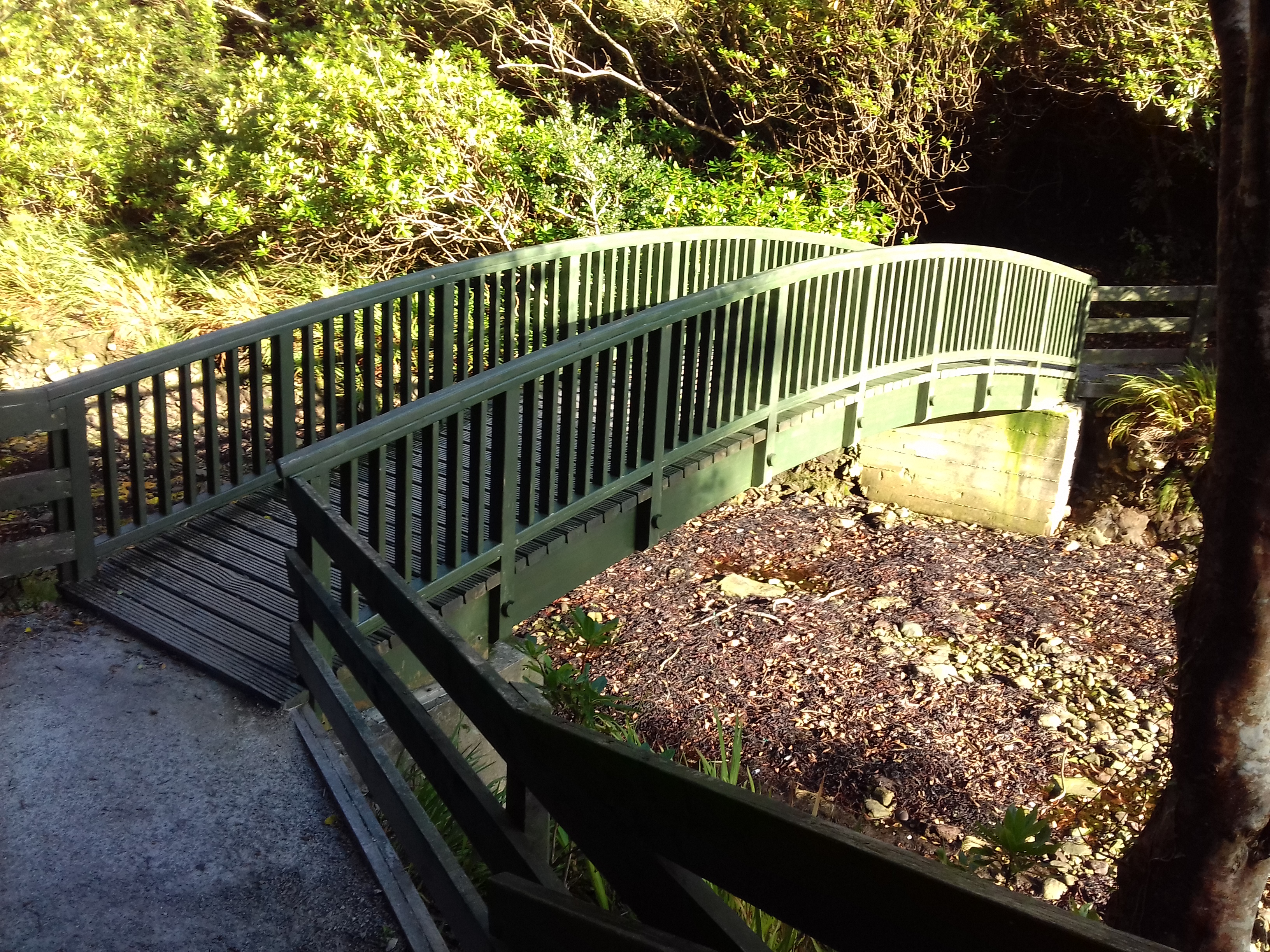 The estate has over 500 acres of parkland. If you want to push your toes further you are only a skip away from The Kerry Way, one of Ireland's best known hikes. We chose to skip towards dinner instead.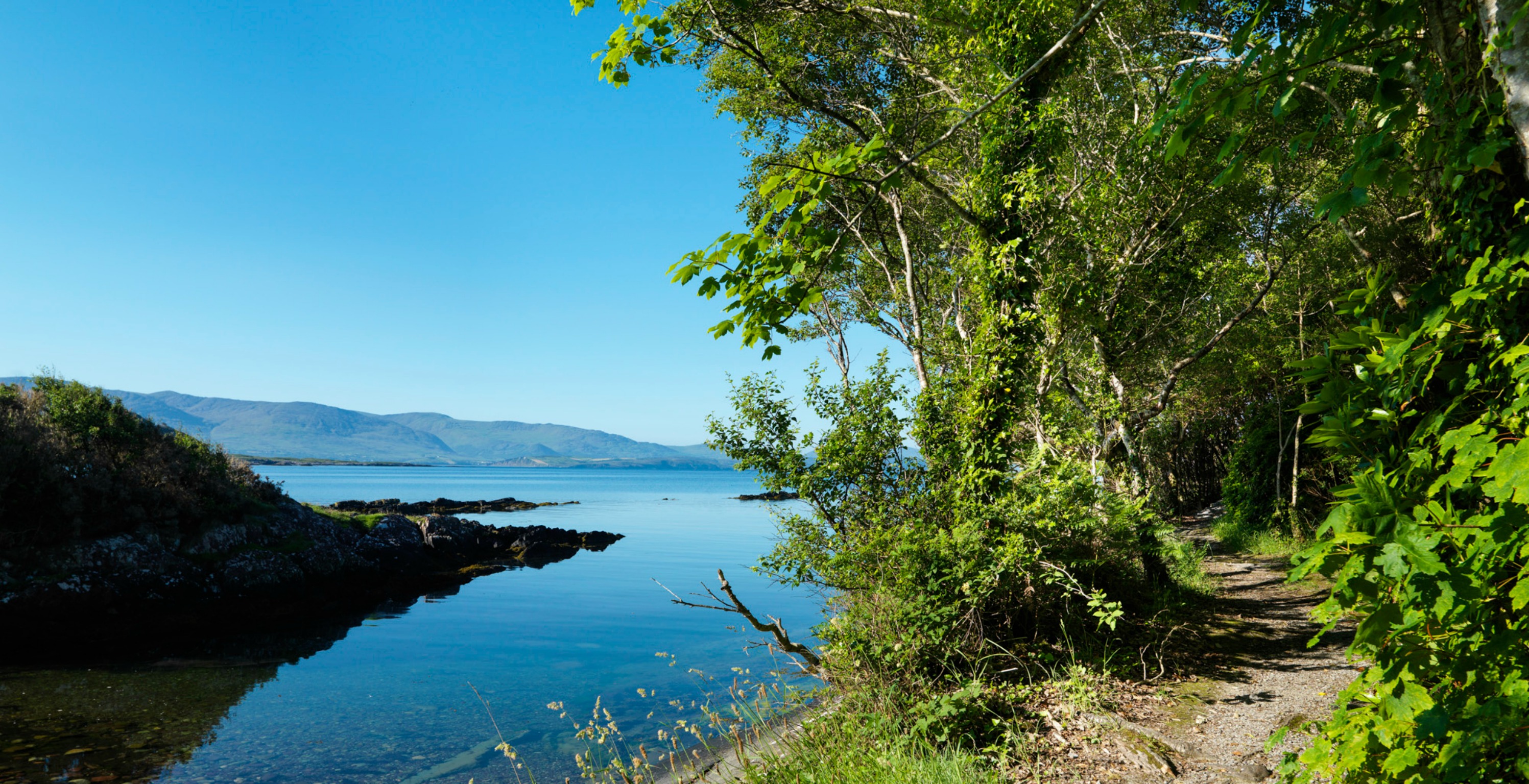 Before Isabella's farewell meal some of us skipped to the Spa. Most Hotel swimming pools and Spas are tucked away  in dim, hushed corners but here it is the drum roll concert closer. The sea invades the windows, light bounces everywhere and it is wide-armed open.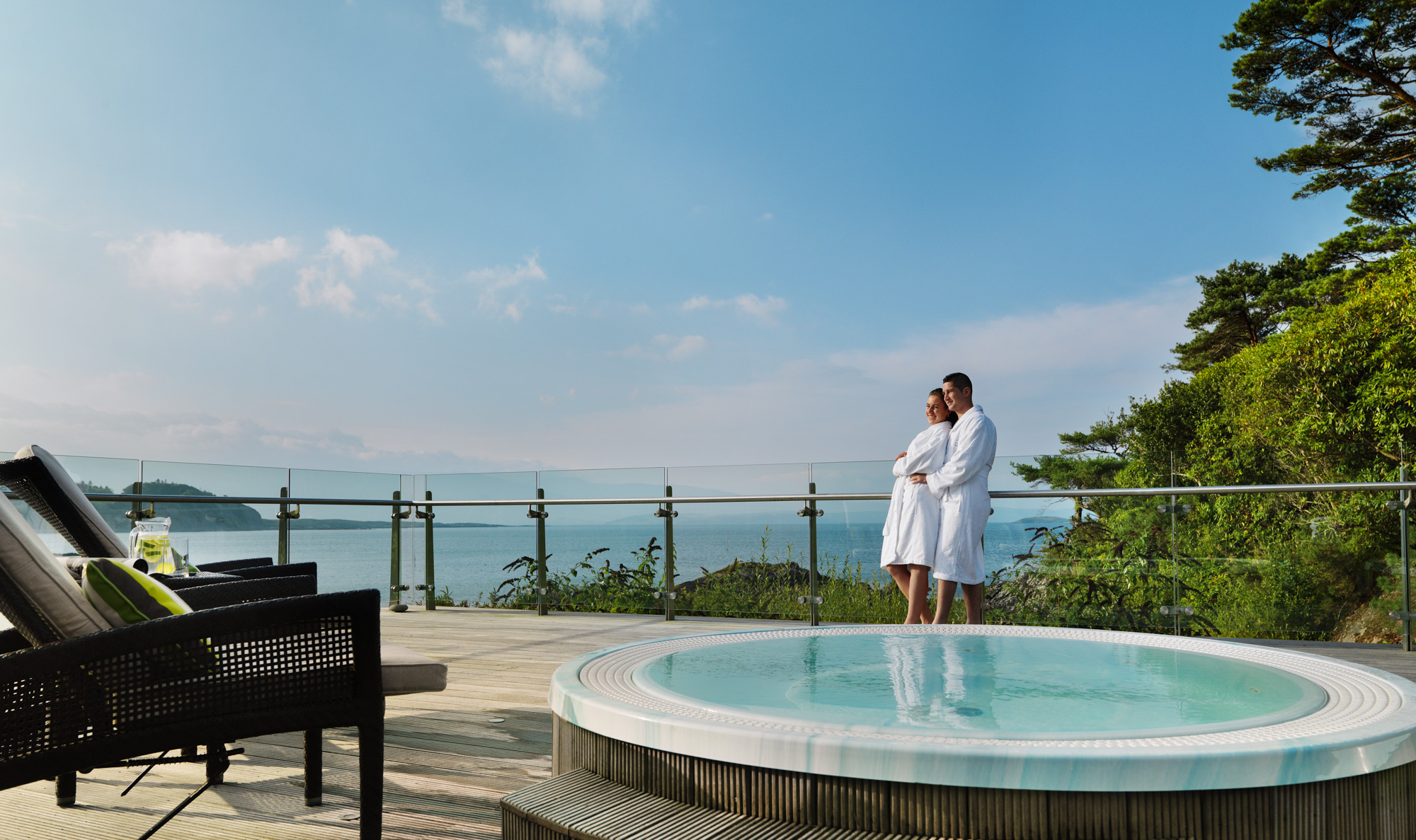 The dry heated sauna has floor length glass looking over the bay, heated loungers face the sea, outdoor jacuzzis take in the whole expanse and the swimming pool is a surround-glass extravaganza. And yes we dipped into the open sea, briefly, hot tub not so brief. Our skin tingled pins-and-needles-like as our pores primed. Reminding us that this is Parknasilla, a top place to stay on the Wild Atlantic Way.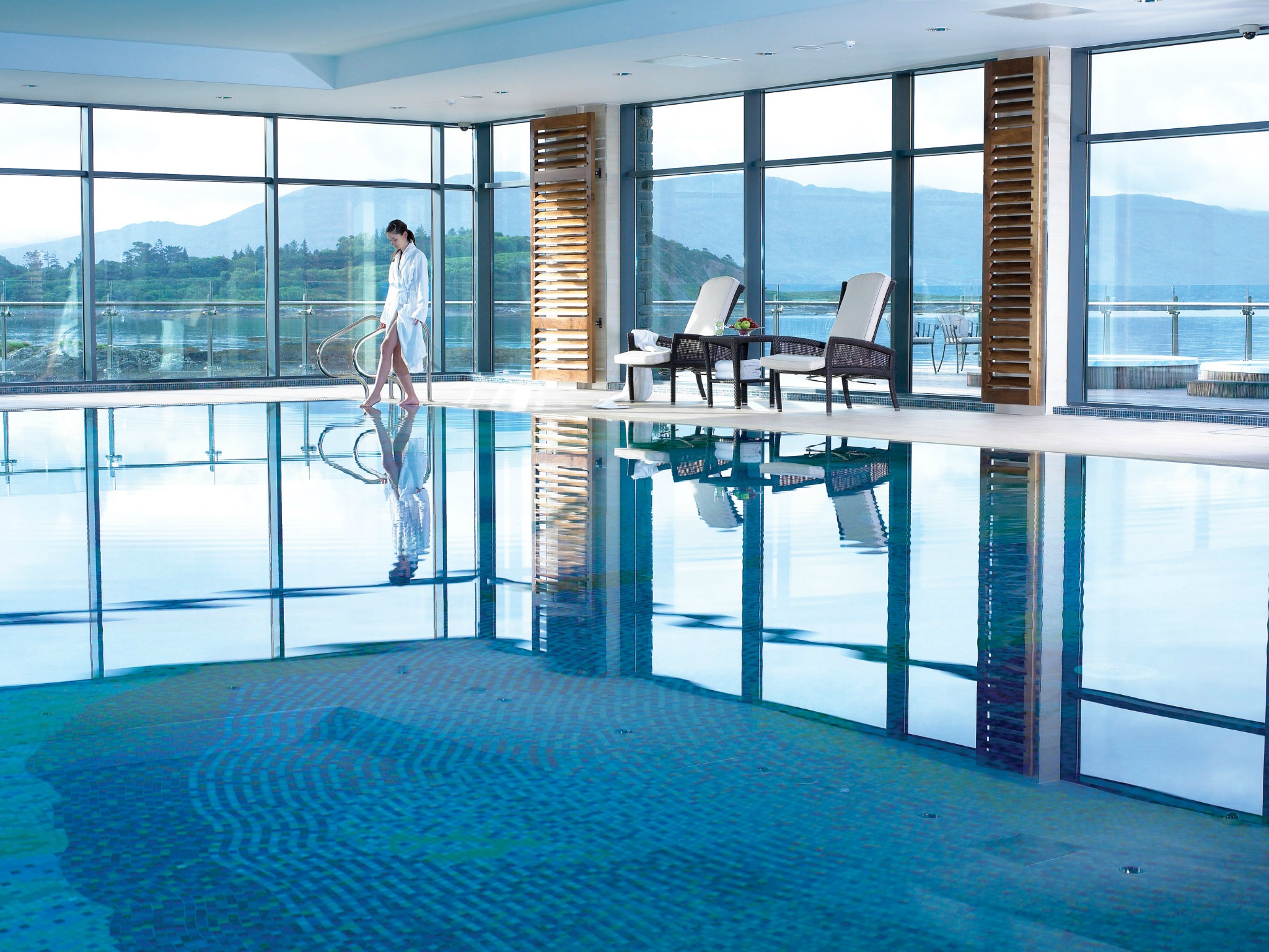 Yes, the food is perfect, service faultless, breakfast choice-laden, dinner divine with piano accompaniment in Pygmalion Restaurant or with more bustle in The Doolittle Bar. Cocktails give off hums of praise, plump and exotic or slim and magazine cover-worthy. Yes, I wanted to bathe in the Pina Colada or have it as a main course.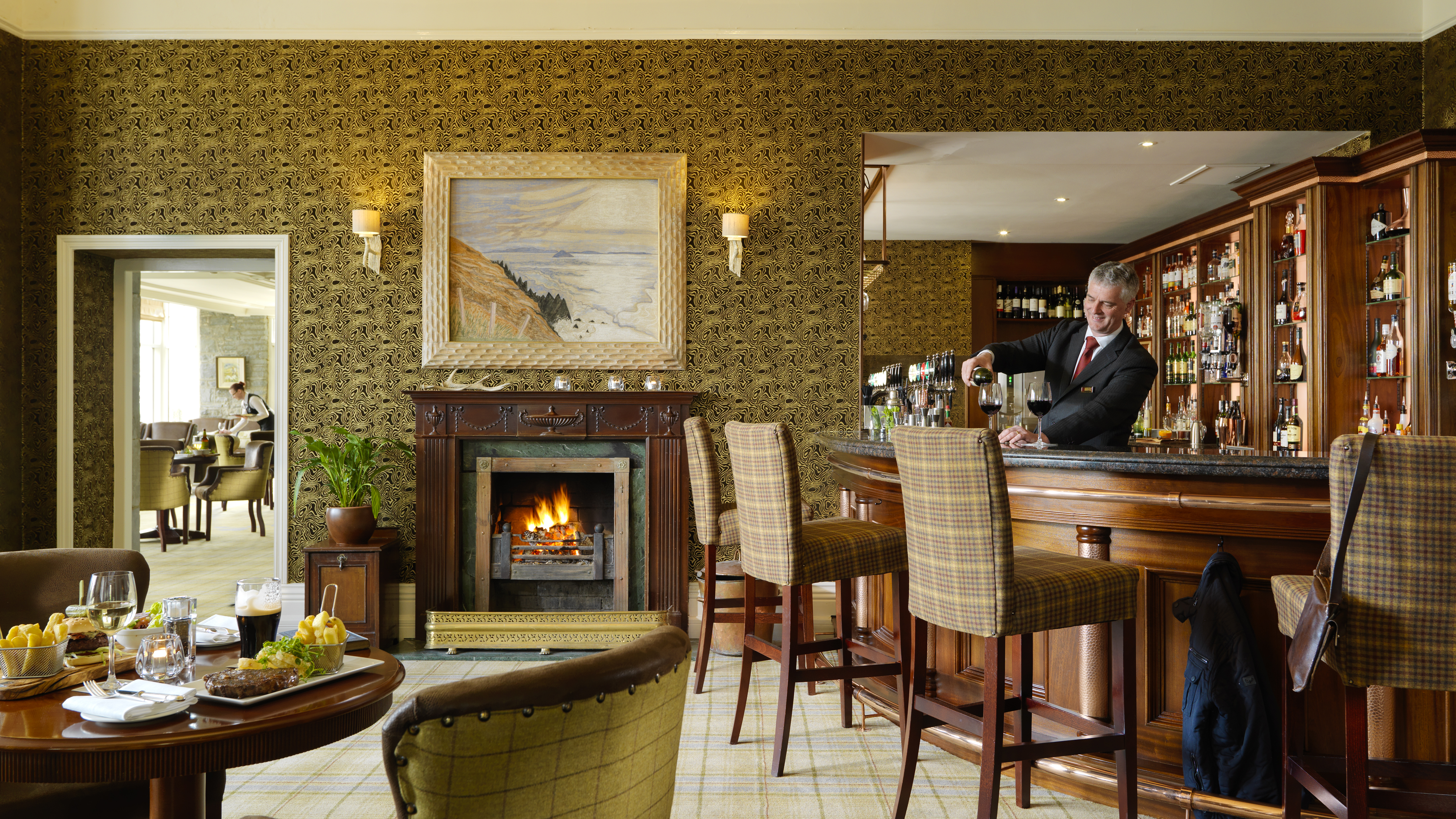 The rooms are elegant, manor grandeur with contemporary touches, not dragged into the present but danced along. And yes, you will sleep grandly and easily but you will always be drawn to the windows and the outdoor grandeur.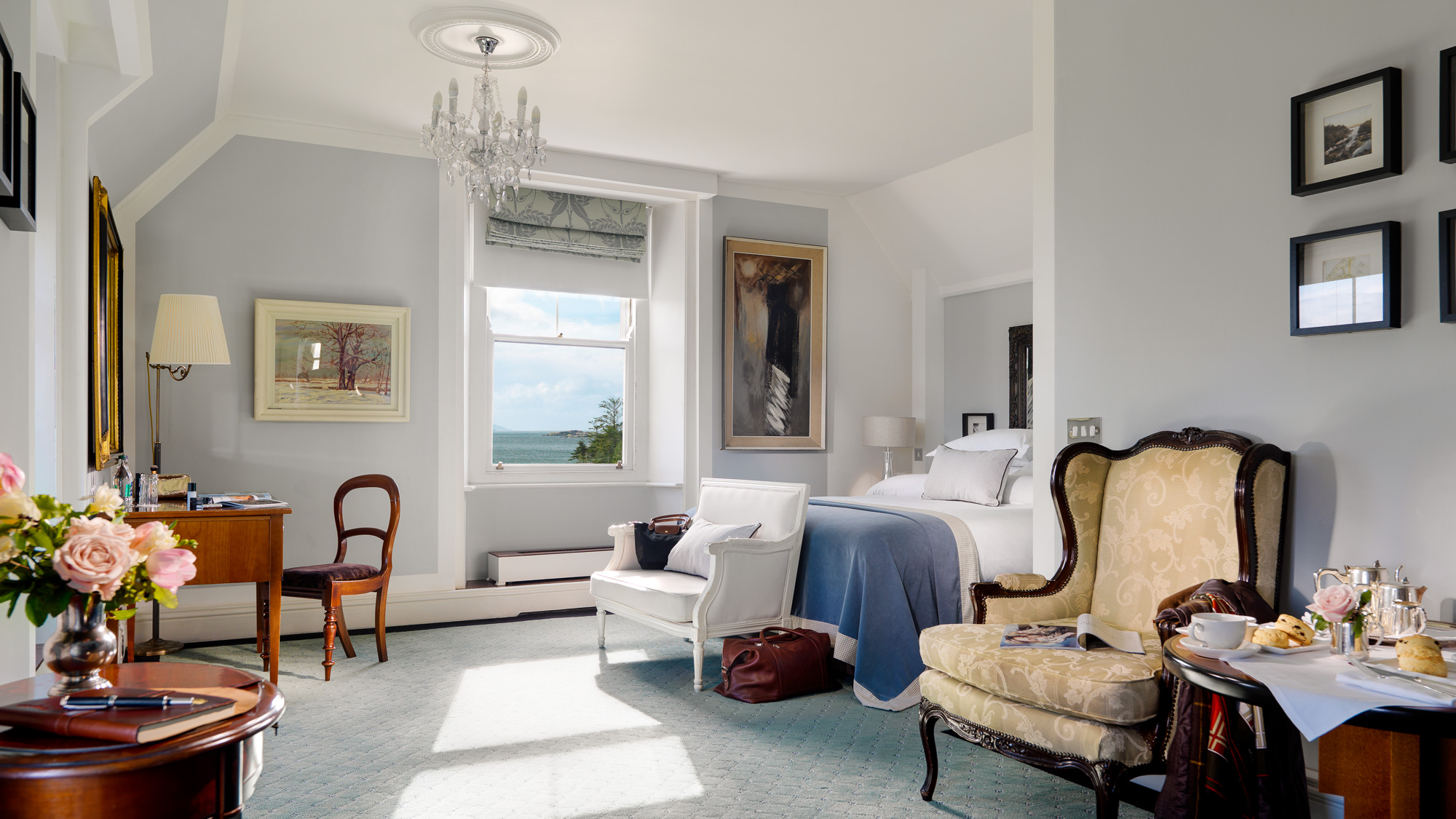 A stay at Parknasilla is special. This old glory tastefully accepts its place in the world – Queen of it's own inlet. It has become of this place. There is a profound satisfaction in simply being here. Be delighted by the geography of this site, by the immensity of it all.  It is a beguiling, intoxicating place.
I did not want to get off the conveyor belt of sauna area to swimming pool to outdoor jacuzzi so I stayed and stayed and overstayed in the spa. Pushed my pruned body to my car and drove off. It started to rain as I left, the farther away I drove the harder the rain fell. The heavens are open here. Come and embrace them, revel in the landscape as Parknasilla does – a top place to stay on the Wild Atlantic Way.