The Best of Wonderful Wales
by Elaine Desmond
"The sheep are grazing at Bwlch-y-Fedwen,
Arranged romantically in the usual manner" (The Welsh Hill Country – R. S. Thomas)
Nightfall tussles with the GPS sending our bus through Ruthin's streets more than once. As if telling us not to avoid it. In the quiet darkness it seems you would always sleep easy here. Each wrong turn compounds its solid prettiness and shows us the best of wonderful Wales.
1. North Wales
Throwing technology aside, fittingly, we glide past black and white Tudor styled house and shop fronts. The busdriver steers us gently through an archway with inches to spare and we totter out to 13th century Ruthin Castle. We share late night drinks in the dark panelled bar with a work group celebrating their Christmas party with a Medieval feast here. A perfect event for any company incentive in Wales. Envious, we unsubtly drop hints for our festivities next year.
Even though it is night you can see the charm in this building. Crumbly, I think first, and unassuming, almost modest in its Castle grandeur. Maybe Wales has this trait overall – an unassuming modesty. No arrogant swagger or brash boasts, yet surely there is much to brag about.
The morning brings light and a walk outdoors confirms dented Castle walls. They seem quake or bomb damaged, shaken somehow and fallen back into place slightly askew. There's an authenticity to the grounds here many other restored properties cannot boast. A heritage dovecote overlooks a small car park.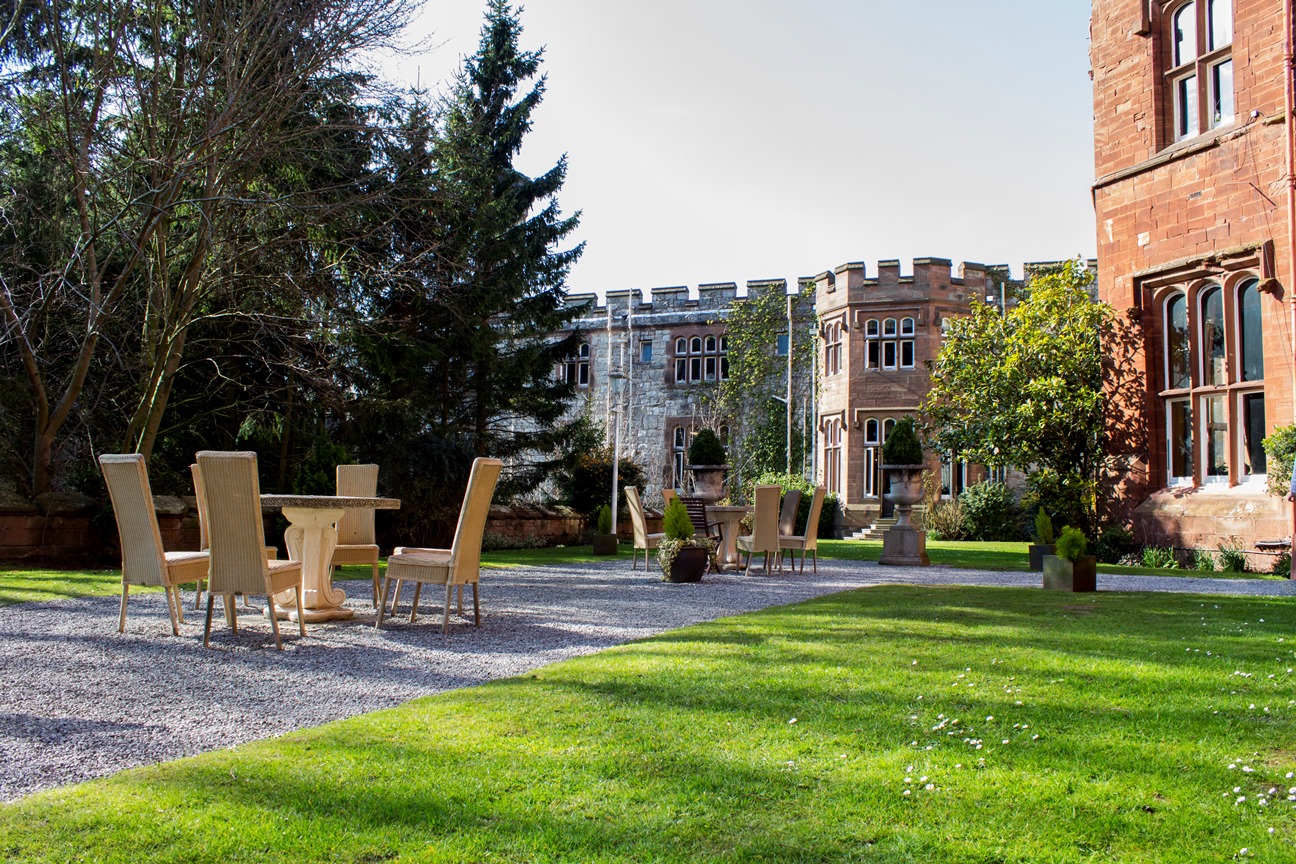 Five peacocks perched in a tree punctuated the frosty morning. Our breaths wisp out as we walked towards the grave of The Grey Lady. She wisps into the Castle along the battlements, dressed from head to toe in grey. Infidelity, axe murder and execution are the ingredients of her sad tale. But we didn't linger long enough to meet her and travelled on to Bodnant Gardens.
This National Trust property is famed for the longest laburnum arch in Britain and plants collected for over 150 years. More of the best of wonderful Wales.  Settled under Mount Snowdon's rain shadow this wonder of Wales schedules events throughout the year. 'Unbind the Wing' is exhibited in the skeleton of the wintry arch when we visit. This celebrated Bodnant's proud links to the suffrage movement – cultivating liberty and change. A giant willow sculpture commissioned for the exhibition used Laura McLaren's words as an inspiration. 'A nation ruled by men alone is like a bird that tries to fly with one wing bound…Unbind that wing'. Much to discover and savour here.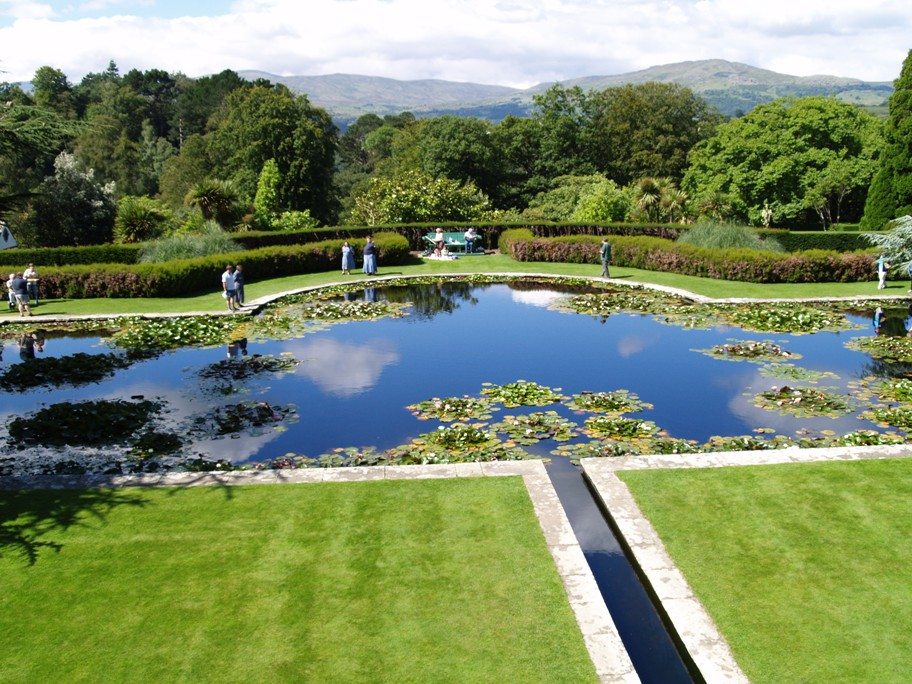 Bodnant is less than six miles from Conwy and the tidal estuary here is great for birds and mussels. But maybe not so great for bird guzzled mussels. We passed dreamy wind turbines in the hazy distance on one side and tree snuggled sheep on the other. Gentle peacefulness covers the countryside.
If Wales is unassuming in general, Conwy Castle bucks this trend completely. And yet not. It was built by England's Edward I (Edward Longshanks) as a defence against the Welsh. This site was just one element of his 13th century iron ring of fortresses. Conwy Castle is still grand and magnificent.  The approach is spectacular as you cross over the estuary beside one of the world's first suspension bridges. Originally painted white, its imposing gleam a sign of power and might. Nothing modest about this fortress. When we visited, conservation plasterers abseiled down the castle walls dangling like the 1980s Swingball game. The drama of this site magnified as they swung back and forth. And magnifying our certainty that this is the best of wonderful Wales.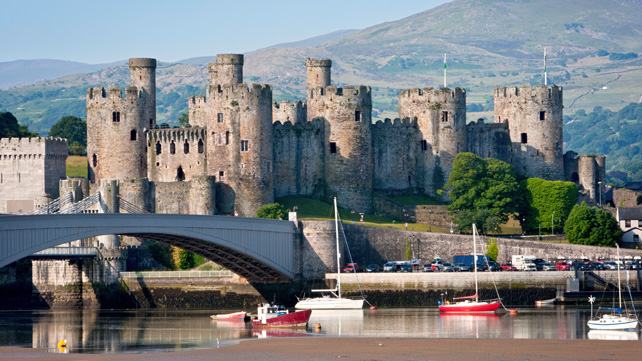 Our wonderful guide, Amanda Whitehead, gave a great historical overview of the building. A testament to medieval architecture, only twenty to thirty soldiers defended this bastion. Each area a military design to defend, fallback and finally retreat. Architectural aids included the usual squeamishly gruesome devices such as Murder Holes.  Soldiers poured hot sand or boiled urine (Medieval economising) through these gaps in the Castle walls onto hapless attackers.
Less grisly is the private royal chapel area where the Queen hid from view during mass. Here an inscription by Damian Walford Davies reminds us that war sometimes took a back seat. "At the altar they heard estuary birds cry over the kiss of salt and river water".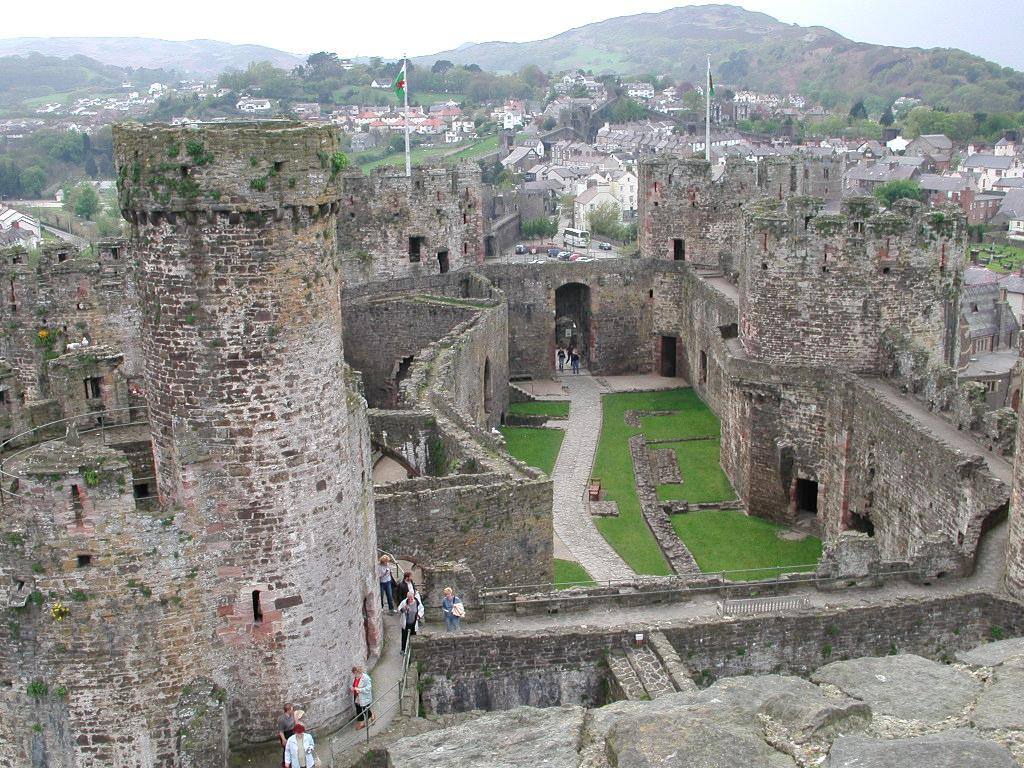 Less than five miles away, Bodysgallen Hall has strong links to Conwy Castle. The 13th century tower  built as a watchtower against surprise attacks. This Historic House is an elegant, understated gem and should be included in any Self Drive in Wales. Even without the wonderful spa, the building and location is an antidote to any stress. Everyone naturally breathes slowly in Bodysgallen, the best of wonderful Wales.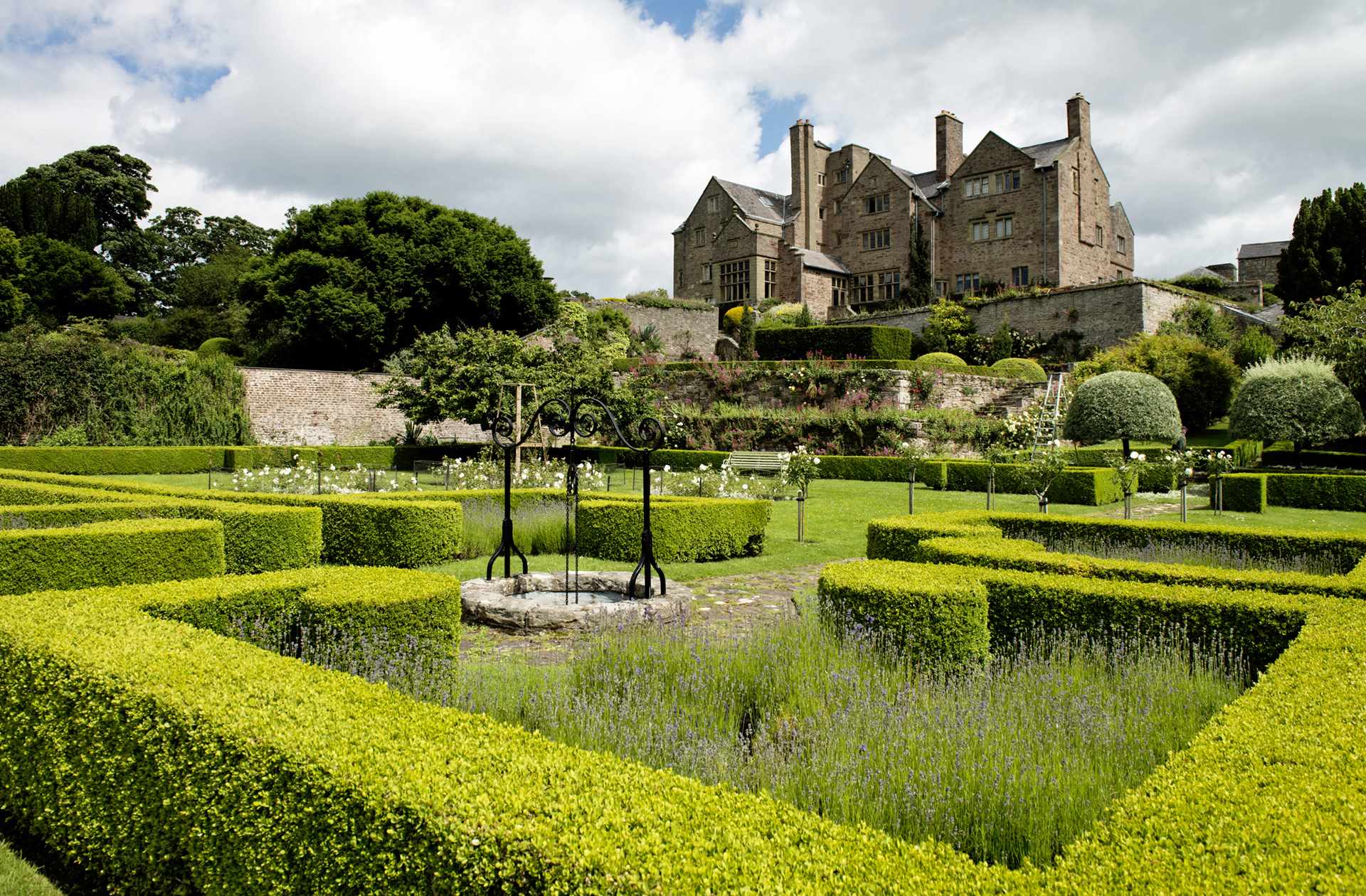 History pauses here. The rare 17th century parterre garden with herb filled box hedges is a perfect sunshine-afternoon lolling magnet. Snooze here and you will for a moment wake up in another era, a brief time travel warp. The sympathetic  restoration and interior décor will lean you less towards wifi and more towards a window seat hardback cosy-up. We felt so comfortable by the Drawing Room's open fire, the deep carpet beckoned some of our haunches.
Peeling ourselves off the floor we moved on westwards to 5* French inspired Chateau Rhianfa, a must in any Castle Tour in Wales. Another magnetic open fire greeted us at the entrance as we enjoyed more Welsh hospitality. Here the views are paramount. Bedrooms makes the most of this lofty aspect, one with a deep bath on a stage-like setting within a bay window. The perfect position to survey the dramatic skyline – theatre within theatre.
Afternoon Tea in the Music Room allowed us to wrap ourselves in the views on the balcony. Across the tidal Menai Strait the backdrop of Northern Snowdonia's mountains lends an air of  unexpected drama. There is a slight hint of Patagonia in the distance. Easy to see why Welsh migrants settled so well in the Chubut Valley of South America. So successfully Welsh is still spoken in this small pocket of Argentina.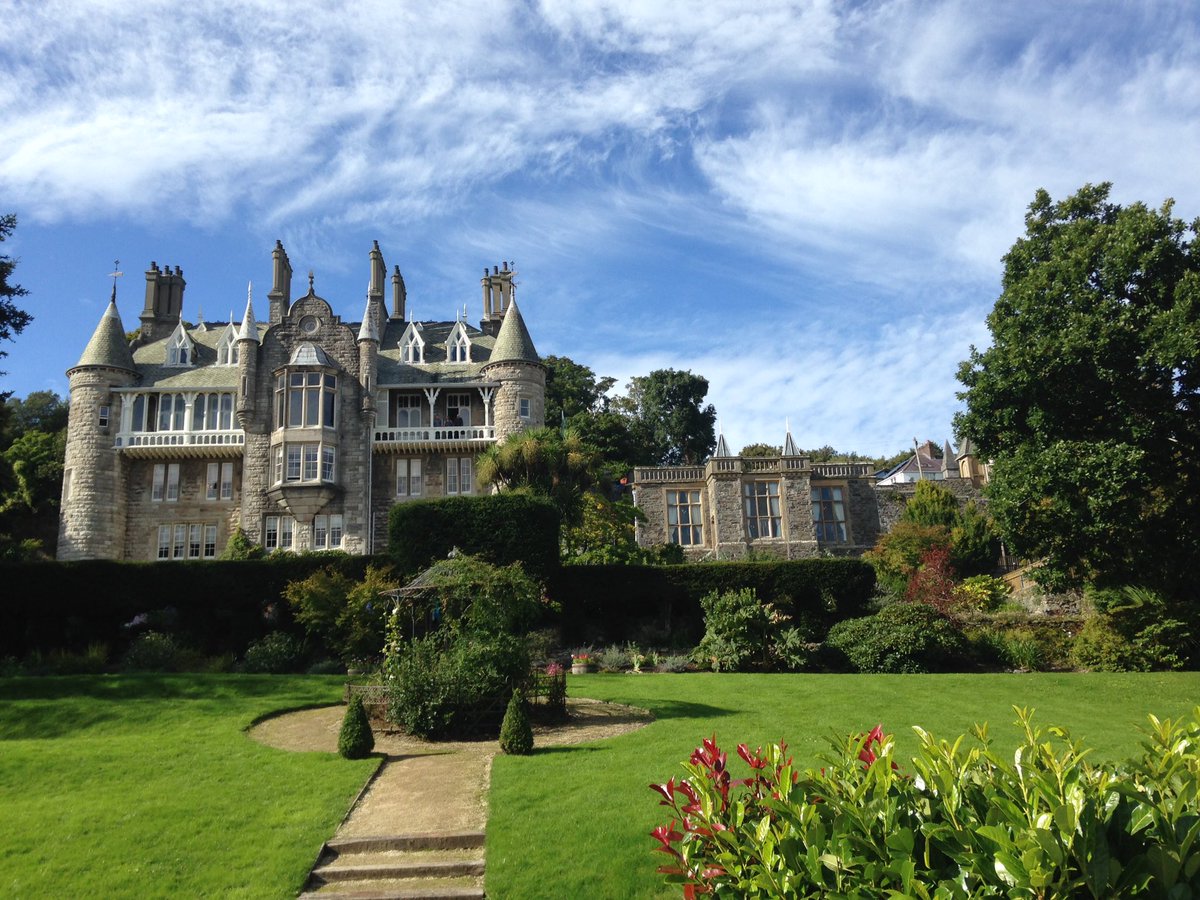 Amanda instructed us in the intricacies of the Welsh language as we drove. We learnt that the double ll is not a sociable letter, spittle flying back and forth as we practiced. Maybe the local Argentinians learnt to borrow reading glasses when visiting their new neighbours. Warning….do not practice this letter using youtube at high decibels close to an unsuspecting cat.
2. Mid Wales
South of Chateau Rhianfa, Pale Hall lies on the eastern edges of Snowdonia National Park. This is a world class location as a corporate venue in Wales. Sumptuous and comfortably magnificent with a tasteful opulence, the superlatives drop off the tongue here.  Each bedrooms' unique style suits different moods and tastes. When you hear gasps as people enter a room you know something special awaits. The Churchill Suite where Winston stayed in the 1950s created these gasps. And repeated again after a secret door hidden in a full wood panelled wall revealed the bathroom.
In 1889 Queen Victoria adored Pale Hall so much she changed her route and extended her stay to 10 nights. Sleep like royalty in her original bed and admire the bath (now preserved ) she used. Pale Hall can extend your stay at your command for any private stay or corporate travel in Wales.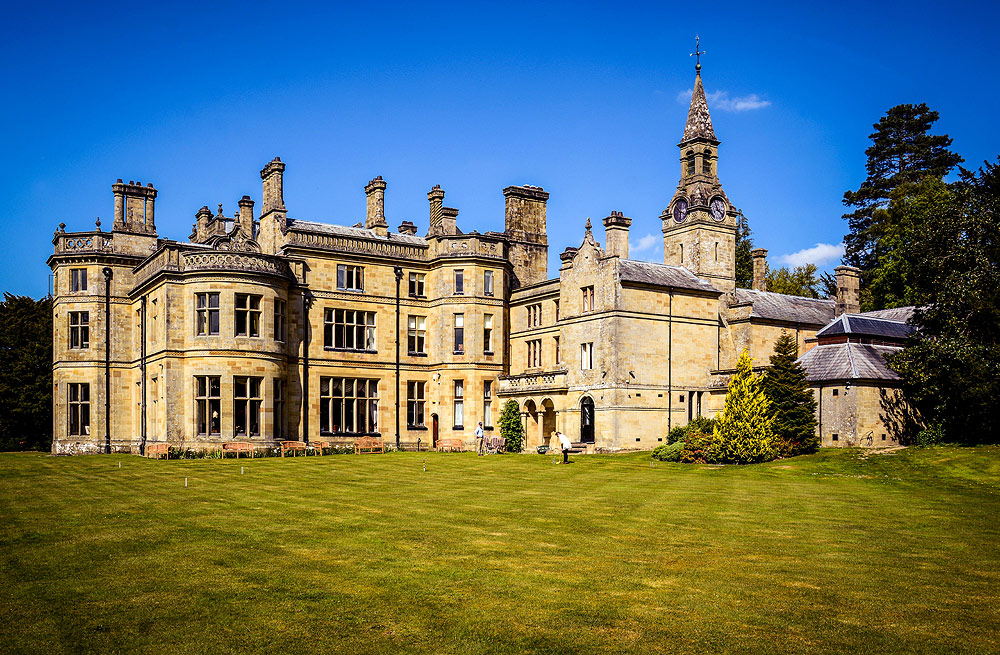 Supreme care and attention to detail is a feature throughout this historic house. Turbine power from a local river heats the water system boosting eco credentials here. Innovative wallpaper design, hand painted ceilings and mirrors cleverly designed as flat screen televisions all enhance the dignified beauty of Pale Hall. It is 5* luxury without serious formalities, softened by its dog friendliness and that Welsh trait of unassuming ease. Local artist Rob Reen's wonderful exhibition of paintings and ceramics mirrors the drama and stillness here. And leaves us in no doubt that this is the best of wonderful Wales.
Continue this tranquillity within drama at Lake Vyrnwy Hotel less than a one hour drive south. This is a perfect location to include in a romantic honeymoon in Wales or any Self Drive tour of Wales.  Dinner in the Tower Restaurant was a pleasure, good food without being over fussy. Testing the Welsh gins afterwards in the fire-lit bar was also a pleasure. But after a full day touring we didn't dawdle and tested the beds earlier rather than later. Sleep happens here as if silence is contained within another silence.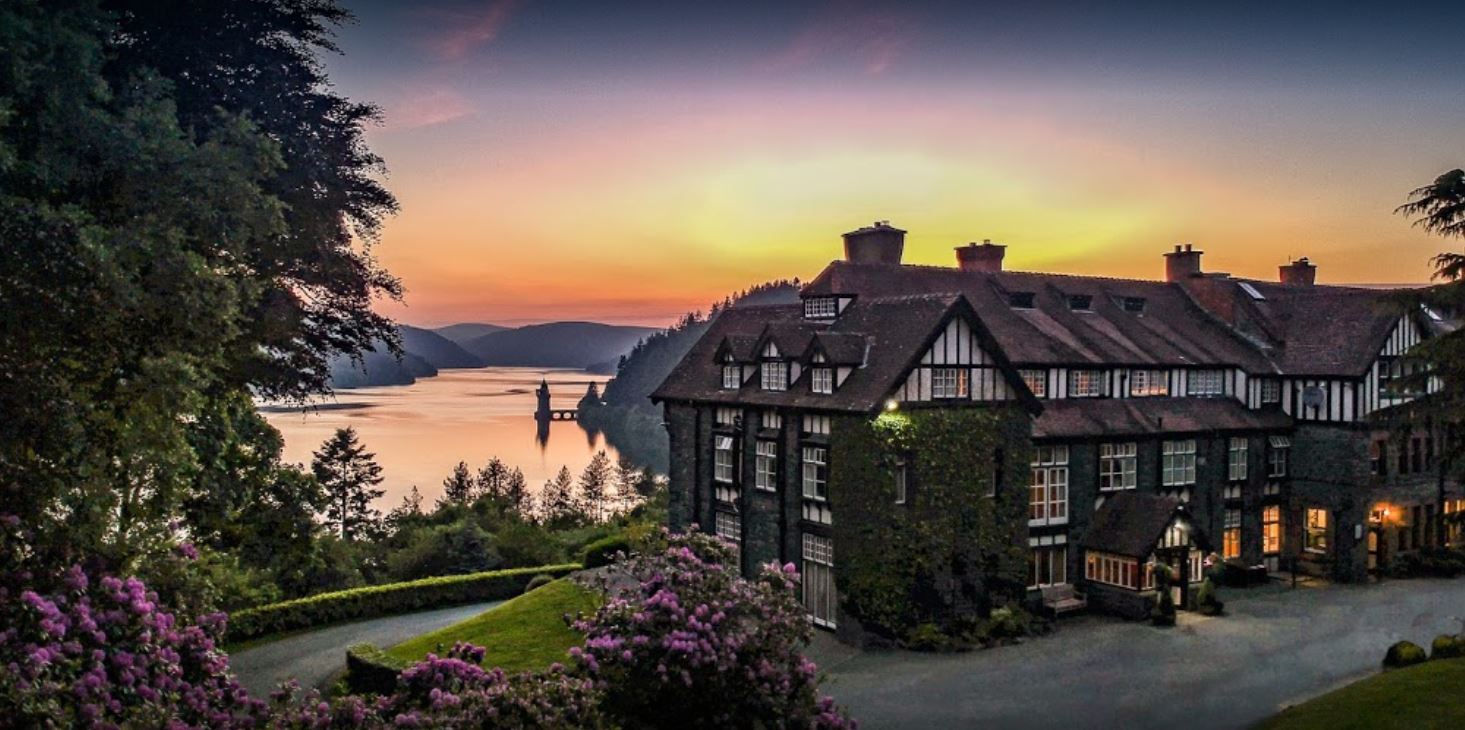 We had arrived in darkness, assuming a great spectacle would unfold in the morning.  It did.  Surrounded by mostly evergreen trees, the lake is shrouded in verdant silence. Lake Vyrnwy is perfectly situated to escape any hectic bustle with an onsite spa to amplify the soporific quality of this location. If you want to prepare for the return to bustle more actively, a woodland walk is the perfect revival. Ramble between the conifers and pockets of sessile oak by glinting lake water. Refreshing as an early morning's splash of cold water and more of the best of wonderful Wales.
3. South Wales
Our refreshments came later, further south by Aberteifi near Cardigan Bay's coast at In The Welsh Wind Distillery. From the moment you arrive you know this a place where love and passion are mixed in equal measures. In The Welsh Wind Distillery is full of heart and won each of ours. Photographs of owners Alex and Ellen's 1000+ mile walk through Wales rolls by on a large screen as we took our own gin tasting journey. This is an ideal event for any company incentive in Wales. Their wild camping adventure inspired them to create bespoke premium gins. They forage many of the botanicals in their wildflower meadow, here in the best of wonderful Wales.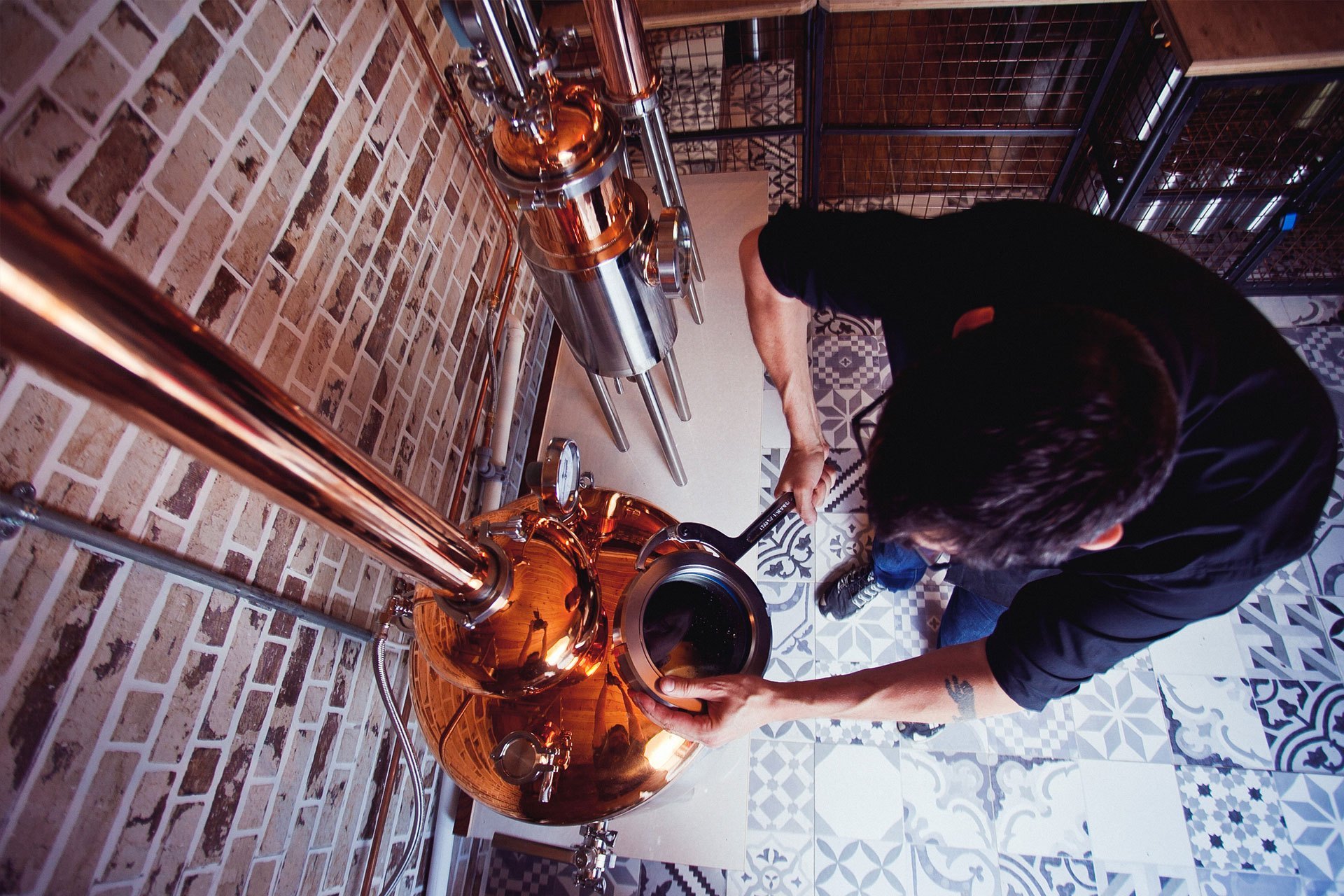 We followed part of this inspirational couple's journey southwards to St. Davids. Ahhhh St. Davids, after visiting once you will always repeat its name with a wistful sigh. Smallest city in the UK, it is pimple sized perfection. Again that unassuming, humble quality seems to be reflected even in the tucked away location of the famous Cathedral. An attempt to veil itself from historical marauders, there is a surprise reveal as you approach the bottom of a hill. And then…around a corner, it hits you with a full force. Far more impressive than usual summit placed cathedrals.
Less than half a mile from St David's Cathedral gentle elegance flows around Penrhiw Hotel, its pristine lawns edging the wilder countryside. Penrhiw is a perfect venue to include in the best Chauffeur Driven tours of Wales. This former Victorian priory built in the 1880s is now a boutique hotel where sleek rooms boast specially commissioned contemporary art. The tableware is also unique to Penrhiw, produced by ceramic artist Dan Wright, co-owner of local Goat Street Gallery.  Unique here too are Tablets live-streaming wildlife subtly filmed by the woodland paths, river and meadow which circle this grey bricked property.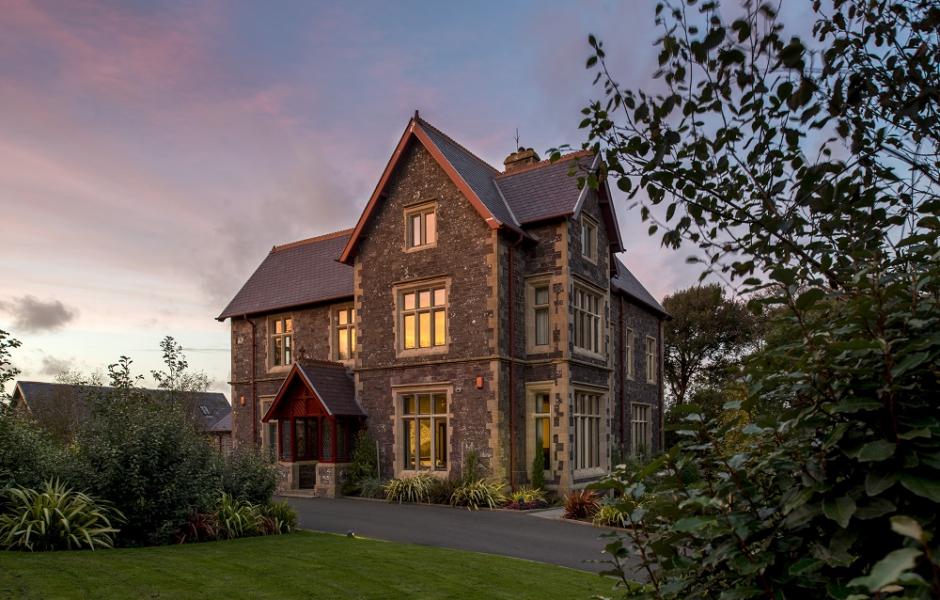 Penrhiw feels like a private residence and this is where architect Keith Griffith owner of Penrhiw, Twr y Felin Hotel and Roch Castle stays when he returns to his native St Davids. Easy to see why he enjoys this serene bolthole.
Our overnight destination was Twr y Felin Hotel, another Welsh delight in the best group tours of Wales. Complete and utter satisfaction as we settled in to our darkly chic rooms all kitted out with the latest digital accessories. The 100+ specially commissioned art works throughout the building raises Twr y Felin to Snowdonian heights. I lost count of the many times my favourite piece changed as every corridor and room revealed another and another. All artwork is thoughtfully placed. The supreme care and precision given to each piece is reflected in the service given to guests.  The Oriel gallery as a 'foyer' is a unique joy and this hotel too.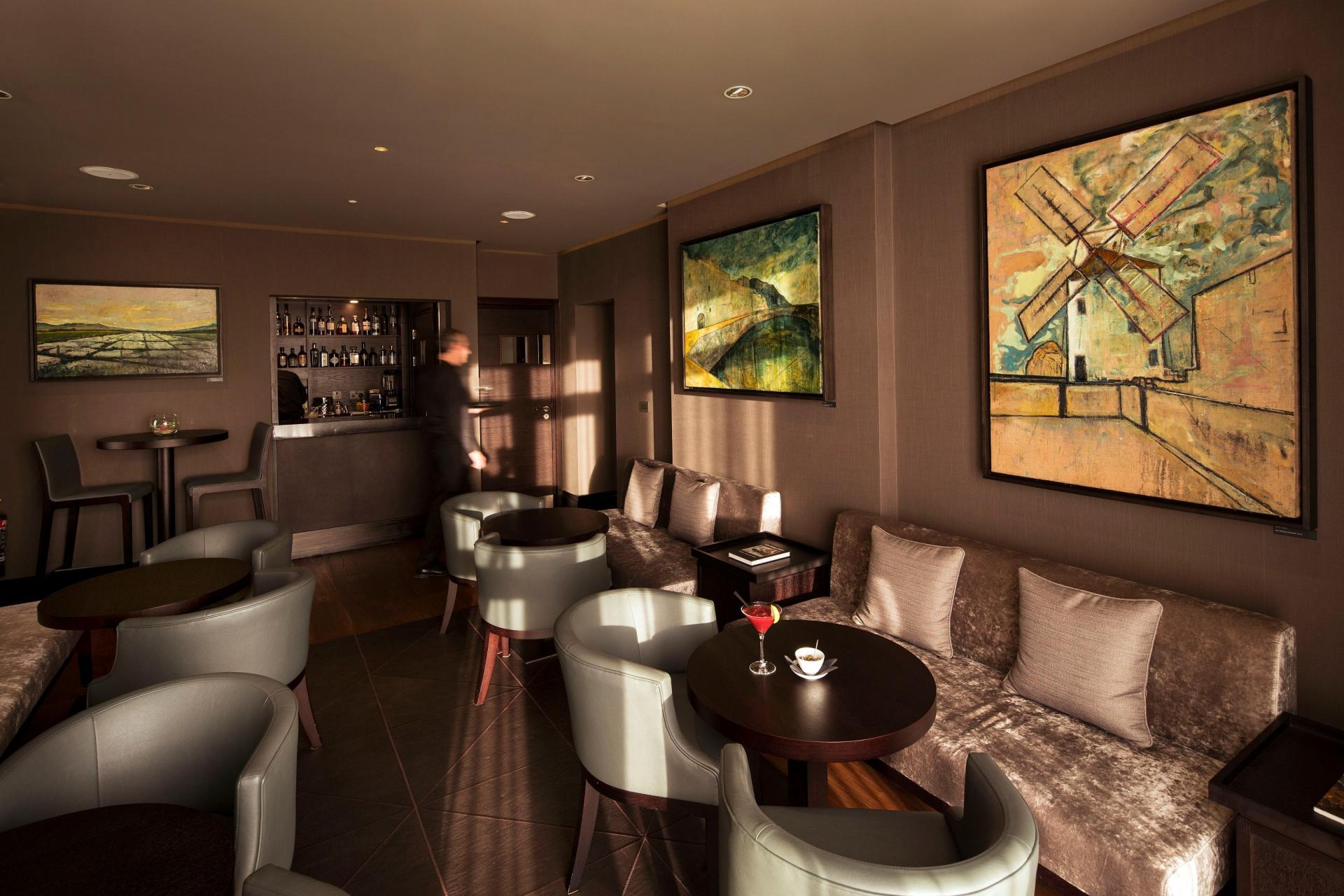 Highlight of our trip to Wales was about to unfold. Reception Manager Luke (and cathedral chorister) recommended we attend Choral Evensong within St David's Cathedral. A complimentary shuttle dropped us to our 6th century location where we found our pews amidst a reverential hush and shoe-twitch shuffle. Choristers arrived dramatically with swishing robes under a mighty silver cross.  The conductor's hand moved as if sewing music and voices through the centuries. Each palm-swoop pulled us through another segment of history as the music swung past our temples up to the brightly coloured ceiling and wooden dome.  As it has for centuries.  Our heads bobbed in recognition. And recognition too that this is the best of wonderful Wales.
What a comforting pleasure to be greeted by our shuttle driver David (of course) as Evensong ended. He glided us back to a perfect dinner at Tyr y Felin's Blas Restaurant. The feast continued at breakfast with a great variety of cooked options including cockles and laverbread. We prised ourselves knuckle-white, from the tables hoping to linger for lunch, but Cardiff beckoned.
En route, just 10 miles from St David's, 12th century Roch Castle perches confidently on a rocky outcrop overseeing swathes of Pembrokeshire's pasture. Similar to the artistic overtones of sister hotels Penrhiw and Twr y Felin, specifically commissioned pieces are unique to the Castle. Calm, curlew-coloured textiles by Amanda Wright, co-owner of St David's Goat Street Gallery, drape the solid walls here soften any austerity.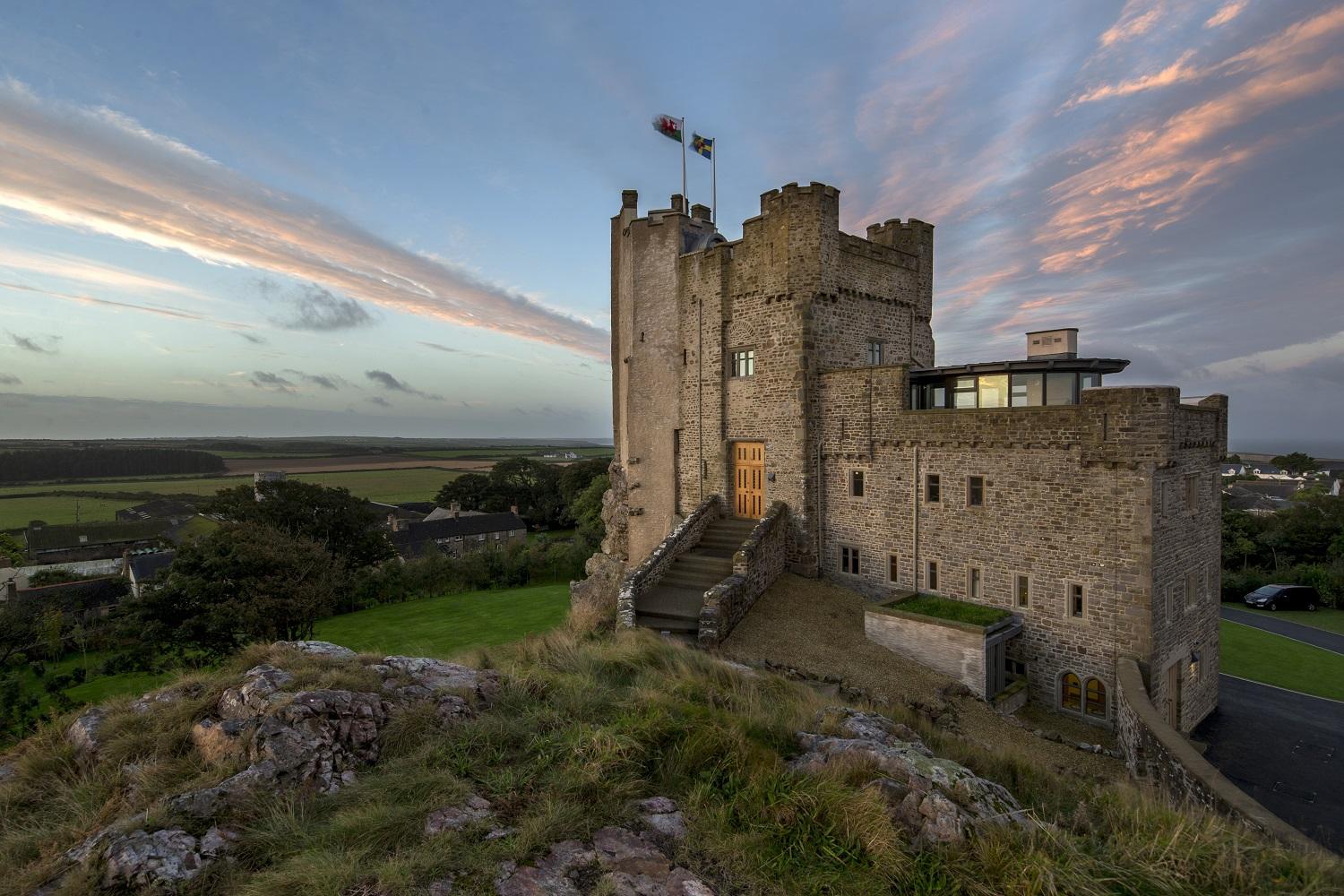 This is an ideal venue in Wales to hire for your exclusive use. The communal Court Lounge and Sun Room give a private, residential quality to Roch Castle so you might gaze over your realm and imagine hosting King Arthur and his Knights. There are 6 bedrooms here so some Knights would have to share the best of wonderful Wales.
The Knights could easily blend in with the crowd in the Welsh capital when we visited. Cardiff was abuzz with rugby fans as South Africa played the home country in a friendly International.  But I'm sure the buzz in this capital is always friendly and open, even when Wales loses.
It is a 2 hour drive from Roch to Cardiff Castle, more of the best of wonderful Wales. Cardiff Castle is located in the heart of the city with 3  distinct sections to visit on the site. Central position is the sturdy 11th century Norman Keep with its steep steps to a viewing platform. Running down one side is a World War II reconstructed Shelter. Castle tunnels doubled up as air raid shelters here in the 1940s. Stroll down this long, dark passageway and you will automatically pick up your pace when you hear the siren. This area is particularly evocative as history seems just a breath away.
The quirky Gothic Victorian Palace created by the 3rd Marquess of Bute's vast wealth is bursting with colourful opulence. His own colourful history paints an interesting image of a man who understood 20 languages including Hebrew, Greek, Aramaic and Hierogylphics. Lavish rooms here include a Banqueting Hall which you can hire for a private Dinner – a highlight of any company incentive in Wales. Other opulent rooms include an elaborate Nursery, ornate Library and The Arab Room with every millimetre of its ceiling decorated. The quote by Virgil emblazoned on The Smoking Room is "If love conquers all, let us yield to love".
We respectfully yielded to the ladybirds in The Roof Top Garden. Our considerate guide James told us when opening a window here earlier in the season he received a shower of ladybirds. The window is now shut to protect their hibernation. I flash fowarded to a skittery shower of dotted reds opening on to a lucky guide next season.
More thoughtful consideration swept us over the Severn Bridge as our Reservations Manager Ruth made secretive calls to our final destination Clevedon Hall, alerting them to our location. Each of us had a bubble bath ready and frothing on arrival.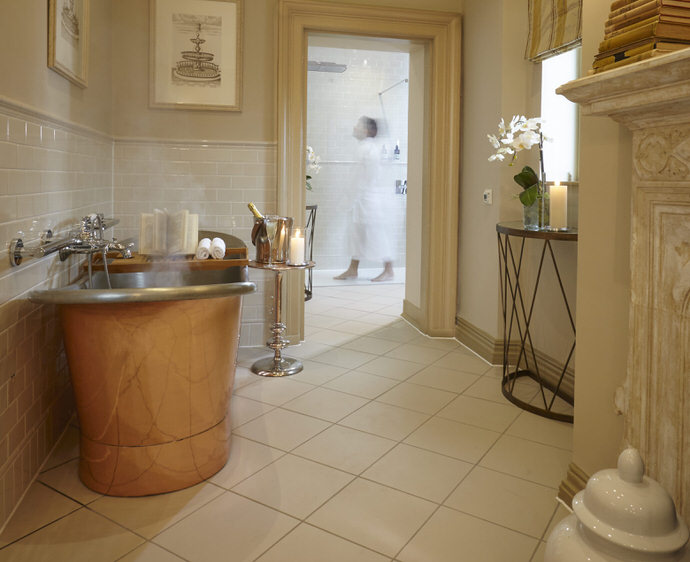 The only negative we experienced at this property was exiting the bath. But of course dinner was worth pulling the bath plug for  – each course matched with perfect wines. As impressive as the food was General Manager James stating his most important achievement …… 96% staff retention rate compared to just over 40% in other hotels. We are 100% certain that Clevedon Hall is a perfect venue for any private or corporate event.
Next morning, under the eaves on the window seat, "Time was away and somewhere else". Louis MacNeice rapped on the window as pigeons fussed overhead. I pressed my head harder against the pane to soak up the acoustics, their coos the only fuss here.
This corner by Bristol extended the Welsh trait of elegant, natural ease. Our trip to find the best of wonderful Wales confirmed our belief that the country is an understated treasure which over-delivers in beauty and authenticity. Edward I's iron ring of castles may have succeeded in keeping 'visitors' away centuries ago but no one can stop our return. Tomorrow if we could.