10 Best Castles to Stay in Ireland 2020
by Elaine Desmond
Most people have their own personal fantasy of what it might be like to stay in a Castle in Ireland. Maybe you see greying turrets hugged by mists swirling in from ever-green rolling hill sides. You might hear soft voices and laughter mingled with the clinking of whisky glasses. A fresh earthy smell of a crackling peat fire throws a warm light on wide smiles. Does a reed-ringed, metal hued lake brim with trout eager for your line? Do you stroll through woods with a hawk on your arm as a pair of wolfhounds lounge on the lawn? In the best Castles to stay in Ireland these scenes are a reality and not a mist soaked fantasy.
Best Castles to Stay in Ireland
North of Dublin city is Clontarf Castle, away from the bustling center but accessible within 15 minutes. It is also just 20 minutes from Dublin Airport. Clontarf Castle marries old world elegance with a contemporary twist. This Castle breathes fresh elegance its Norman ancestry would proudly approve of. From afternoon tea in the stylish lounge to lavish bedrooms and impressive aerial views of the foyer.
Clontarf's coastal suburb reflects the elegance of the castle with it's 3km promenade and wooden bridge to Bull Island. This dune-filled sand spit is a National Nature reserve and a birdwatcher's nirvana. Breathe in views of Dublin Bay and the Wicklow mountains with the Irish Sea on the horizon. Dollymount Beach is closeby and a great walking venue and local favourite. Why not visit Castle Dracula while in Clontarf?  Dracula author Bram Stoker's, born in 1847 , grew up in this coastal vampire-free (or is it?) Dublin corner. His homeplace is beside Castle Dracula – here 'enjoy' the Vampire Courtyard, Dracula's Lair and the world's only Graveyard Theatre.
With the capital and the sea at your feet Clontarf Castle is sure to please everyone. A comfortable and delightful stay is ensured here in one of the 10 best Castles to Stay in Ireland.
2. Ballygally Castle
Head northwards for the next top Castle and Ballygally will be included in this fine list. All fans of Game of Thrones take note, you are entering Winterfell and the Haunted Forest countryside.  Ballygally is a seaside Castle, perched on the Antrim Coast Road overlooking Ballygally Bay across to Scotland.
It is less than 30 miles to Belfast and so makes a perfect base to explore both city and countryside.
The Giant's Causeway, Glenarm Castle, Carrick -a-rede ropebridge, Bushmill's Distillery and Dunluce Castle are all easily accessible.
Ballygally ensures restful repose as each bedroom boasts a cloud mattress. In fact the theme of relaxation and comfort runs throughout this tasteful hotel.  Although maybe relaxation is not experienced in the corner turret of the Castle. Once a small bedroom, it is now known as "The Ghost Room" and no longer used!
Diners won't be frightened with the finest local produce used to create a unique taste of Northern Ireland.  Enjoy traditional Afternoon Tea here with a crackling fire while the waves roll past the window.
Relax and unwind in the Castle gardens or stroll along the sandy seafront. Whatever your preference, Ballygally Castle guarantees a wonderful stay in one of the best Castles in Ireland.
3. Cabra Castle
Just over an hour's drive from Dublin we come to the next top castle to stay in Ireland. Nestled into a corner where counties Meath, Monaghan and Cavan converge, it is the latter which proudly claims Cabra Castle. You will be thoroughly looked after here as every want and need is carefully attended to.
The luxury accommodation includes medieval style four poster bedrooms and a traditional courtyard restoration.  The Courtroom restaurant has great first floor views over the gardens. Or admire these with a drink on the ground floor terrace edging onto the lawn.
Golf and tennis are onsite activities and nearby clay shooting, horse riding, archery and fishing are all available. Dun a Ri forest park is also close by to wander a while.
Less than an hour's drive will bring you to the iconic heritage site of Newgrange. This site is older than Stonehenge and the Pyramids!  Ireland is the land of poetry and less than a half hour drive is Iniskeen. Here, the Patrick Kavanagh Centre is devoted to one of the nation's favorite poets.
There is indeed a poetry in the welcome received as a guest in top class Cabra Castle. Friendly charm in a luxurious setting ensures it remains one of the best castles to stay in Ireland.
4. Waterford Castle
Known for the world's best crystal Waterford is now home to one of the best Castles to stay in Ireland. Waterford Castle even goes one step further than a moat and a bridge. It has its own 310 acre private island! Here you are whisked across to your intimate destination by the private car ferry.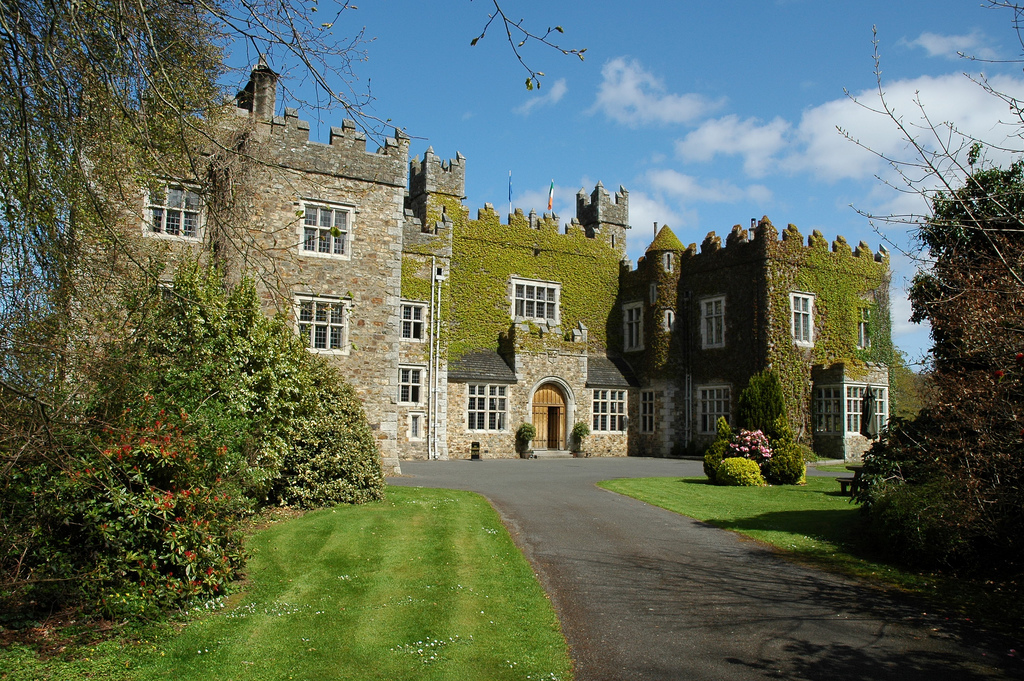 This Castle offers only 19 bedrooms so a cherished intimacy enwraps this inviting island retreat. However you can enjoy the company of others (if you wish) as the island incorporates a golf course and self-catering options.
It is also only 10 minutes from Waterford city where you can tour the Crystal Visitor Centre, the Bishop's Palace and Reginald's Tower. The latter is a medieval museum , the oldest civic building in Ireland, built in 1003 and home to Viking treasures. Waterford's Copper Coast is worth exploring if you can drag yourself away from your sumptuous setting. You also won't be disappointed if you visit the pretty seaside village of Dunmore East, less than half an hour away.
Nothing about Waterford Castle is disappointing, with it's timeless elegance and intimate setting. It will remain one of the best castles in Ireland for a long time to come.
5. Barberstown Castle
Another on the list of Best Castles to stay in Ireland is Barberstown Castle. Less than 20 miles from Dublin it gives you the best of both worlds. An out of town location with easy access to Ireland's capital city.
The original castle structure has been extended tastefully in Elizabethan and Victorian eras and this unique mix has given this building an air of confident individuality.  Enjoy 20 acres of surrounding gardens and relax by the log fire in the Tea Room after your stroll.
Barberstown is situated in Co. Kildare which is possibly Ireland's best county for golf courses. These include The K Club, The Carton House Golf Club and The Royal Curragh club, Ireland's oldest golf course. Barberstown is also a perfect location for all things equine as the famous Curragh racecourse is nearby – home to the Irish Derby. But if you prefer the lengthier jump races you have a choice of 2  – Punchestown and Naas. Naturally horse riding facilities are available close to this Castle also.
Attention to detail is paramount in Barberstown with a warm welcome for everyone. You will be pleased you chose this Castle during your stay in Ireland.
6. Ballynahinch Castle
Ballynahinch Castle is folded into the foothills of the Twelve Bens Mountain Range. The wild, bleak beauty of Connemara, it's not just experienced here – it happens to you – in this unassuming, singular Castle. Rugged, natural and real, the persona of Connemara is reflected in the character of this Estate.
That reed encircled lake is here with its very own salmon and sea trout fishery. The 450 acre estate also includes 5kms of winding walks through oak and beech woodlands, beside the Owenmore River where you might delight in watching otters playing in the current.
You may want to wander further with guided walking tours of Connemara National Park , Diamond Hill by Letterfrack or the majestic Maumturk Mountains. The fishery manager and in-house walking guide are available for a chat with a morning coffee in the Castle's Fisherman's Pub. Ballynahinch also offers clay and woodcock shooting, cycling and a guided boat trip on Roundstone Bay to visit the once inhabited Inishlacken Island.
Rooms in the Castle have a sophisticated country style and most have views of the river and woodland, which might prevent you from having an early night!  Dinner at the Owenmore Restaurant is another highlight where local ingredients of fresh fish, lamb and game are imbued in the menu giving you the palate of Connemara.
Anyone who stays in Ballynahinch Castle will leave with a corner of their heart forever reserved for this unique, rugged corner of Ireland.
7. Ballyseede Castle
Roaming further south to one of the best Castles in Ireland, you will treasure your time in charming Ballyseede Castle, near Tralee in Co.Kerry.  This central location is a wonderful base to tour the renowned Kerry landscape. Situated at the doorway to the Dingle Peninsula, you will also have easy access to Killarney, the famous Ring of Kerry and it is a short skip across on the ferry to Co. Clare.
This Castle dates from the late 16th century when the rebellious Earls of Desmonds used it as their garrison. After their defeat, the new landlord's rent was the payment of a Midsummer's Day Rose, so it is easy to see why financial institutions were relieved when this practice failed to continue into the modern era!
History has continued to seep down through the ages with Hilda the friendly ghost walking the basement corridors – Ghostbusters book your stay in this Irish Castle on March 24th as this date is deemed a certainty for a phantasmal appearance. Perhaps she is admiring and approving of the present day elegance of the Castle!
This elegance is seen throughout the building with the unique oak staircase emerging from the lobby, elaborate drawing rooms perfect for partaking in afternoon tea and charming accommodation which include four-poster beds. Remember those Irish Wolfhounds? Well, one resides here – Einstein and his smaller friend, Mr. Higgins will happily entertain you in the formal gardens.
This personable Castle charmer will hypnotize you with it's friendly, relaxed atmosphere and soon you will want to extend your stay and also book your return trip.
8. Dromoland Castle
Almost always a certainty on anyone's list of best castles to stay in Ireland is the legendary Dromoland Castle.  It is less than ten miles away from Shannon Airport and thus a great first or last night (and often both) Castle stay when considering a comfortable dash for your flight or alternatively use that precious time to stay an extra while in luxurious surroundings.
It truly is a Royal Castle, historical home to the Kings of Thomond, the O'Briens, who trace their genetic line back to Brian Boru the King of Ireland. Dromoland oozes top class style and luxury in a dramatic setting. Sparkling chandeliers permeate the castle, opulent furnishings at every turn, exquisite dining in the Earl of Thomond restaurant and enjoy wondrous cocktail creations in the Library Bar.
Dromoland has its own renowned golf club and after 18 holes of challenging activity you deserve to relax and pamper yourself in the spa with a full range of treatments including the 'Fairway to Heaven' which includes a specific golfer's massage.
What about that fantasy of a bird of prey on your arm? H is for Happiness with your Hawk in Dromoland's on site falconry where you will also meet species of falcons and owls. Horse riding, fishing, pony and trap rides, walking and cycling, clay shooting and archery are also available here. Dromoland certainly offers guests a royal time within lavish surroundings and will never disappoint.  Expect professional service and five star accommodations throughout your stay at this Irish castle.
9. Lough Eske Castle
Onwards to Lough Eske Castle , winner of so many accolades the space here is too limited to mention all of them! This five star lakeside estate is spilling over with luxury in a sublime setting less than 5 miles from Donegal town. The style here is a contemporary, classic country elegance hugged in a friendly embrace.
he option to linger and enjoy the Castle's Solis spa with it's wide range of therapies is certainly tempting and must be indulged in during your stay , the wider landscape of sublime Co. Donegal can also be easily explored from Lough Eske. Visit the Slieve League cliffs, Glenveagh National Park , Donegal Castle and the many unique villages and towns along the coastline which adds to Donegal's character.
Activities such as horse riding, hill walking, archery, kayaking and climbing are all available nearby and bikes are available to rent from the Castle. Donegal is famous for it's surfing and two of Ireland's best surfing beaches are close by – Rossnowlagh and Bundoran. It is unusual to say you will return to your castle stay after a day's surfing!
Rare indeed is the wonderful experience of staying in Lough Eske – one of the top 10 castles to stay in Ireland in 2019. All who stay in this classic Castle will undoubtedly include it as a firm favorite for the future.
10. Ashford Castle
It seems like ages ago but we did start off with a list of individual fantasies. You might hope for any of these when staying in a castle in Ireland. Roll all of these into one and you get the sublime Ashford Castle. This Castle is the one to measure all others.
Nothing is understated here – it is majestically and unashamedly a Castle which deserves it's capital C. Faultless, breath-taking, indulgent, incomparable – the list of superlatives might be longer than the list of accolades but it would take too long to go through them all.
All of the rooms are designed to perfection, nothing is spared in their luxury. The food is exquisite wherever you choose to treat your tastebuds. Fine dining in George V, less formal in Cullen's at the Cottage and a whole other indulgence of Afternoon Tea in the Connaught Room.
The list of activities available here also ensures that you will not want to wander off. Falconry deserves a special mention as the experience of a 'Hawk Walk' is truly unforgettable. Fishing, clay shooting, archery, horse riding, golf , traditional boat trips, tennis and lake cruising are all on site. Keep in mind if exhaustion sets in you have the Spa at Ashford to revive you, so special it deserves a separate article, however space and time is precious.
Indeed this is where the list of top castles in Ireland must end, but how fitting to leave on a high. Ashford is a spectacular, proudly luxurious Castle – perhaps more an experience than a place.
Choose any of these 10 top options and you will have no doubt that you are staying in the best castles in Ireland.