Stay at One of Ireland's Best Castles
Lego-like island pieces spilling over with trees jotted out from the water, Heaney's 'green, swift upsurges', as the seaplane swung over the Lake. The pilot would never know he flew over a 4,500 year old log boat preserved in the boggy depths. His focus instead lay on his family's 13th century summer residence looming into view ahead.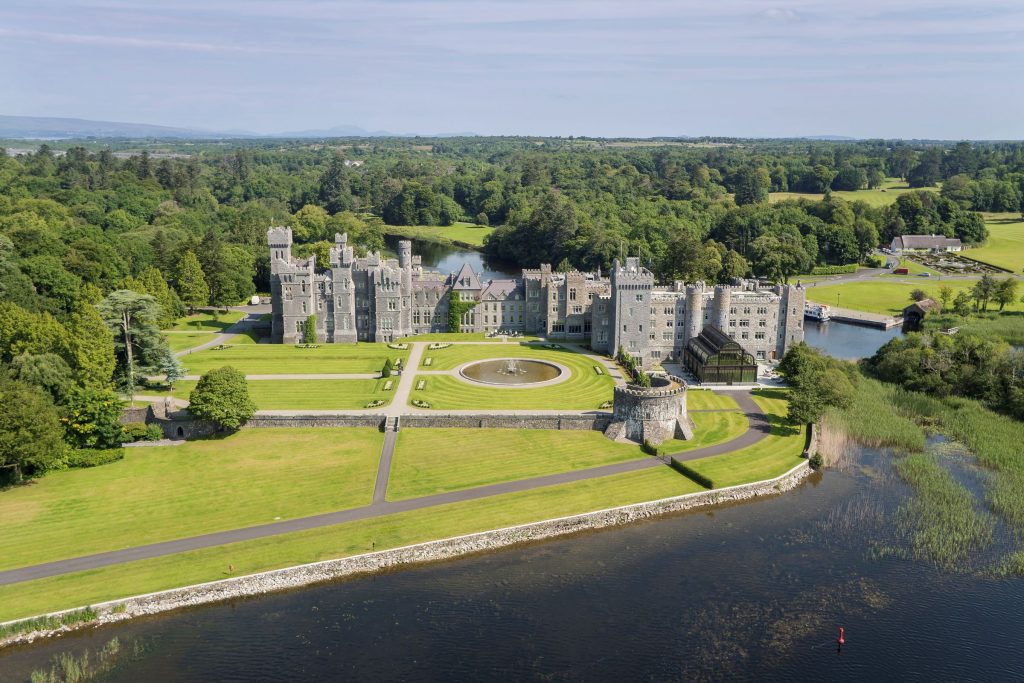 The grey speck opened wider as he flew closer revealing a Castle spreadeagled across the lake edge and cossetted by evergreen trees. Lord Ardilaun, heir to the Guinness fortune, steered the plane past the anglers on the wooden jetty and briefly thought about trout for tea.
This 1920's dramatic arrival is still spectacular today as the entrance for most guests (helicopter popular too) snakes through heavy pines leading to a first glimpse of Ashford Castle. It is a- stop-the- car-immediately -produce –smartphone-snap-madly- moment. Don't waste too much time focusing through the lens though and absorb the scene as no photograph will capture the first startling effect. It is like the moment you first see Edinburgh Castle walking from Princes Street, much expected and seen in countless images, yet the immediate impressiveness is still somehow unexpected. Internally your exclamations rise high and higher. O wow, o wow , O WOW. Or an unprintable (here) version of same.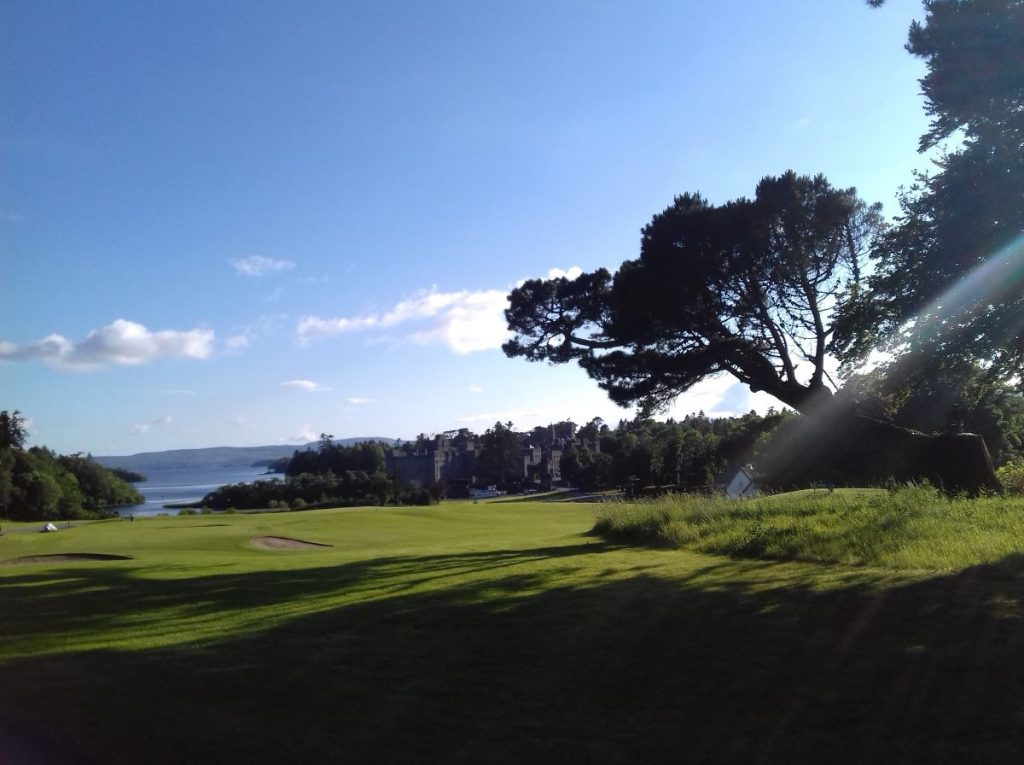 In my first view of Ashford a solitary sunbeam shot out obliquely from the Castle wall as if born in the East wing (or George V Dining Room I realised later) dazzling Lough Corrib's edge at a low angle. I looked about for Gandalf or Merlin as if they might stroll past tossing more magic at my feet or at least give me some open sesame type password to enter.
But I was, impossibly-seeming, staying here legitimately and did not need a password. Michael the valet on the bridge was a suitable stand- in for Merlin. I'm sure a wand was neatly tucked up the sleeve of his green livery.  A luxurious yet welcoming green, colour of under-lit leaves.
And yes, the entrance to Ashford is across a little stone bridge. The River Corrib runs underneath and all the way into nearby Cong, source of the Ardilauns' tea time trout.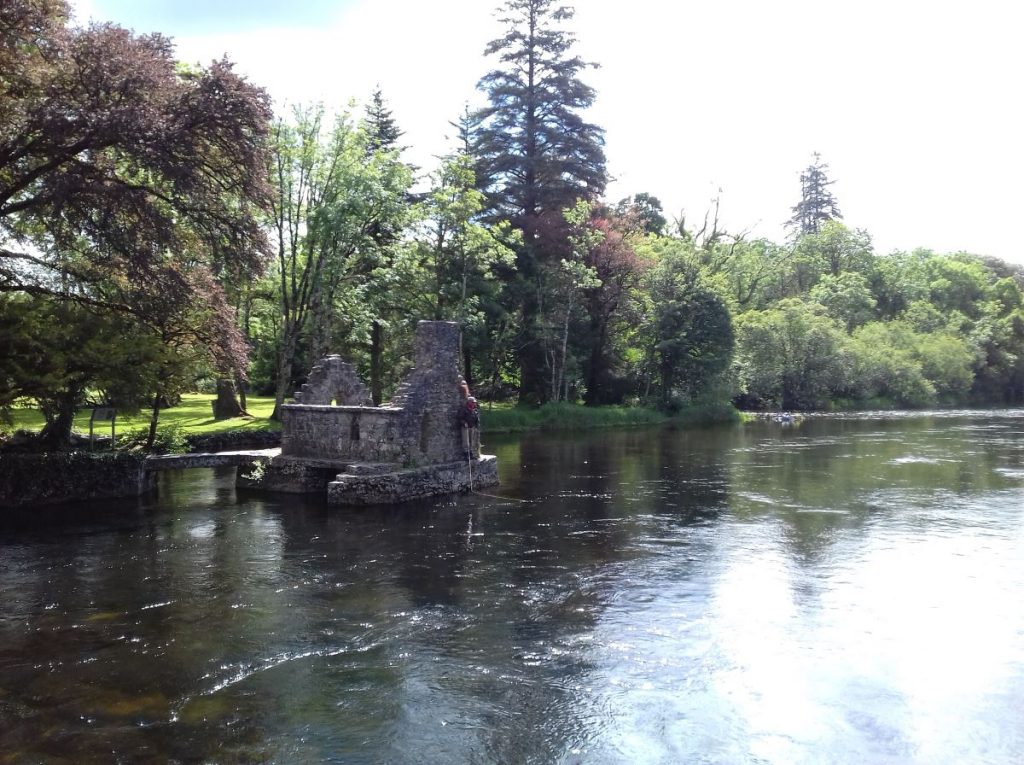 Check-in is an event in itself. You begin to feel special and singled out immediately, the preparation for a great stay begins here, a solid desk all to yourselves as you go through formalities. The complimentary gin cocktail was a perfect way to hook me in even further. Another spell casting a relaxed glow and easy smile. Though the smiles form here without any need of alcohol while you are given a tour of the public rooms en route to your bedroom.
The Connaught Room is home to Ashford Castle's treat laden Afternoon Tea, an appropriate setting for indulgence with plush, heavy fabrics, yet comfortably elegant. Lucky diners are observed by garden views and Lough Corrib's glimmered ripples. There is a sense of headiness here that cream soaked scones, smoked salmon and champagne flutes compliment.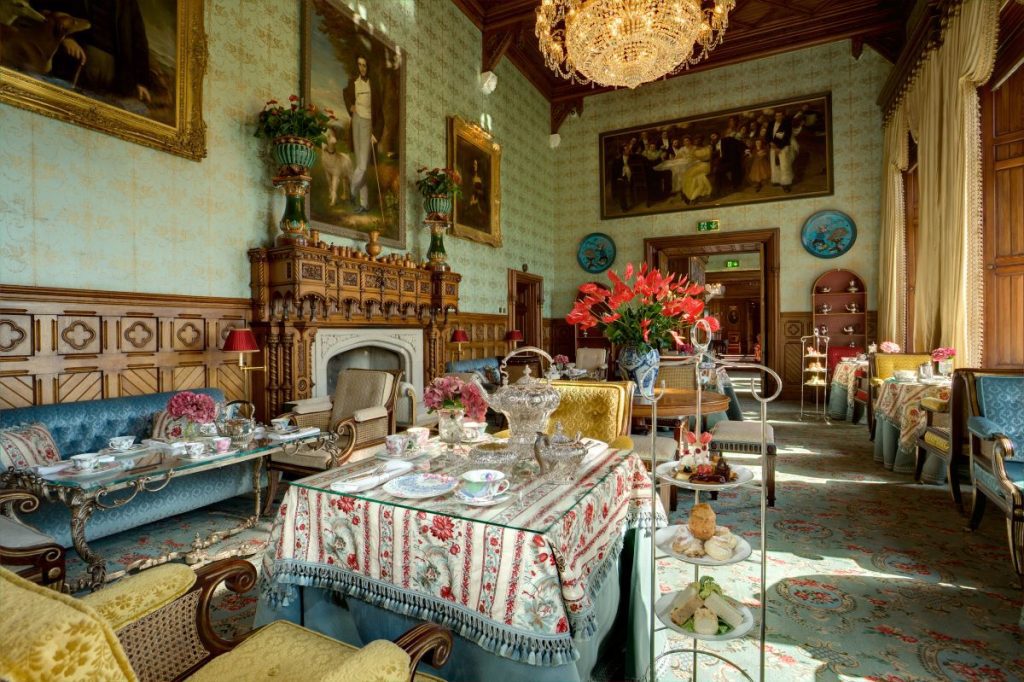 Chandeliers glint and hang where possible. Staircases are dark, rightly so and walls also dark, a rhododendron dark green which you naturally want to touch. The green is fabric, not paint. This tactile effect happens everywhere. You just want to rub the richness into you like cocoa butter.
Heron-grey fabric with art nouveau beading wraps completely around the public restroom interior beside the Billiard Room. Not one millimeter of bare wall peeks through anywhere. The fabric is pinned into all corners, and yes, the ceiling is covered too.
Close to these restrooms and Billiard Room you will find the second floor Library corridors with views to the Oak Hall foyer beneath. Night time is best to sit and read here when chandeliers dominate and tucked-away reading lamps come in to use. The color is rich raspberry red, naturally the velveteen walls and chairs demand to be stroked.
The Lake View bedroom continued the tactile theme with walls covered in light fabric. The headboard stretched almost to the far away ceiling draped with a heavy jacquard fabric framed like theatrical curtains. En-suite bathroom walls are wallpapered to match the pale lemon floral theme of the bedroom. Impressively, not one drop of condensation formed. More impressive is that this happens without the aid of a noisy fan. Merlin struck again as he wafted away any shower steam.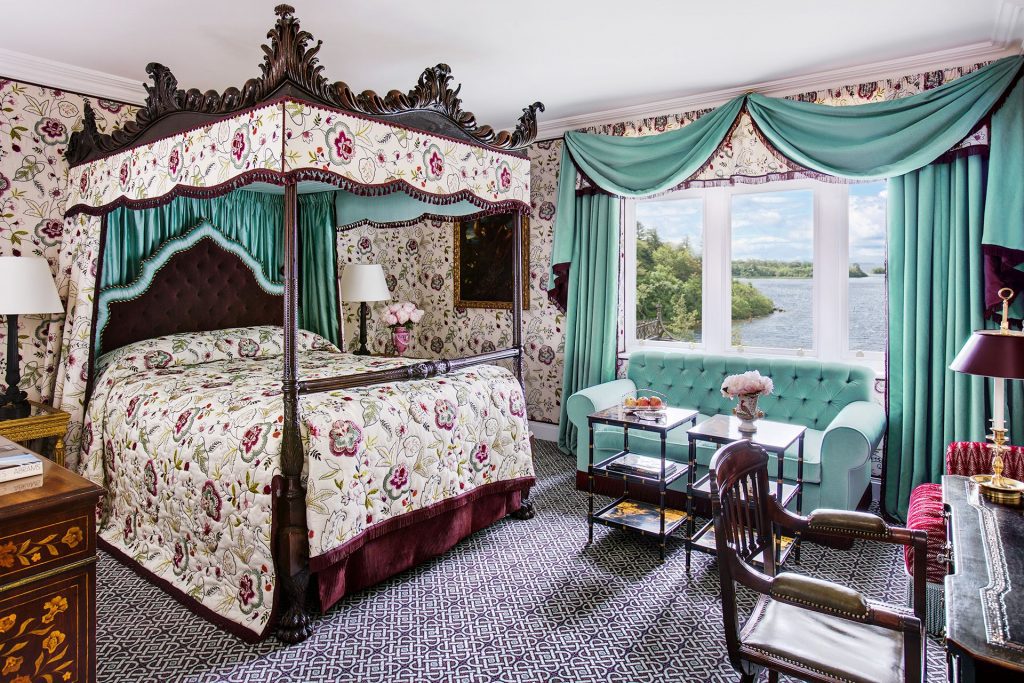 His powers were tested as I lingered on the green veined moss-like Connemara marble stone. No need for the usual bath mats here when you have a natural stone grip. My eco-nagging conscience prodded me and I reluctantly switched off the water, then realised the shower floor was still hot like summer warmed pavements. A shower with sunshine in it. Thank you Merlin.
Magic is also sprinkled on the activities at Ashford Castle. From fishing on Lough Corrib to horse riding, tree climbing to archery, zip lining or clay pigeon shooting, you could stay many days here experiencing the wide range of possibilities. A highlight though must be Falconry.
"Unleash me from your hand
And I will mock the sky for you;
I'll pull the anger from the air
And make the breezes sigh for you"
(Jonathon Steffen)
Walk through Ashford's woodland estate with a Harris Hawk watching, following you from tree to tree. An instructor will give you an insight into 'your' bird and guide you through the exhilarating experience of a bird of prey swooping down to rest on your arm. Can you hear it …. that swish of wide wing and orange-lit iris locked on to yours as the hawk beats its way towards you? Merlin nods his head in shared acknowledgment.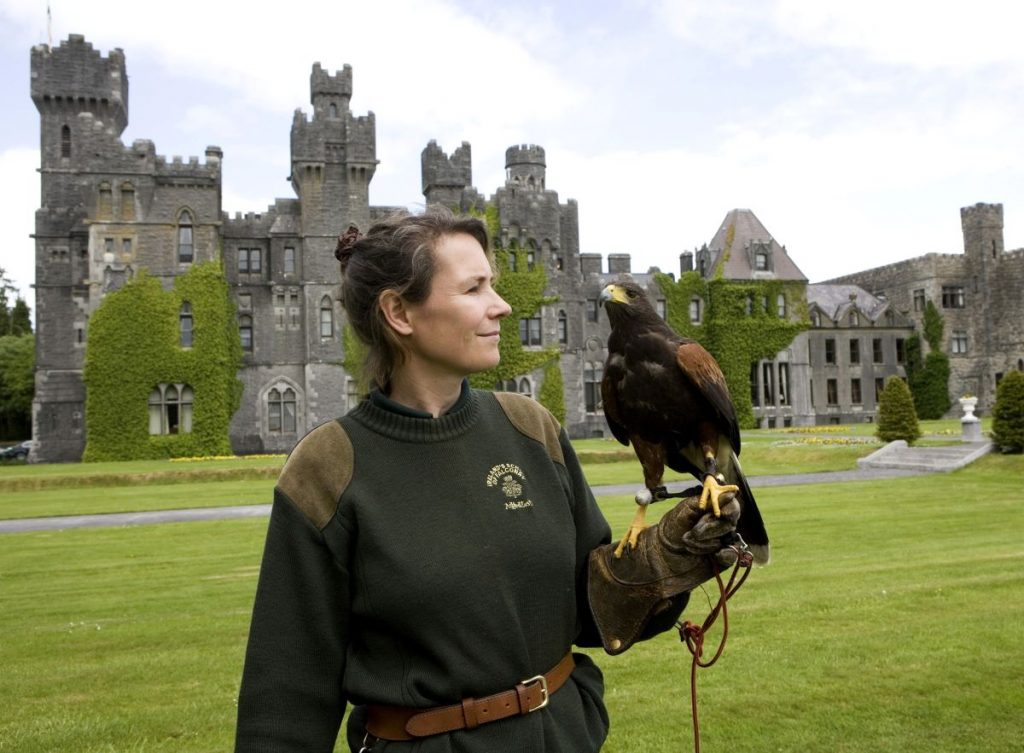 Magic also shines on the Afternoon Lake Cruise on Lough Corrib taking in a guided tour of Inchnagoill Island. The captain cruises you gently through the Lough's history, with trade tales of flour shipped in four hours down to Galway then returning with seaweed. Migrants taking the same journey but rarely returned. Recent archaeological findings we are told include a 4,500 year old log boat carved with 23 ton of oak shavings.
Closing in on Inchagoill (translates as' island of the devout foreigner') we hear about Tommy Nevin, a Boer War survivor, the island caretaker and owner of the only radio in the area. In 1938 the Galway versus Kerry All Ireland football final lured 80 to the island to listen to the game, 2 weeks later they rowed back again to listen to the replay. We imagine passing them as they row and a Bronze Age log boat in their wake.
On the island mid foxgloves and fern, lie the remains of 2 ancient churches and a deserted village ….home to Tommy Nevin. The centuries whisper to us through the greenery as we walk an ancient flagstone path. Standing in a graveyard is a 6th century stone known as 'Lugnaedon Pillar', two feet high with the inscription "Lie Lugnaedon Macc Li Menueh", translated, it means "The stone of Lugnaedon, son of Limenueh", the sister of St. Patrick. The pillar is shaped like a rudder and more elegantly beautiful than any contemporary gravestone. Our Captain-guide tells us this man was known as Patrick's spiritual navigator.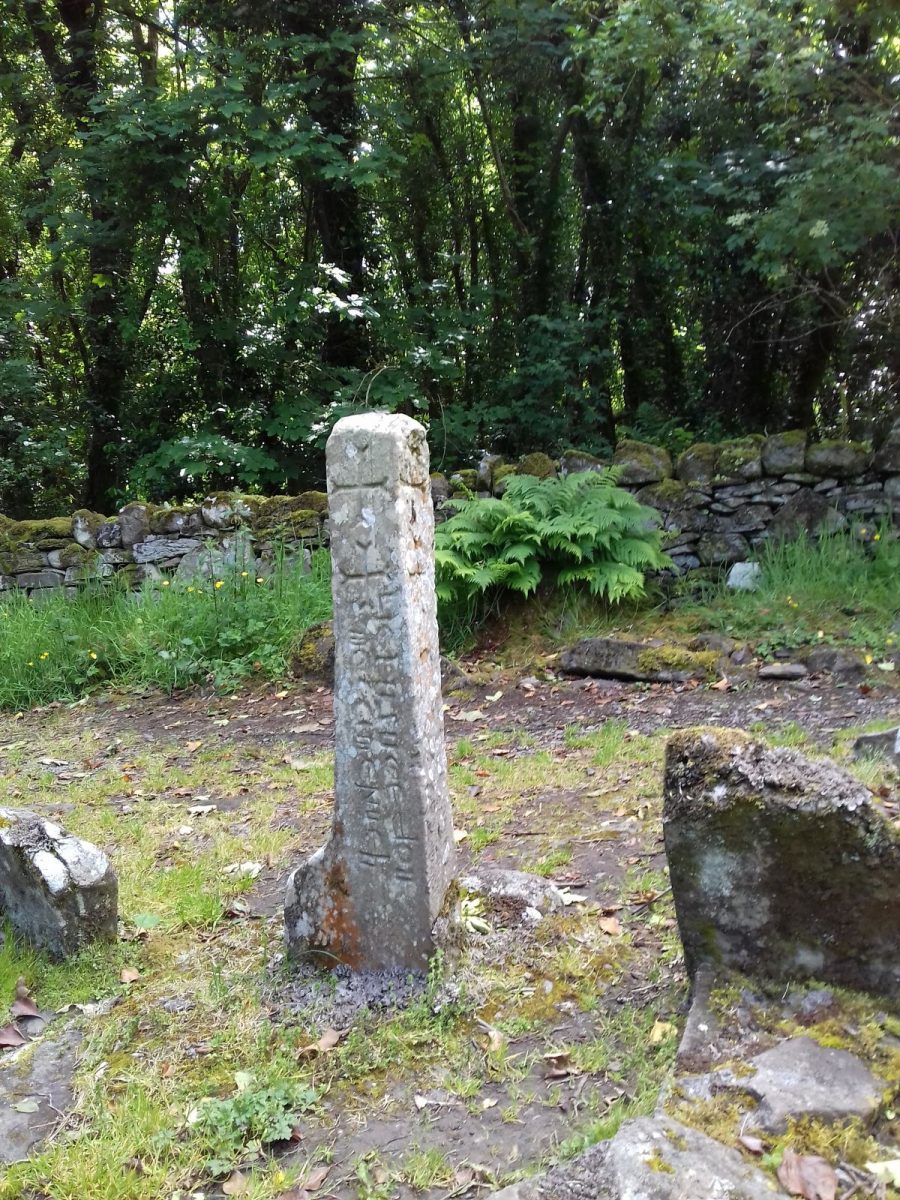 We are navigated back to Ashford Castle spiritually with onboard Irish Coffees. The view Lord Ardilaun saw from his seaplane greets us – grey brick widening and widening as we chug in to shore. Anglers are fishing from the wooden jetty and I think of trout for dinner.
There is a confident ease here. Yes, magnificent and impressive, but not in a domineering, empire-commanding way. Ashford Castle is so, so fine it does not need to flash anything extra. It lies back in its own magnificence, a self-assured solidity that comes with 13th century maturity. It does not need to vie for attention or brag loudly about its attributes.
It is just simply majestic in itself.