Ireland Golf Vacations Customized for You
I have included golf every day (sometimes twice a day) on this sample itinerary to showcase just how much golf you can play in Ireland, and every course included is world class!
If you prefer some days left for touring there is no problem and if there are non-golfers in the group they will find plenty to occupy them both on and off site. Ireland Golf Vacations can be taken as a Self Drive Ireland Vacation or why not select a Chauffeur Driven Ireland Vacation.
Relax and sit back while one of our wonderful driver/guides focuses on the steering enabling you to focus on the scenery and not the best route.
Exceptional Golf Getaways
Experience a one-of-a-kind golf trip to Ireland. Our golf tours provide the perfect mix of luxury, exploration and relaxation amidst the country's iconic landscapes and breathtaking courses.
From exploring new towns on your own time to enjoying unparalleled service from our team of experts, book an unforgettable Irish vacation today.
Sample Itinerary
Day 1: K-Club Golf, Ireland
Arrive at Dublin Airport after your flight. Your driver/guide will meet you at arrivals or alternatively you can pick up your car and head South to the K-Club. Take today to settle in or if you want to get started straight away we can book your first tee time for the afternoon. With 2 World Class courses to choose from you may as well make the most of your visit and play both.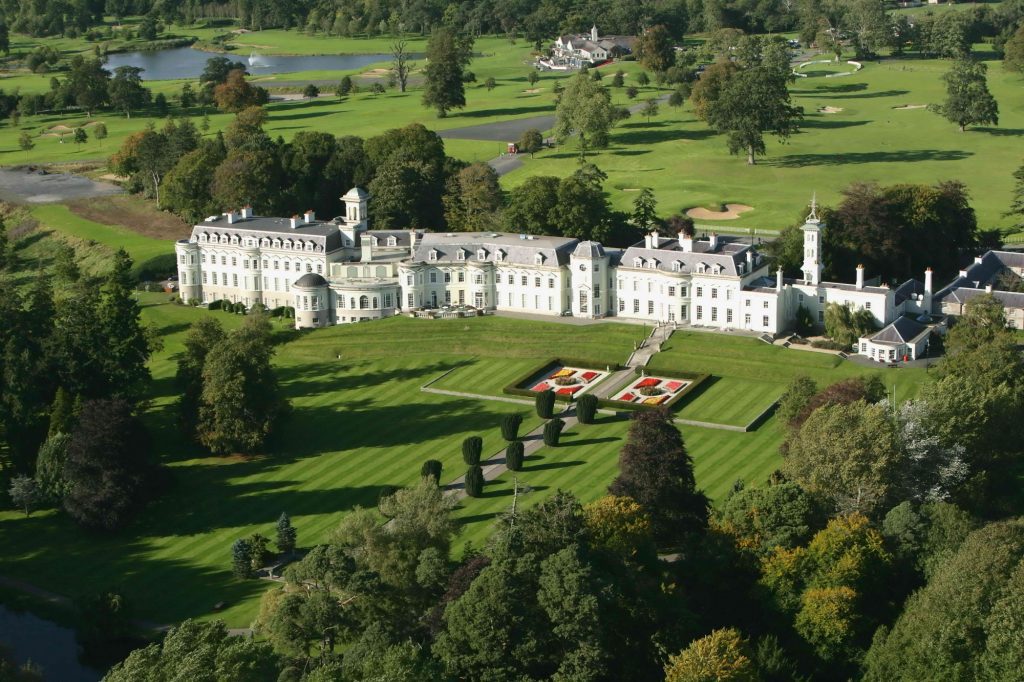 Day 2: Druids Glen Golf, Ireland
If you are an early riser book in for an early tee off on the Palmer Ryder Cup Course. After a freshen up take the short drive to Co. Wicklow to the Druids Glen which was voted amongst the top-5 parkland courses in Ireland in BACKSPIN magazine's influential Irish Golf Course Rankings poll. Return to the K-Club to discuss the finer points of play in the Legends Bar.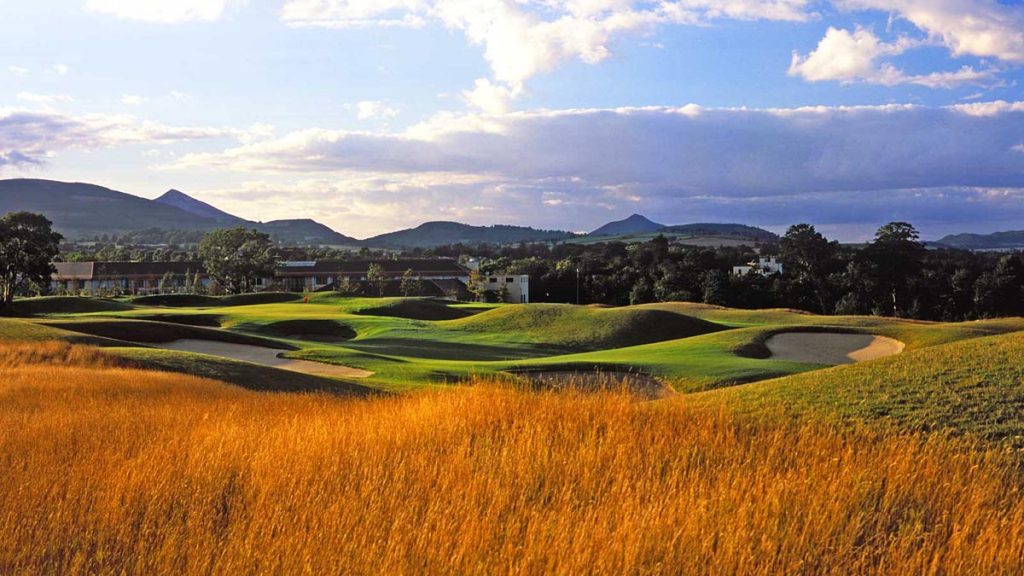 Day 3: Fota Golf, Ireland
Leave the K-Club and travel to the Fota Island Golf Resort in Cork. With 3 unique courses you will be able to squeeze in as many rounds as you can manage in your stay here. If you can tear yourself away Blarney Castle is a short drive away as is the original Jameson Distillery in nearby Midleton. Cobh is also worth a look with the heritage center highlighting the history of emigration from Ireland.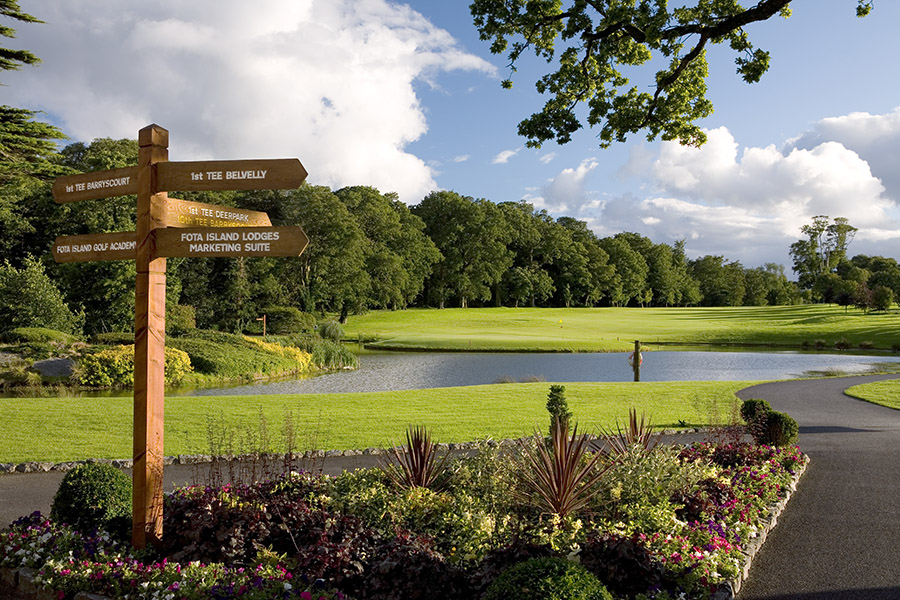 Day 4: Old Head Golf Links, Ireland
Today will surely be a highlight of the tour when you play the famous Old Head Golf Links in Kinsale. This is truly one  of Ireland's most stunning golfing locations. Old Head, par 72, has a minimum of six tees per hole with eight Par 4s, five Par 3s and five Par 5s and extends to over 7,200 yards. Every hole has expansive sea views with nine holes played beside the cliff tops. The unpredictable sea breezes ensures the course provides a stern test to both the high handicapper and the touring pro alike. Return to the luxury estate at Fota to relive the days events.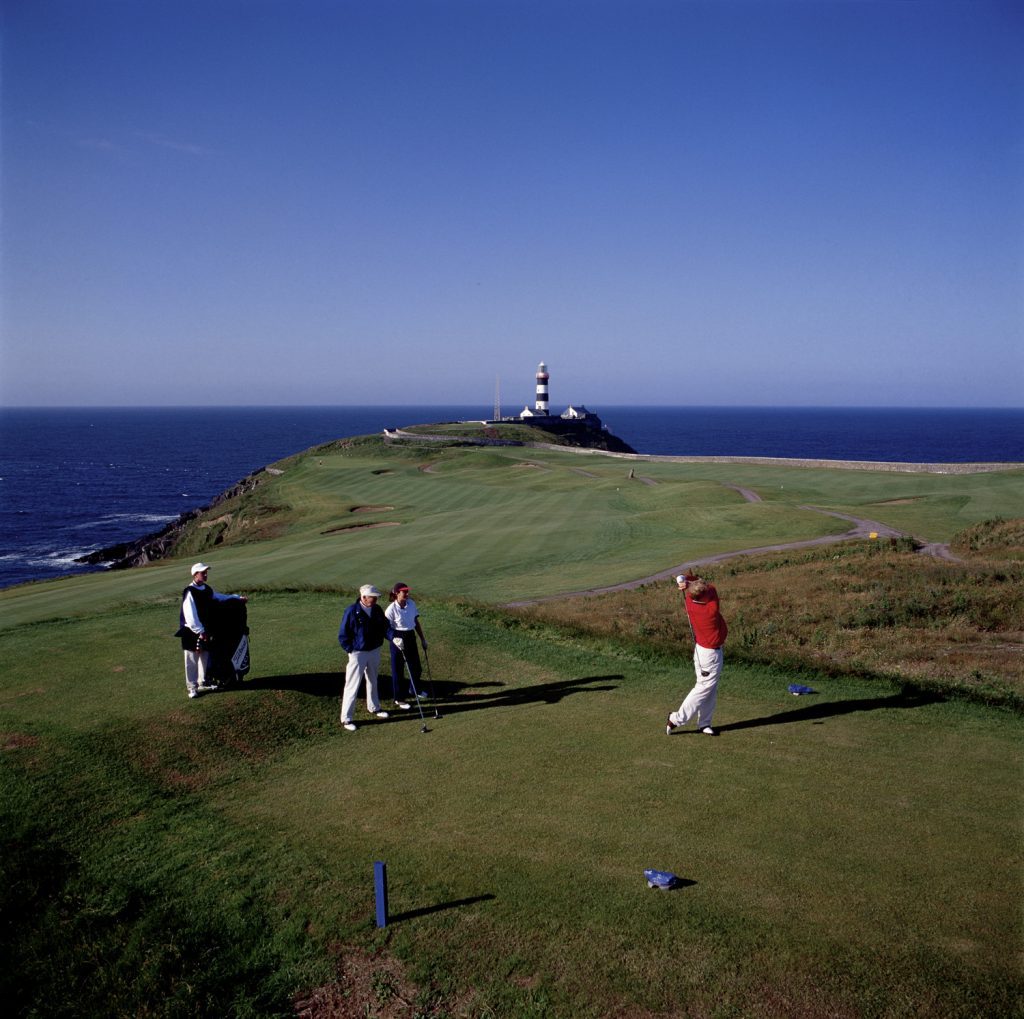 Day 5: Adare Golf, Ireland
Take some time to do some touring today en route to Adare Manor. Arrive in time for some afternoon tea and either, take a break for the day or avail of a late afternoon tee off.  The Golf Course at Adare Manor is situated on the banks of the River Maigue. Designed by Tom Fazio to reward courage and emphasize shot placement this course rewards careful thought in soulful surroundings.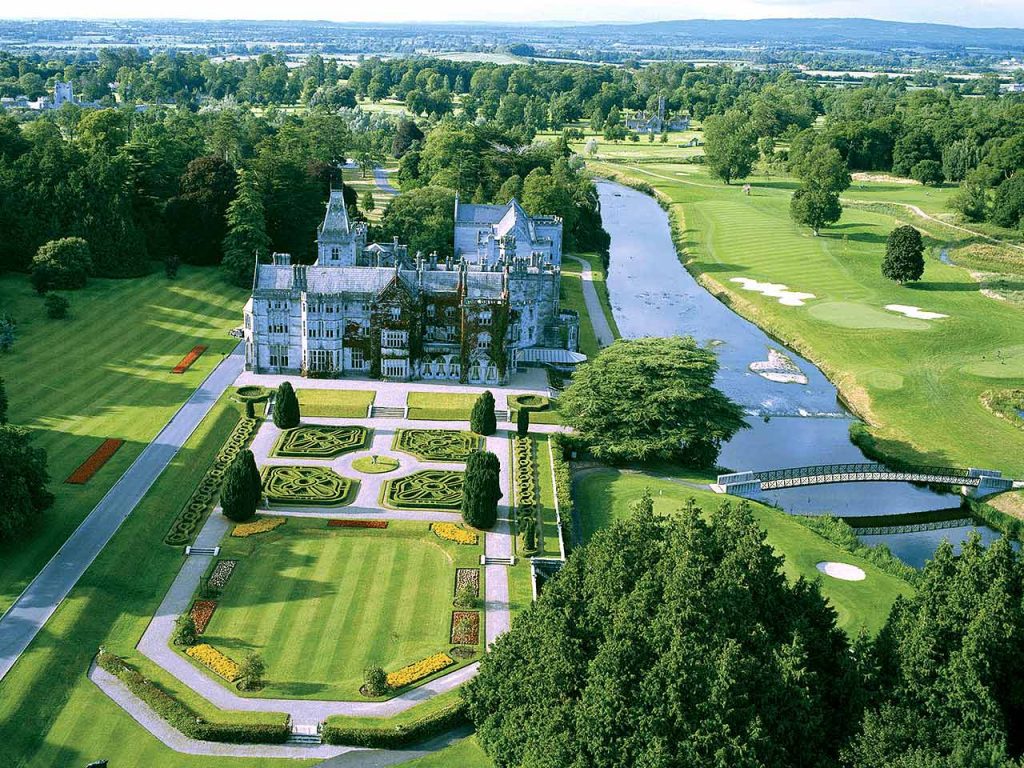 Day 6: Ballybunion Golf Links, Ireland
Head for the nearby Ballybunion to play the famous Old Course there. This fabulous Links Course was founded way back in 1893. It has been enjoyed by golfers from far and wide ever since and Tom Watson said it best when he stated "Nobody can call himself a golfer until s/he has played at Ballybunion". Return to Adare Manor in the evening.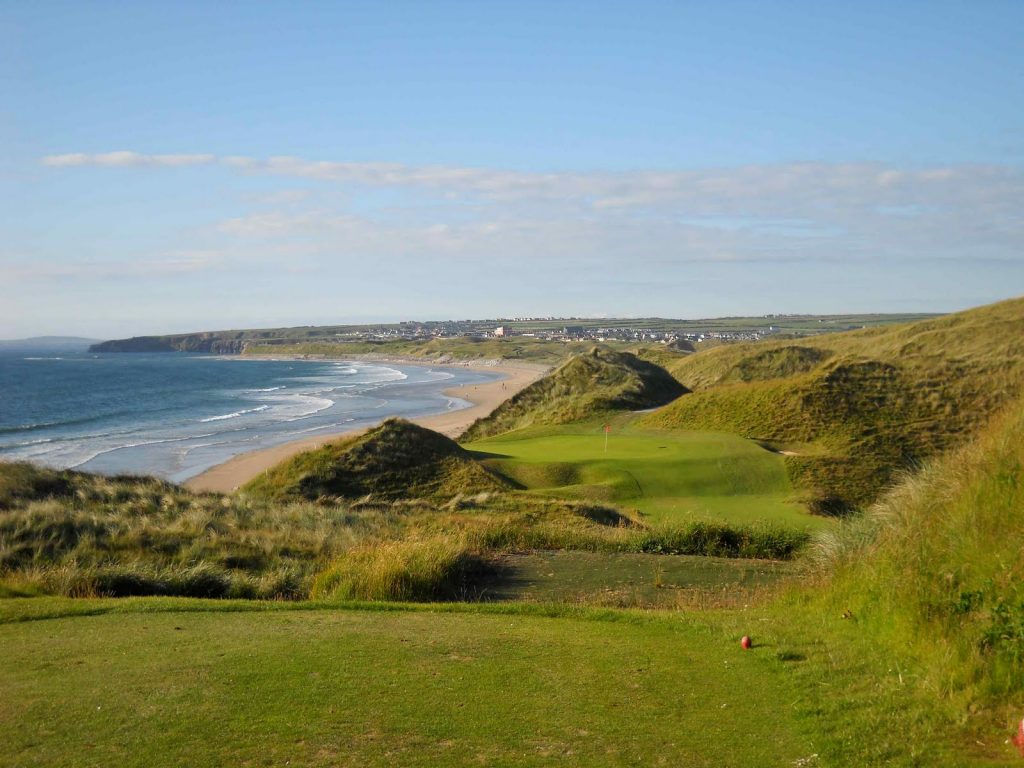 Day 7: Doonbeg Golf Links, Ireland
Today allows some time for touring, you may like to visit Bunratty Castle and Folk Park before continuing on to Doonbeg Lodge and checking in to your luxury hotel. Tee off after lunch at the Lodge. The Par-72 course includes nine holes out and nine back in a single loop, playing 7026 yards from the back tees. The route within the dunes leads to a rare combination of five par 5s and five par 3s.   Here the wind speed and direction creates daily modifications in play.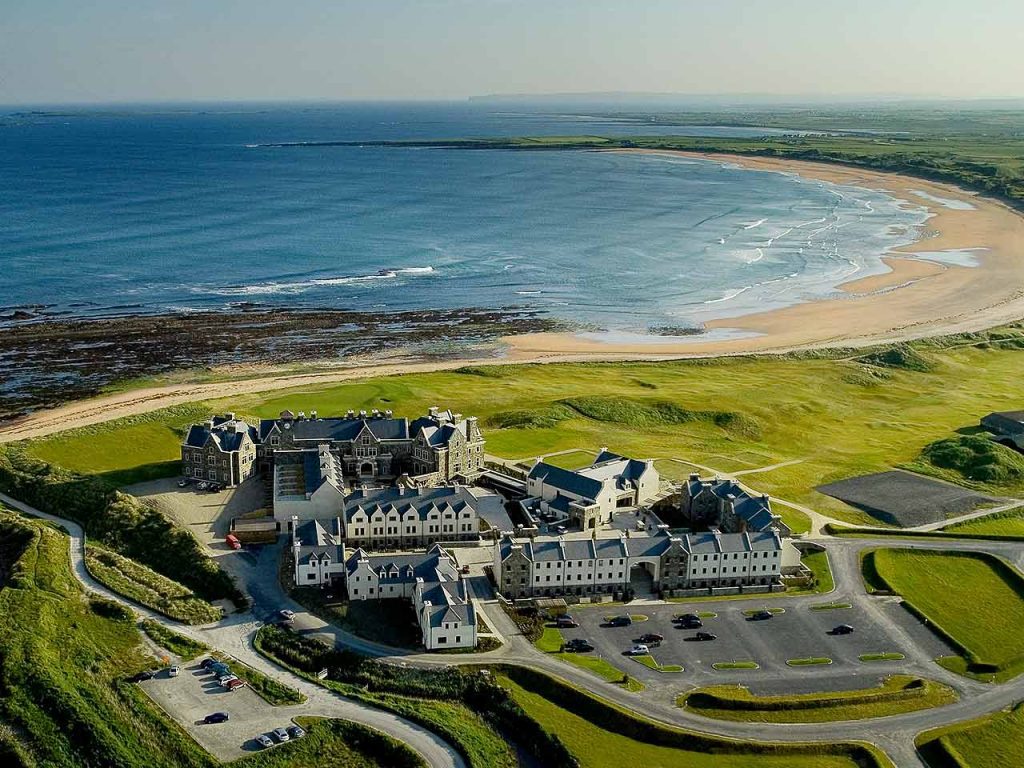 Day 8: Lahinch Golf Links, Ireland
Just a short drive will take you to Lahinch. Book an early tee time on the Old Course. Lahinch has received world-wide acclaim and is now consistently ranked among the world's greatest links courses. The Castle Course can be played after lunch to make for another full day of golfing pleasure. Continue on to Galway and enjoy a night out in this vibrant and social city.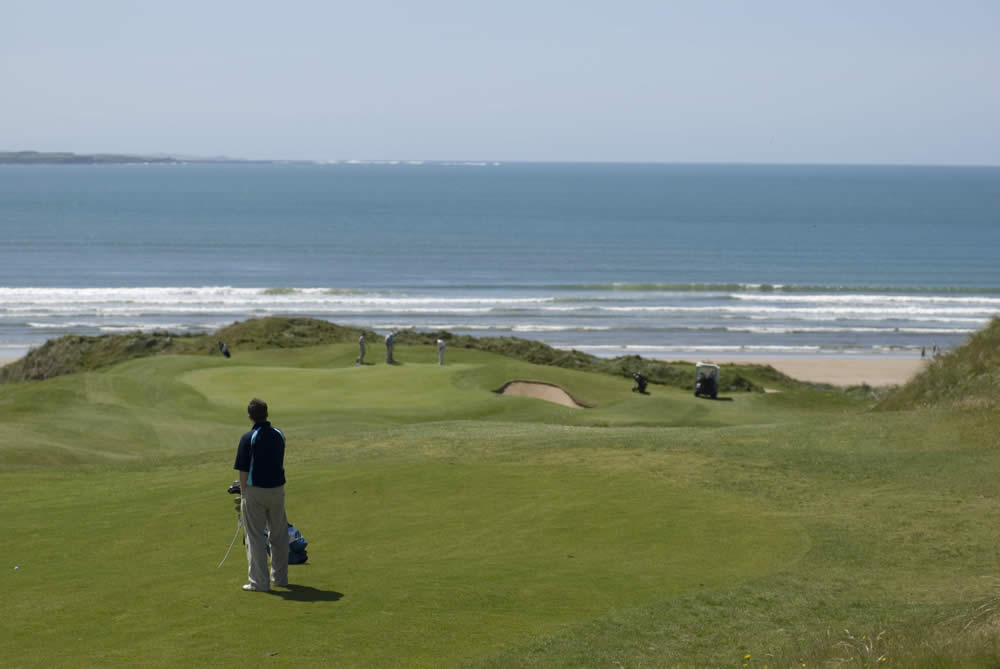 Day 9: Enniscrone Golf Links, Ireland
Get an early start and travel North to Sligo. After an early lunch hit the stunning Dunes championship links course. One of the most challenging traditional links course, Tom Coyne described it as a "must play". If you're left hungry for more there are an additional 9 holes at Enniscrone so why not fit in the full 27 before retiring to your accommodations in Sligo town.

Day 10: County Sligo (Rosses Point) Golf Links, Ireland
Enjoy an early morning tee off on the championship course at the County Sligo Golf Club at Rosses Point. This legendary course designed by Harry Colt has hosted many Irish Championships and is affectionately known to locals as "The Point". After lunch continue your journey North – today you will cross over into Northern Ireland and overnight in the city of Derry/Londonderry.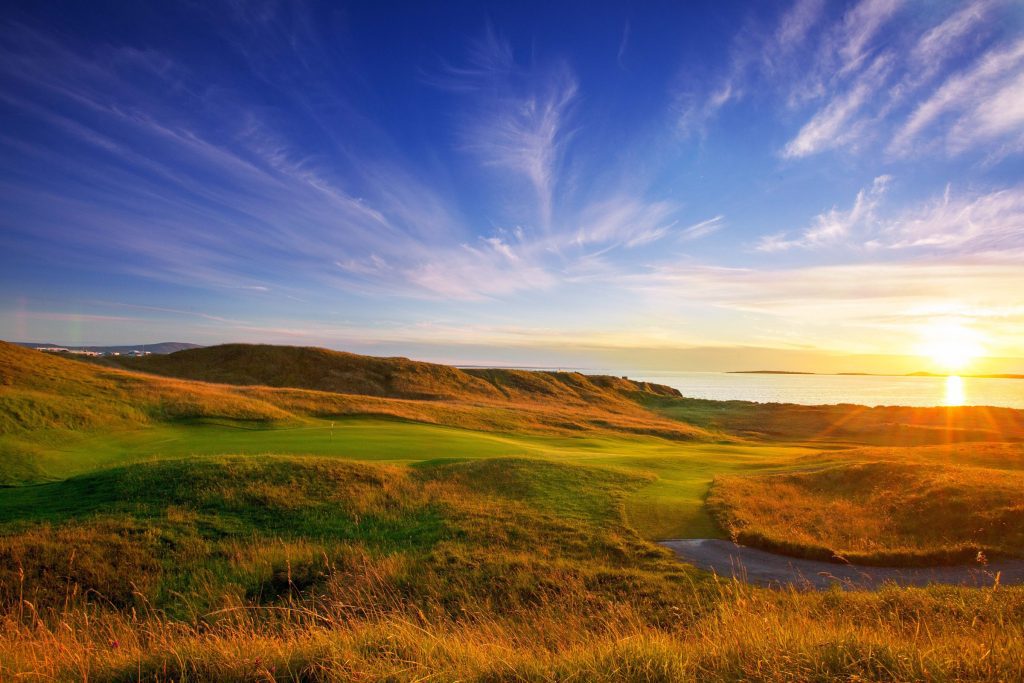 Day 11: Royal Portrush Golf Links, Northern Ireland
This morning's course needs no introduction and these next couple of days are sure to be the highlights of your trip. The Dunluce Championship Links must of course be tackled and many may like to stay an extra day in the area to enjoy the hidden gem that is the Valley Links. Otherwise pay a visit to the Giant's Causeway or stop off at Bushmills for a drop of whiskey before making your way to Belfast city for tonight's overnight stop.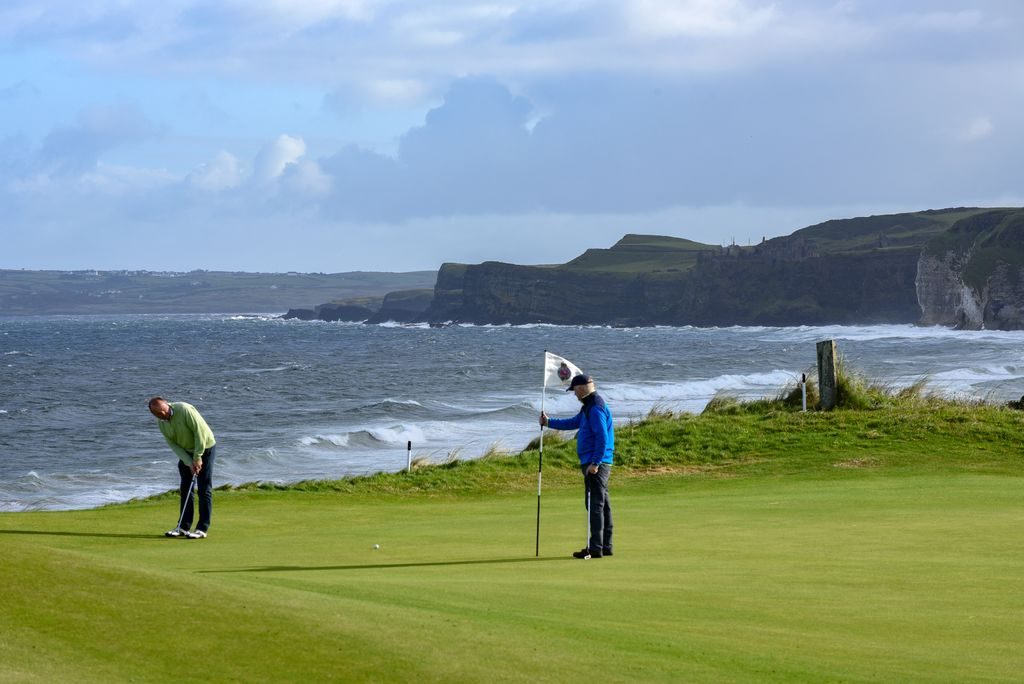 Day 12: Royal Co. Down Golf Links, Northern Ireland
This morning travel to Co Down where the mountains of Mourne sweep down to the sea and enjoy a round at one of the oldest Golf Clubs in Ireland. This stunning course is set in the Murlough Nature Reserve and overlooks the sweeping seascapes of Dundrum Bay. After the final hole you have but a short stroll to your luxury accommodations located next door – the Slieve Donard Hotel has been taking care of golfers since 1898.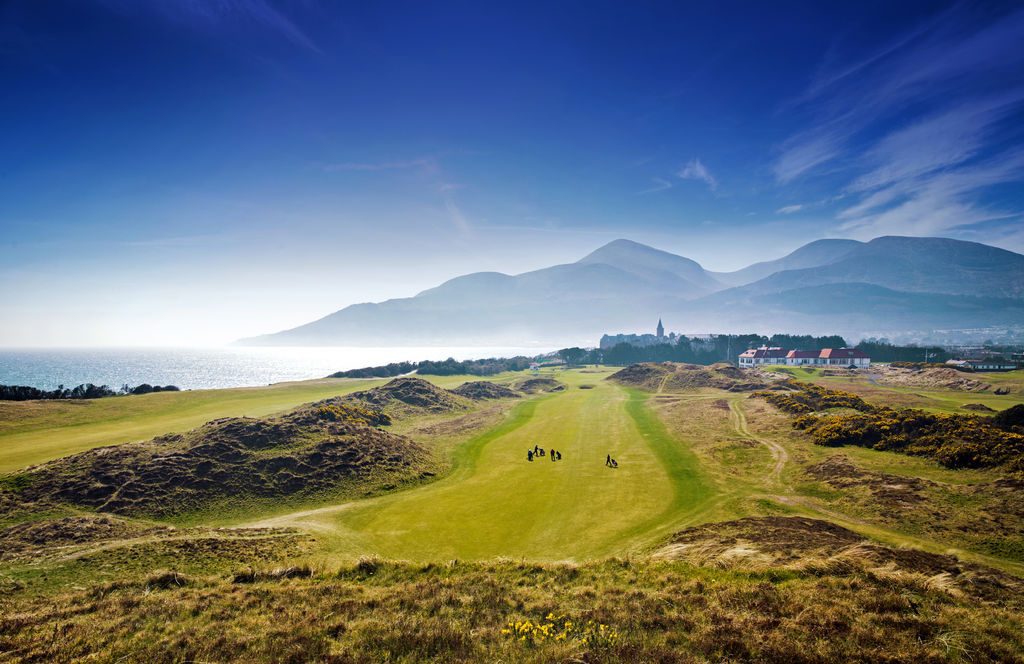 Day 13: Portmarnock Links Golf Links, Ireland
Bid a fond farewell to Northern Ireland and head back to Dublin. Check into your Hotel and play one last round on The Championship Portmarnock Links Golf Course designed by Bernhard Langer. Relax and rest up for your journey home.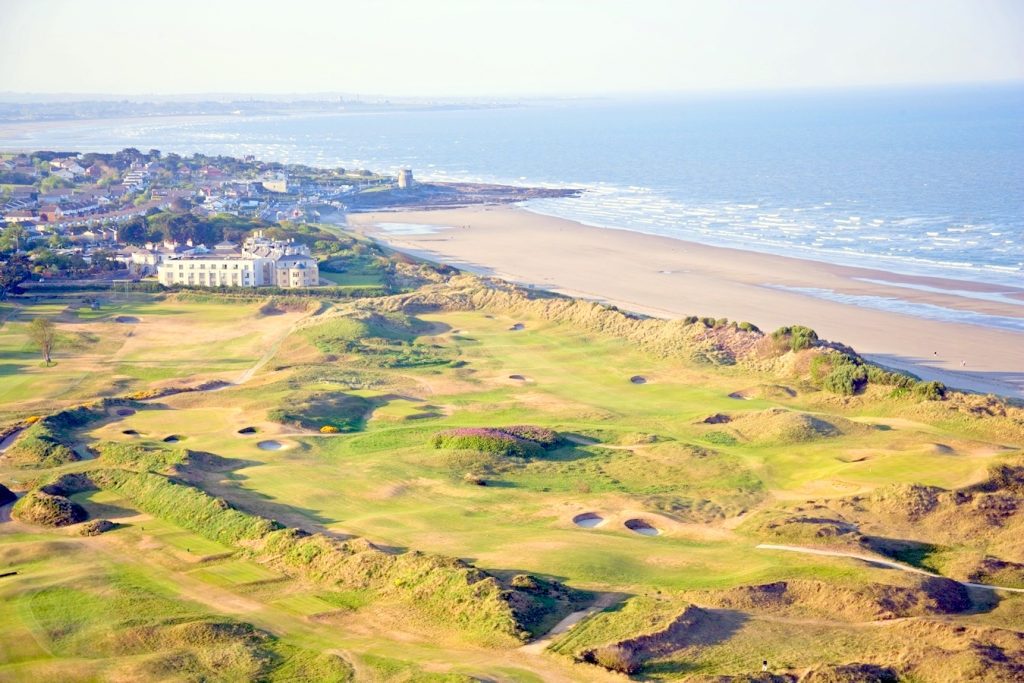 Day 14: Home
Portmarnock is just 15 minutes from Dublin Airport so take a short drive and return your car with plenty of time to spare to catch your flight home. Or for those of you on a Chauffeur Driven Tour your driver/guide will drop you off in good time for your flight home.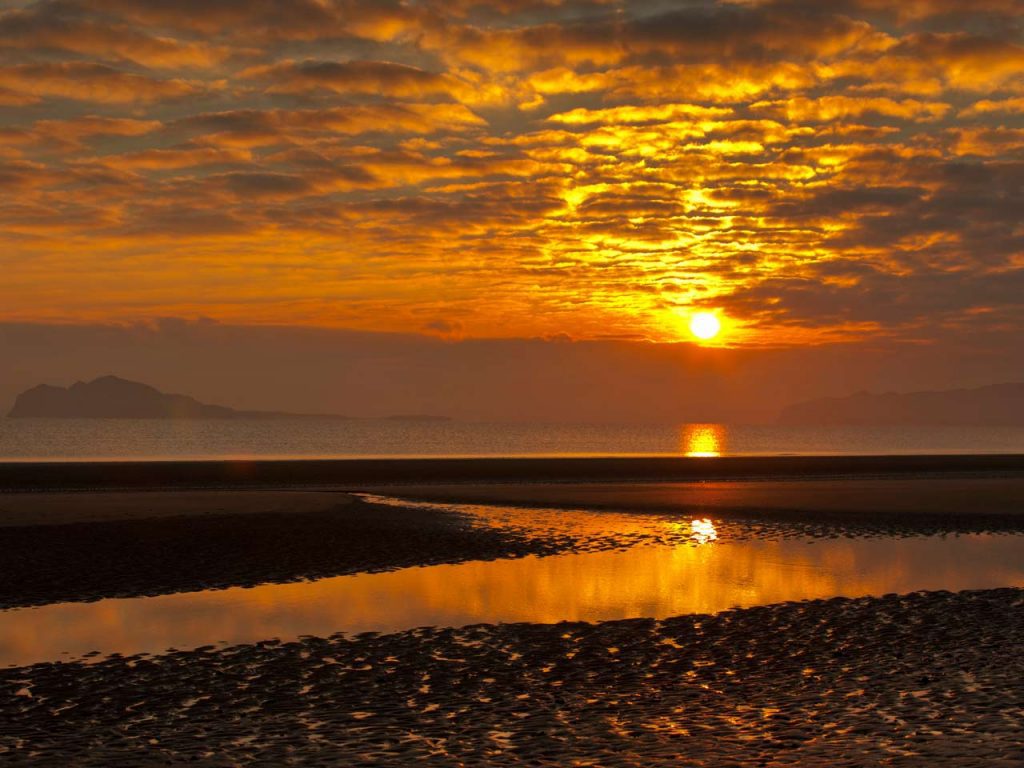 The Essence of Irish Golf Vacations
For the ultimate Irish adventure, trust our expertly crafted golf vacations to take your breath away. Tee off amidst breathtaking cliffs and lush rolling hills with a constant accompaniment of crashing Atlantic waves. Carefully chosen courses from iconic staples to hidden gems will ensure every drive is full of surprises and new experiences, all while luxuriously based at excellent accommodations throughout, with hassle-free car transfer service included for convenience!
Endure an unparalleled vacation where nothing short of incredible memories awaits. Let us be part of creating that dream journey today!
The Sheenco Difference
With decades of industry experience, Sheenco Travel offers an unparalleled understanding and knowledge for creating a truly world-class golf holiday. We offer comprehensive planning from start to finish with our team of experienced professionals who focus on delivering outstanding service and support every step of the way.
Our itineraries are specifically tailored around your preferences, offering you a bespoke package that's unique to each individual customer. From arranging flights, accommodations, and transportation services to pre-planned daily activities, we have it all covered!
Unrivalled Expertise
For over 10 years, Sheenco Travel has been creating unforgettable golf vacations for travelers and adventurers of all levels. We offer customized itineraries to suit various budgets and interests so you can have the perfect vacation from start to finish.
Our team comprises professional marketers with many years of experience crafting tailor-made trips for our clients. With access to some of the best courses in the world and a dedication to superior service, your dream trip awaits!
Personalized Experiences
Discover an unparalleled golfing experience at Sheenco Travel. Our travel specialists craft personalized itineraries to match every golfer's unique preferences, whether you're a passionate enthusiast looking for championship challenges or wanting to mix golf with cultural exploration. With us, create the vacation of your dreams and make memories that last a lifetime.
Luxurious Accommodations
At Sheenco Travel, we believe that luxury travel starts with the right accommodations. Our commitment to 4-star and 5-star properties ensures a truly unforgettable experience each time you book your stay. From castles full of historical grandeur to modern resorts offering contemporary vibes, no matter what kind of atmosphere inspires you on vacation, our knowledgeable team will pair you with the perfect lodging option for an unparalleled trip every time!
Seamless Logistics
At Sheenco Travel, we specialize in creating unforgettable golf vacations to Ireland. Our team of experienced pros handles all the logistics for you, from booking flights and hotels to arranging tee times and car hire. With our attention to detail, your journey will be seamless so that you can focus on enjoying the game while taking in the beauty of this legendary country.
Beyond the Fairways
Experience a unique golf getaway to Ireland with Sheenco Travel. Our itineraries combine the best golf and sightseeing, allowing you to dive deep into Irish culture while enjoying world-renowned courses.
Visit grand historical sites, explore enchanting villages, and sample delicious regional cuisine, all layered on top of an unforgettable round or two of golf for a holiday that will delight your senses and provide lasting memories!
Enduring Memories
Experience a unique collection of memories that stay with you forever when taking a golf vacation from Sheenco Travel. From shared laughter on the course to stunning landscapes that take your breath away, every moment is part of the tapestry we weave just for you.
Enjoy exceptional hospitality in luxury accommodations while making friendships that last long after returning home.
A Trusted Partner
At Sheenco Travel, we offer exceptional services that have earned us countless excellent reviews. Our clients can attest to this! We are passionate about helping customers achieve their ideal holiday through thoughtful planning, from selecting destinations to arranging accommodations. With our expertise in trip planning plus ultimate dedication towards satisfaction guaranteed, let Sheenco Travel turn those dream vacations into reality!
Create Your Ideal Golf Vacation Plan
Experience a one-of-a-kind Ireland golf vacation with Sheenco Travel! Whether you crave an adrenaline rush or want to simply take in breathtaking sights, our customized itineraries will delight even the fussiest golfers. Tee off at renowned clubs like Royal County Down, go flyfishing on picturesque lakes, and wander through awe-inspiring landmarks like The Cliffs of Moher, all wrapped up in luxurious accommodations tailored to your personal needs. Make unforgettable memories with us today!
Start Your Ireland Golf Adventure Today!
Experience the elegance of Irish golf like never before with Sheenco Travel. From crafting personalized itineraries to providing seamless logistics, we ensure your Ireland Golf Vacation is truly exceptional and unforgettable. Immerse yourself in the breathtaking landscapes and world-class courses across the fairways of this inviting land. Let us bring your golfing dreams to life!
With our expert's years of experience, you can rest assured that a vacation with Sheenco will take you beyond expectations for an adventure into the heart and soul of Ireland's beloved game.
Ireland Golf tours include luxury car/coach hire with private driver/guide or self-drive car hire, green fees, all hotel accommodations and breakfast each morning. As all tours are individualized to suit your needs, additional elements can be added to any itinerary. Why not utilize our concierge service for any extras as well as 24 hour on tour support.