Ireland Private Group Tours Customized for You
For your Ireland Private Group Tour you can choose from many options. We can easily accommodate large scale groups requiring multiple coaches to much smaller family groups. We have fantastic Irish driver/guides and can offer additional local step on guides as and when required. A VIP airport welcome can also be arranged for a super smooth arrival in Ireland. For a particularly memorable vacation your group can take over an Irish Castle exclusively  or an entire sleeper train to luxuriously travel around Ireland? Or take to the Irish sea and explore Ireland's beautiful coastline on board one of our luxury private yachts.
Sample Itinerary
Day 1:  The Ashling Hotel, Dublin, Ireland
Arrive in Dublin where your driver/guide will be waiting to greet you. Your luxury coach will be at your disposal throughout the day so if you are arriving on multiple flights we can offer as many transfers as are required. Spend the rest of the day resting up after your flight or exploring the capital city at your leisure. In the evening enjoy a welcome dinner at your hotel.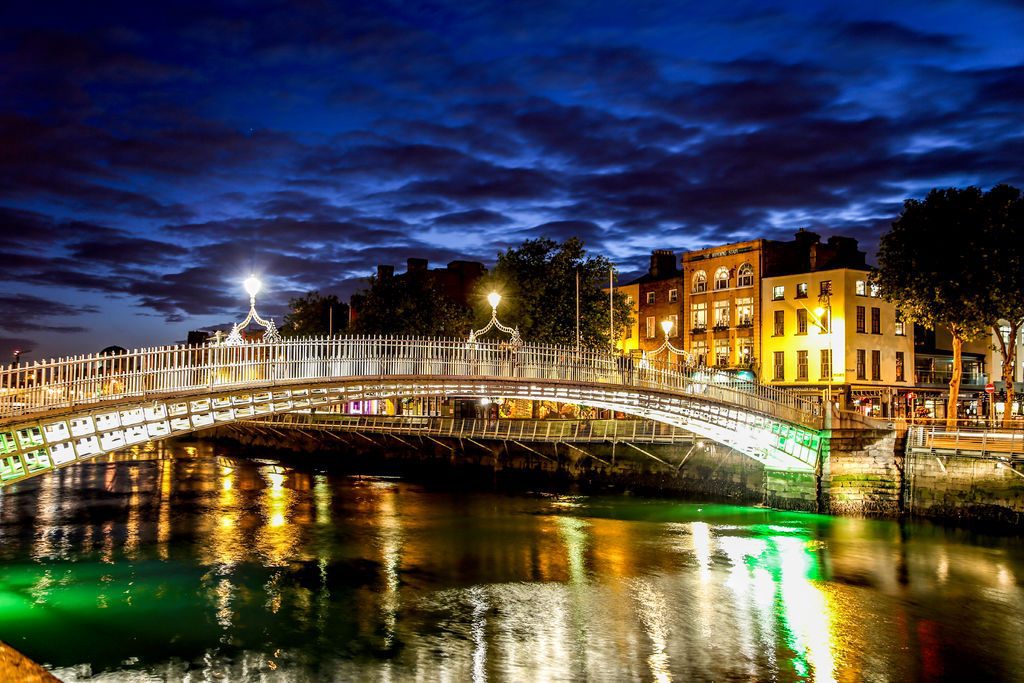 Day 2:  The Ashling Hotel, Dublin, Ireland
Time to explore Ireland's Capital City. Drink in the views and the Black Stuff at the rooftop bar in Guinness Storehouse where you will discover how this famous drink is made. Visit 12th century St Patrick's Cathedral, where Jonathan Swift is buried.  Later head to Trinity College and the Book of Kells. This evening visit The Brazen Head – Ireland's oldest pub for an evening of folklore, food and fairytales.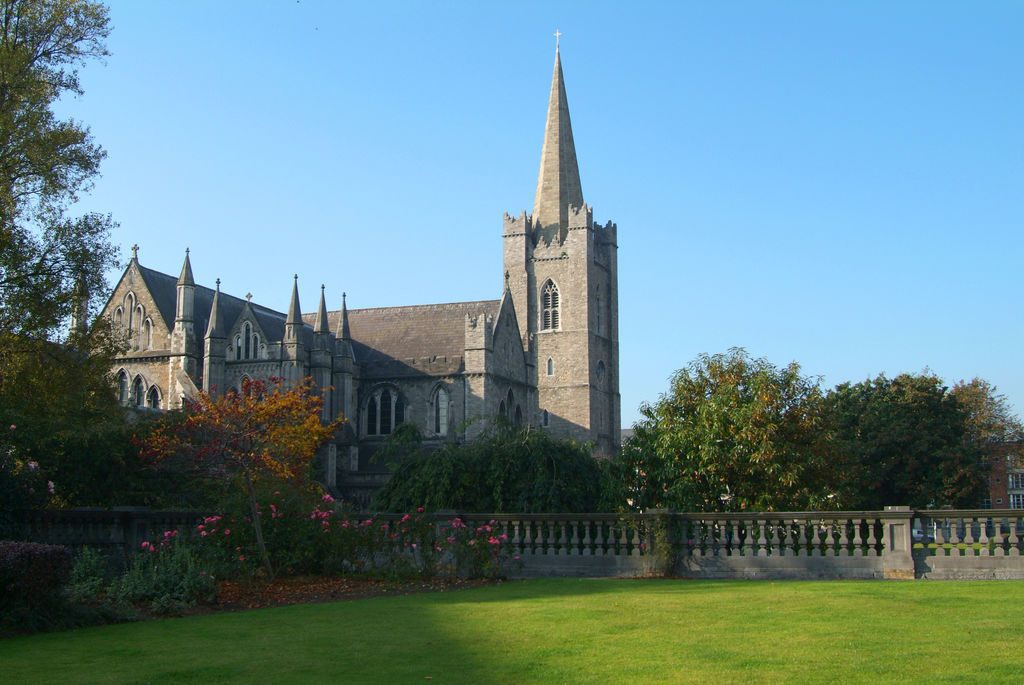 Day 3:  Bellingham Castle, Co. Louth, Ireland
This morning depart Dublin and leave the city behind as you make your way to an Irish farm for a uniquely Irish experience. Firstly you will learn to bake some Irish bread before enjoying a sheepdog demonstration. Next it's time to learn an Irish jig and try your hand at playing the Bodhran. For the more adventurous you can even learn to milk a cow. Finish off your experience with a delicious lunch of Irish stew served with your very own home made brown bread. In the afternoon pay a visit to the village of Slane and take a tour of both the castle and distillery located there. Continue on to Bellingham Castle where you will have the castle on an exclusive basis. Enjoy dinner and overnight in these unique surroundings.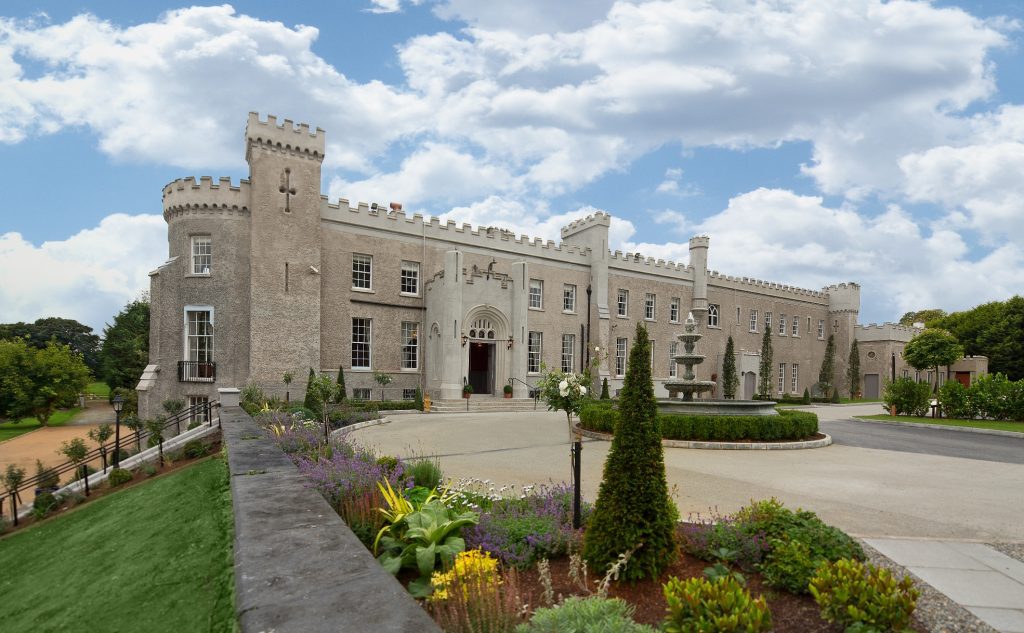 Day 4:   Europa Hotel, Belfast, Co. Antrim, Ireland
Today travel North to Downpatrick where you can visit St. Patrick's final resting place in the grounds of Down Cathedral. You may also like to visit Saul Church – the location of St Patrick's first church and just a few miles from where he first arrived in Ireland. From here continue to Winterfell Castle & Demesne where you will enjoy a lunch Game Of Thrones style and an extensive tour of Winterfell including a unique archery experience. Later this afternoon, continue on to Belfast and settle in to your centrally located hotel and enjoy dinner in the Causerie Restaurant.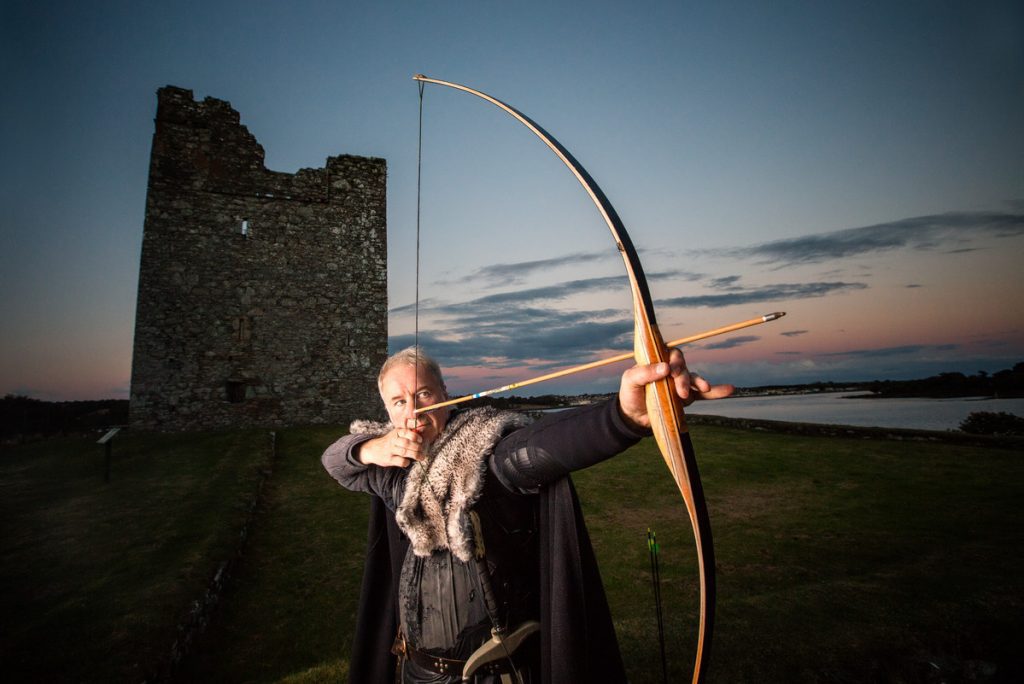 Day 5: Europa Hotel, Belfast, Co. Antrim, Ireland
Spend this morning exploring Belfast City. Take a tour of the city to learn about the history of the troubles; the famous murals commemorate some of the tragic events and also the wider history of Belfast. Then travel to the Titanic Exhibition which was opened in 2012 to mark the centenary of the great ship's demise. The Exhibition is located on the docks where the Titanic was built. After spending some time at this award-winning attraction, sip afternoon tea in the lavish Titanic Suite, before visiting the SS Nomadic nearby. Find out about her link to the Titanic, as well as her own history. This evening dine independently in one of Belfast's many wonderful restaurants. Later enjoy the vibrant nightlife of this modern European city.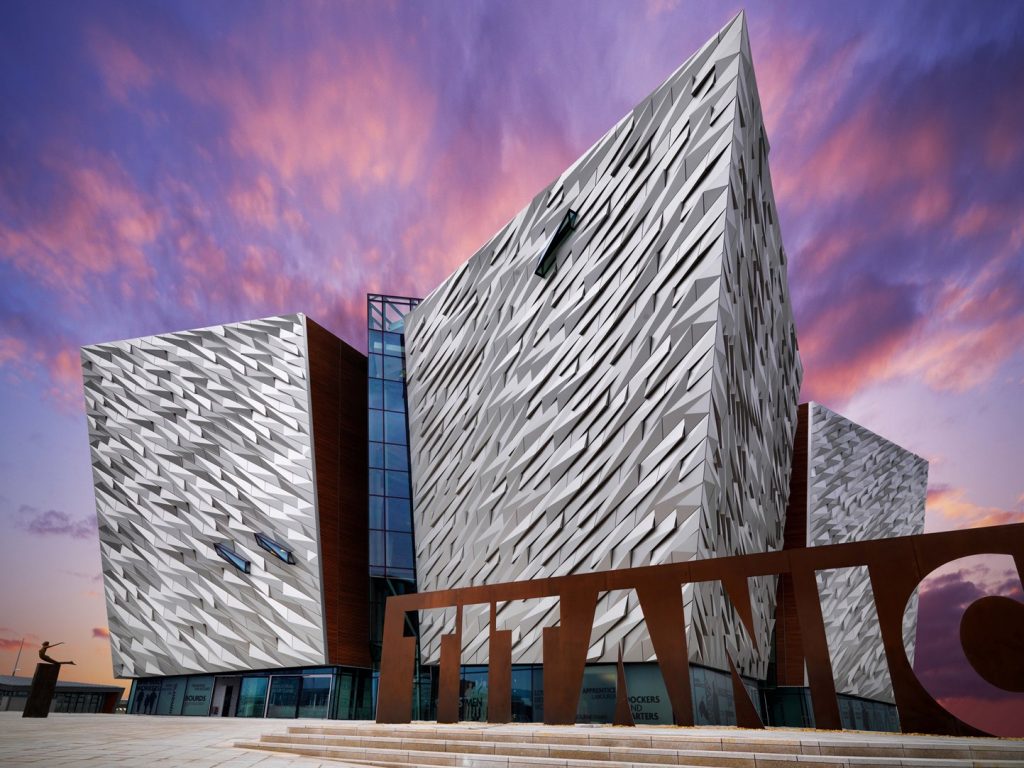 Day 6: City Hotel, Derry/Londonderry, Ireland
Today we head to the city of Derry/Londonderry taking in the phenomenal scenery of the Antrim Coast en route. This journey will take you past such attractions as The Dark Hedges in Ballymoney – made famous by the Game Of Thrones, the infamous Giant's Causeway and Bushmills village, where you will enjoy a tour of the old Bushmills distillery. Arrive in Derry/Londonderry in time to do some exploring. Take a guided walking tour along the city walls – afterwards explore the quaint pubs set in the very walls themselves. Dine independently in one of the many eateries in this fabulous and historic city.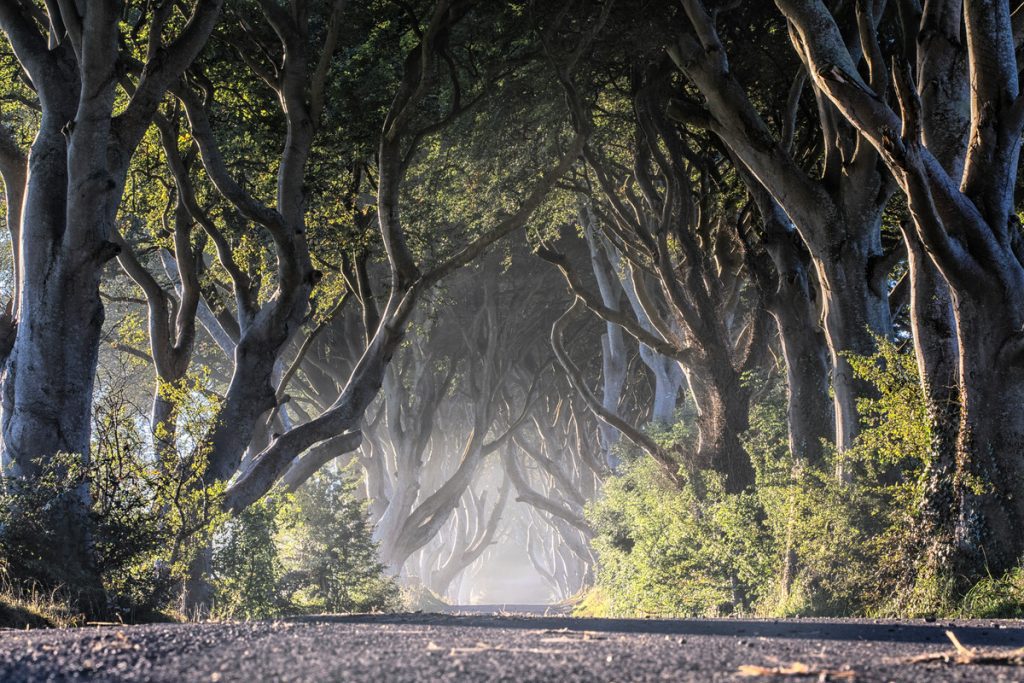 Day 7:   Galway Bay Hotel, Co. Galway, Ireland
This morning depart Derry and pay a visit to Belleek Pottery – the guided tour takes approximately 30 minutes and covers all of the production areas allowing you to meet the craftspeople. The museum here contains pieces dating back to 1857 – when the pottery originated. Carry on to visit 18th century Strokestown Park House to gain insight into life in the 'Big House' both 'upstairs and downstairs' . Also on this estate the Irish National Famine Museum tells another story and describes a tragic period in Irish History. You can also explore the Walled gardens and Woodlands here before continuing to your final destination which is the small but lively Galway City, the 'City Of The Tribes'. This evening enjoy dinner at your hotel.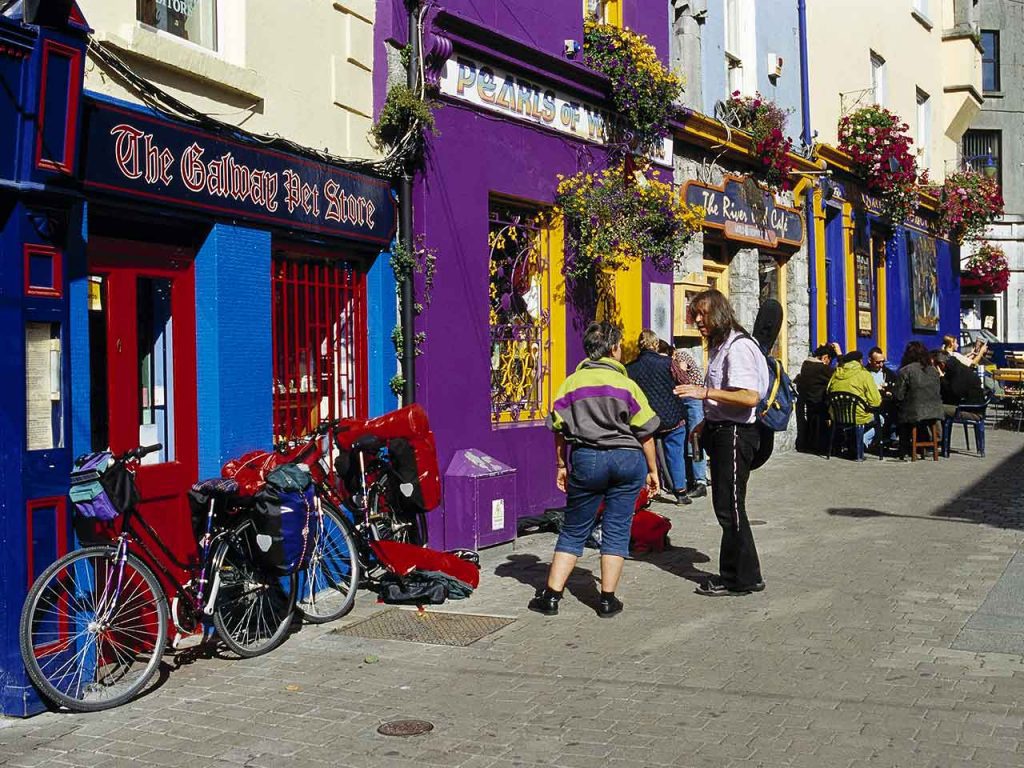 Day 8:  Galway Bay Hotel, Co. Galway, Ireland
Today travel out into the rugged Connemara countryside. Stop at Kylemore Abbey in it's stunning location and visit the town of Clifden – capital of Connemara! You may also take a drive along the Sky Road for the impressive views. Back in Galway make some time to explore this medieval and colourful city. Dine independently – we recommend fish and chips, a simple but iconic meal from the famous McDonough's take away followed by your choice of tipple from the great pubs all around here. Galway is renowned for music and culture with live music every night of the week.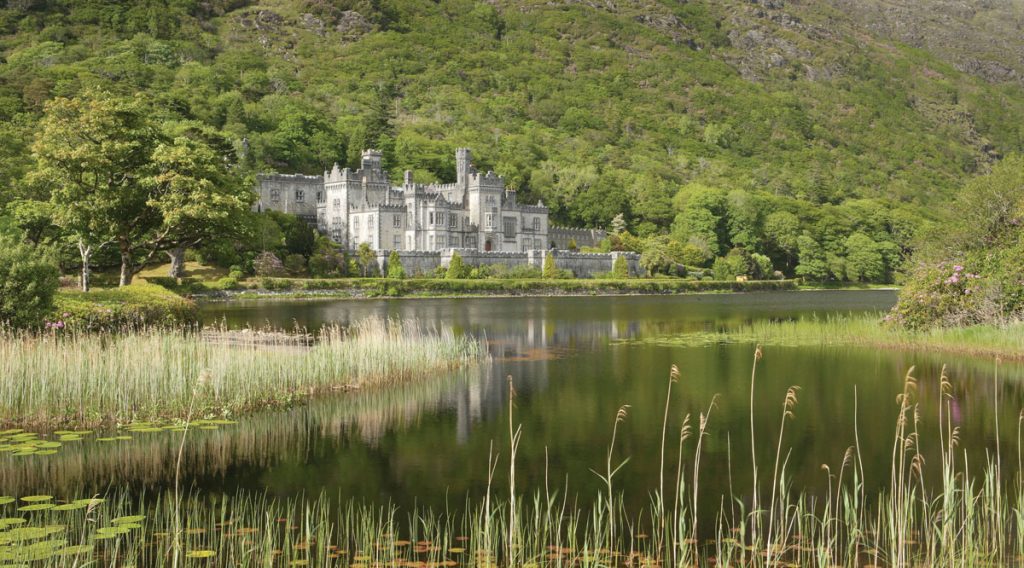 Day 9: Old Ground Hotel, Co. Clare, Ireland
This morning travel through the Burren Region – Ireland's unique karst landscape – to the Cliffs of Moher. Stroll by these stunning cliffs towering over the Atlantic Ocean before continuing on to the village of Bunratty. Visit the Castle and Folk Park here which replicates 19th Century life in Ireland. This evening will find you in the quaint town of Ennis where you will enjoy dinner at your hotel.
Day 10: The Avenue Hotel, Killarney, Ireland
This morning head in to Limerick where you will visit the gem in this Viking city's crown, the impressive 13th century King John's Castle, on the River Shannon banks. Here medieval Limerick comes to life in the Castle courtyard, where you will find a blacksmith's forge,  a medieval campaign tent and 17th Century siege scenes. Stop for lunch in Adare, one of the loveliest villages in Ireland with its thatched cottages and flower-filled gardens. Then travel on to Foynes Flying Boat Museum before continuing to Killarney. This evening you will enjoy a fabulous night of food, music and dance at the Gaelic Roots Show in Killarney.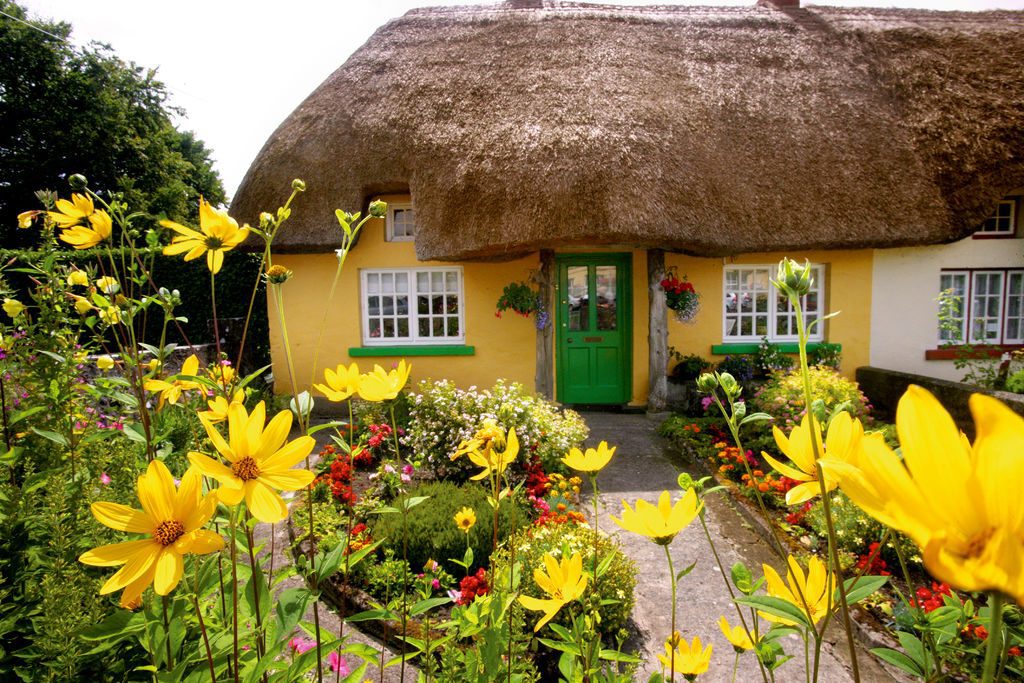 Day 11: The Avenue Hotel, Killarney, Ireland
Today tour the famous Ring of Kerry via Cahersiveen and the coastal town of Waterville. As you travel back in to Killarney town through quaint villages like Caherdaniel and Sneem, you will drive through Molls Gap. Take in the spectacular views over the Lakes of Killarney and stop to visit Muckross House & Gardens. This evening you will dine independently in one of the many pubs and restaurants that line the streets of Killarney town.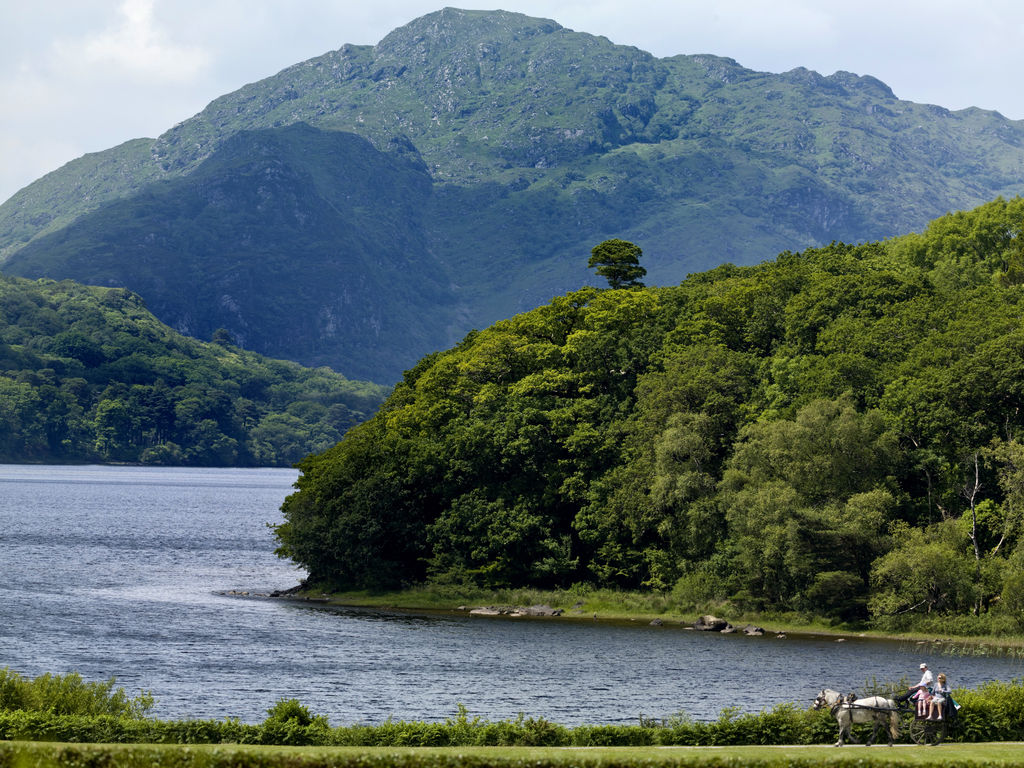 Day 12: The Granville Hotel, Waterford, Ireland
This morning travel to County Cork and make your way to the magnificent 12th century Blarney Castle in the village of Blarney. The infamous stone is located at the top of the Castle however kissing is not compulsory! Take some time to stroll in the grounds and visit the nearby Blarney Woolen Mills before continuing along the Copper Coast which hugs the expansive seascapes, bays, cliffs and coves between Tramore and Dungarvan and passes through quiet villages such as Bunmahon. The area has numerous  "undiscovered" hidden coves and beautiful beaches, add your story as you find each one. The Copper Coast took more than 460 million years to create, so take your time to visit and explore it! This evening in the heart of Waterford city you will dine at your hotel.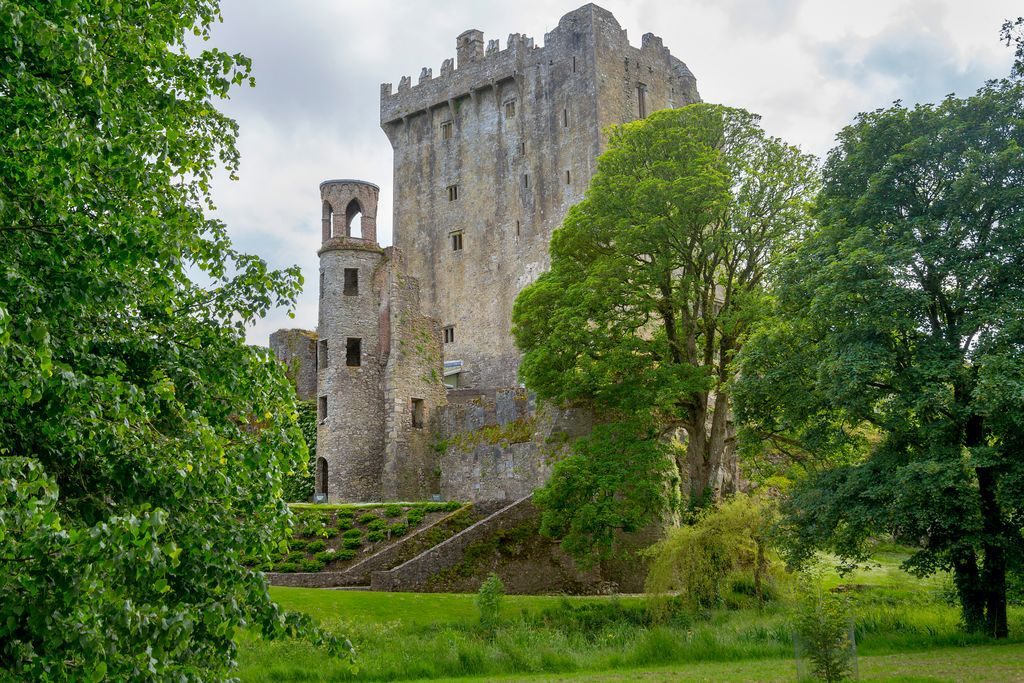 Day 13: The Granville Hotel, Waterford, Ireland
This morning enjoy a walking tour of the City's Historic Quarter before paying a visit to the Waterford Crystal visitor center, where nothing compares with the heated tension in the blowing room. The mixture of bustle and heat makes this experience breath-taking as you edge closer to the 1300°c furnace. After lunch travel to County Wexford and visit the Dunbrody Emigrant Ship in New Ross which is a replica of the famine ships that carried thousands of Ireland's emigrants in the 1800s. Make sure you leave time to return and explore Waterford –  this fantastic Viking city. This evening dine independently – perhaps opting for wonderful "pub grub".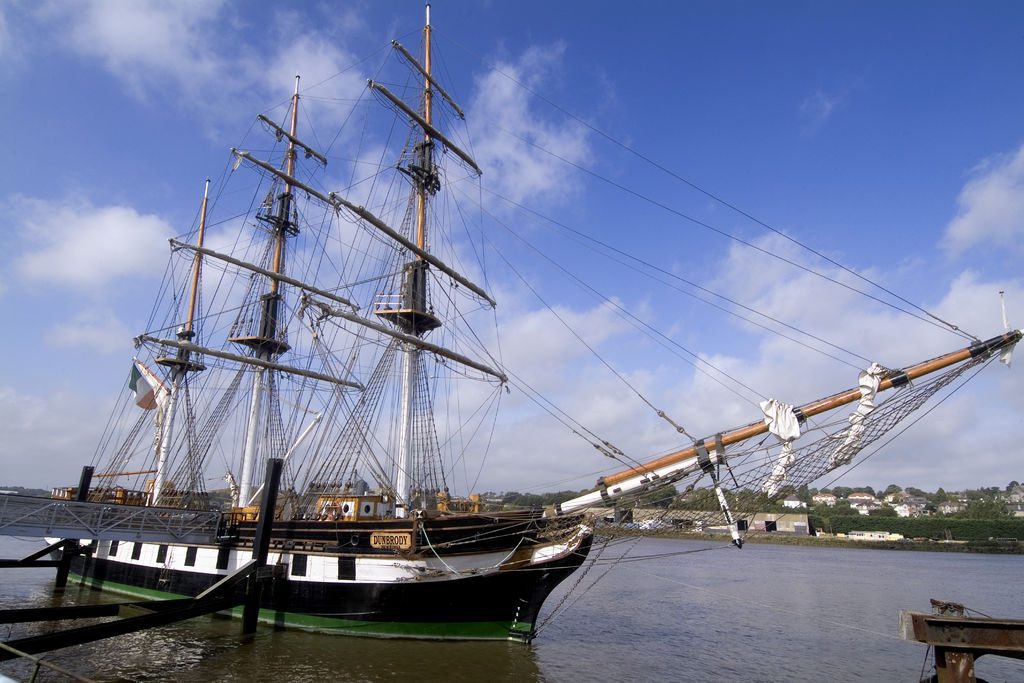 Day 14: Barberstown Castle, Co. Kildare, Ireland
Today make your way in to County Tipperary, stopping at the Rock of Cashel, an outcrop of Medieval buildings in the Golden Vale and coronation site for the Kings of Munster. Take in the impressive views from the hilltop, then travel on to County Kildare where you can stop at Newbridge Silverware and Style Icons Museum for lunch. Next is the nearby Irish National Stud Farm and Japanese Gardens. You can also visit their Horse Museum and St. Fiachra's Garden if you wish.This evening will find you at your second Castle stay where your farewell dinner will take the form of your own private Medieval Banquet.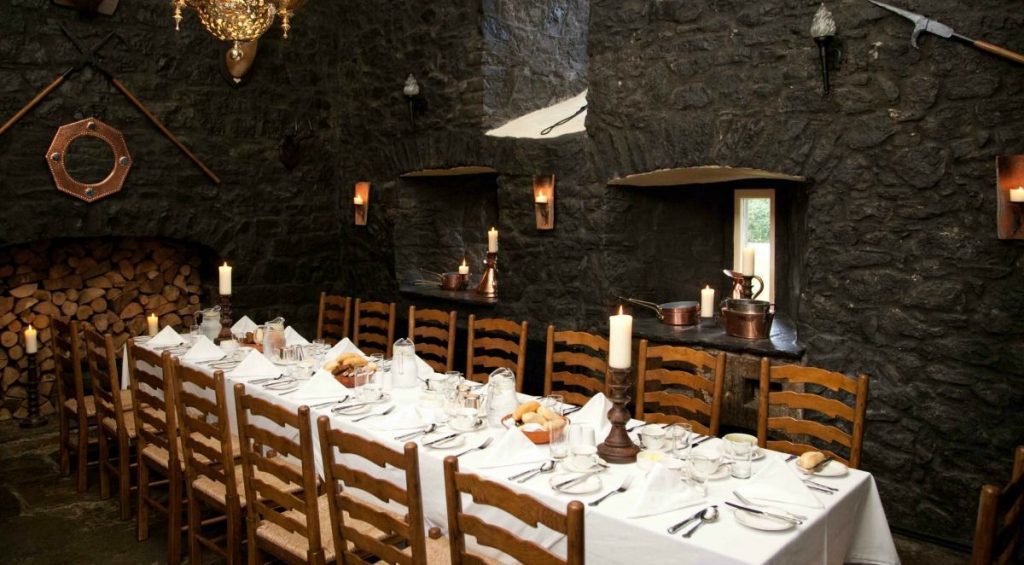 Day 15: Depart Ireland for Home
If you your driver/guide is still with you s/he will bring you to the airport for your flight.  If not we will arrange a private transfer to take you to Dublin airport for your flight home.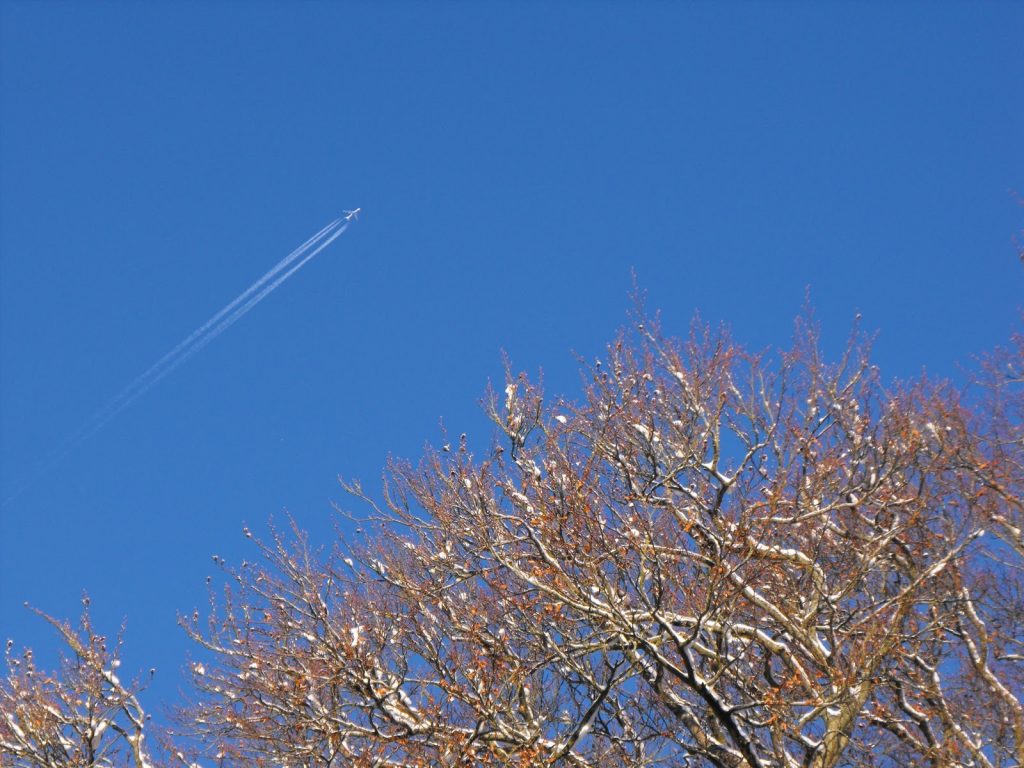 Our Group Tours include luxury coach hire with private driver/guide, all luxury accommodations, breakfast each morning, attractions, activities and most dinners – independent dining is recommended on some nights to enable everyone to experience alternative, smaller dining options). All tours are personalized to suit your specific needs extra items can be chosen to suit your itinerary. You also have a full concierge service available to you at any stage of your planning.